Books
6 books you should read this June, according to local booksellers
Add these fiction and nonfiction titles to your monthly reading list.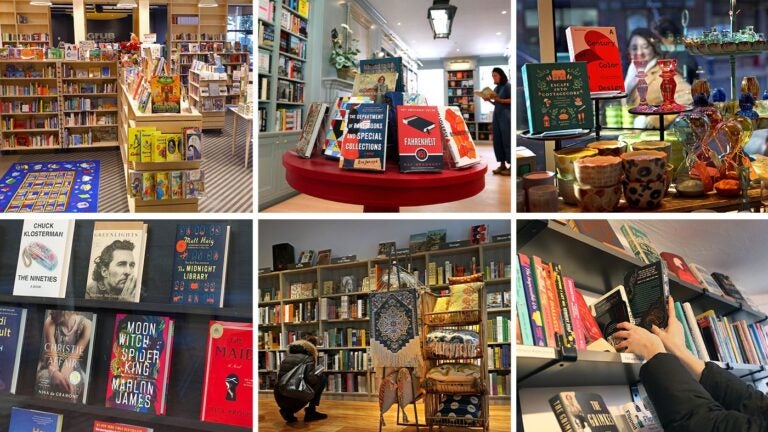 The start of the month is a great time to take a trip to your local bookstore and find a new book to add to your reading list.
To give you some inspiration, we asked the experts — booksellers at Brookline Booksmith, Harvard Book Store, Trident Booksellers & Cafe, and Porter Square Books — to tell us what books they've recently read and loved.
The list below includes fiction and nonfiction titles that will get you excited to read all through June.
Fiction
This story about a powerful matriarch and her descendants is perfect for fans of magical realism. Amy Brabenec, a bookseller at Brookline Booksmith, recommends it for readers who want a mix of 'Encanto' and 'Practical Magic.'
'It's this lush and sprawling story of magic and the far-reaching generational impact of one woman's decisions. Zoraida Córdova so perfectly captures the messiness and fierce love of family. It forcefully ripped me out of a reading rut and reminded me of all of the ways the best books can slip past your guard," the bookseller said.
Take a classic detective story, add genetically altered giants and a near-future dystopia, and you've got this book pick Brad Lennon, head buyer at Harvard Book Store.
"Harkaway's latest hard-boiled sci-fi mashup follows a jaded PI as he investigates a murder among literal giants," Lennon shared. "Harkaway's books are always smart, funny, and perfect for the beach."
Trident Booksellers & Cafe bookseller Noah Willette recommends this new thriller and dark satire about the publishing industry from acclaimed fantasy writer R.F. Kuang.
"The publishing world is a killer…just ask young authors Athena and June," Willette said. "Two best 'friends' since college, however ever since Athena's Netflix contract for her latest book got signed, June's been feeling the heat. She's just one writing white girl in a city of hundreds. Until the day June witnesses Athena's death in a strange accident and makes the split decision to steal one of Athena's unfinished manuscripts and submit it as her own…What could go wrong?"
Buy it at Trident Booksellers & Cafe
Nonfiction
Fans of "The Good Place" and other beloved sitcoms like "The Office" and "Parks and Recreation" are already familiar with Michael Schur's writing style and that humor carries through in this book about moral philosophy. Brookline Booksmith's Archer Forsyth said it's "written with all the sharp humor and deep-seated compassion of his more famous work."
"In the process of creating 'The Good Place,' Michael Schur had to tackle a lot of dense philosophy — the issue being that he knew nothing about philosophy at all, except for one elective he took back in college," the bookseller said. "It addresses hard-hitting questions such as, 'Do I actually need to return my shopping cart to the rack across the parking lot?' 'Is it morally just to tell my friend I like their ugly-as-sin new shirt?' And of course, 'Do I still have to be good to other people even though I am a billionaire?"
Even the most knowledgeable nature enthusiasts will find something to love about this recommendation from Porter Square Books. The book comes highly recommended by Piera Varela, a bookseller in the bookshop's new Seaport location.
"This is a masterclass on how to read landscapes. What can plants, rocks, insects, and water patterns tell you about the history of a place? A whole lot, it turns out! Excellent read for naturalists new and experienced."
This book makes a good personal read and a souvenir for a Boston trip, according to Katherine Nazzaro, a bookseller at Porter Square Books.
"If you've spent any amount of time in Boston, there's a good chance you've visited the Make Way for Ducklings statue in the Common," the bookseller said. "This book tells the story of how that statue came to be complete with some beautiful illustrations, making it the perfect souvenir for a Boston trip or companion for the original beloved picture book."
---
Share your book recommendations with Boston.com