Books
Nantucket is a reader's paradise, says local bookseller
"The two bookstores here on island are some of the only downtown businesses on Nantucket that are open year-round," Tim Ehrenberg said.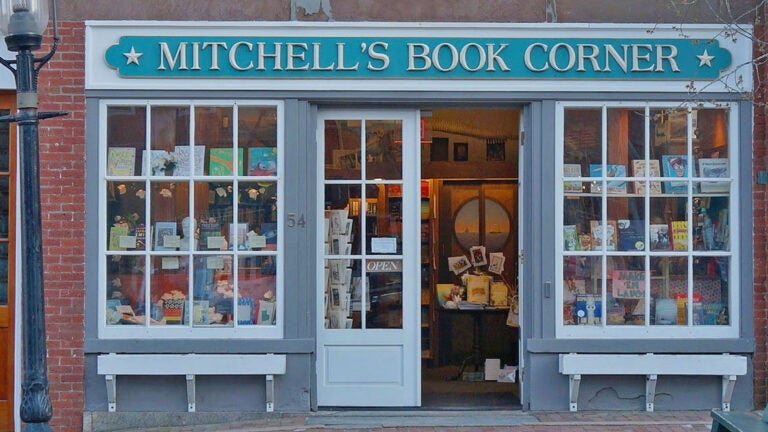 There's no question that Tim Ehrenberg loves reading.
The book buff is the marketing director for Nantucket Book Partners—consisting of island indies Mitchell's Book Corner and Nantucket Bookworks—handles marketing for the Nantucket Book Festival, and also pens a monthly column for N, Nantucket's lifestyle magazine. He also serves on the board and committee of the Nantucket Book Foundation. And though the ways in which he is involved with books are varied, his favorite thing about them is their consistency.
"It's always the same," said Ehrenberg. "Every time I fall into the world of a new book, it just consumes me." He feels that Nantucket is something of an all-consuming world for literature lovers, with best-selling authors like Nathaniel Philbrick, Elin Hilderbrand, and Nancy Thayer making a name for the island on the literary landscape. And also because of the sheer storybook magic of the place. "Every day is like something out of a book," said Ehrenberg.
Ehrenberg moved to the island after a 10-year stint in performing arts to start a small marketing agency, but serendipitously fell into the literary community when he picked up both island bookstores as clients and has continued to make his mark, even during tough times. "The two bookstores here on island are some of the only downtown businesses on Nantucket that are open year-round," he said. "When the pandemic started and people were hearing 'books are not essential' from big chain companies, they were still very essential to us and we got people their books. Not just year-round islanders, either. It inspired those summer residents and tourists to support us from afar and through our website."
And to foster even more connection over books in the community, Ehrenberg is brainstorming a new project for 2022: Nantucket Book Clubs. The book buff will collaborate with nonprofits, local businesses, and individual islanders to choose books to discuss showcasing their missions and special interests. And as far as what Ehrenberg himself would suggest for a book club, his interests run the gamut. "I can find something profound in a best-selling beach read and find something fun and relevant in the most obscure, detailed historical nonfiction," he said. "Sometimes I need to read what I know, while most times, I want to experience the world through others' eyes in the pages of a book."
Along with recommending a title that truly resonates with a reader through his N magazine column, Ehrenberg's favorite part of working in the book world is meeting, interviewing, and befriending authors, especially Nantucket locals like Nathanial Philbrick, who he read on his first trip to the island (and Mitchell's Books) in 2010. "I asked the bookseller at the time what Nantucket book I should read and they handed me 'In the Heart of the Sea' by Nathaniel Philbrick," said Ehrenberg. "It was one of those consuming book moments."
While reading "Travels with George"—Philbrick's latest and our Boston.com Book Club pick of the month—Ehrenberg had a similar immersive experience. Given the book is one part history and one part personal experience, he feels Philbrick truly takes the reader along for the ride (or road trip, in this case) he embarks on with his wife and dog as they retrace George Washington's travels. Ehrenberg also noted that the author takes a holistic approach to the narrative, speaking to the idea of "emancipating the past"—a concept that author Patti Callahan Henry, author of 'Surviving Savannah', brought to his attention this year. Philbrick celebrates Washington's achievements, but does not overlook his flaws.
"I think we can always continue to learn from Washington, his impact as the first president of our country, but also learn from his flaws," said Ehrenberg. "It shouldn't be just glorifying our founding fathers for their achievements, but examining their flaws as well and how those flaws also brought us to be the country we are today."
Whether it's forging a bond with writers like Philbrick as he follows along on the author's journey, giving book recommendations to fellow readers, or promoting events and festivals where book buffs can mix and mingle, Ehrenberg truly believes in the power of reading to connect us all through time and space.
"In 'Travels with George,' you can connect with Washington in 1789 but you're also connecting with Nat and his travels and writings in 2019," said Ehrenberg. "Us talking about the book is forming a connection. I connect with my mom every week when we ask each other, 'What are you reading?' Reading is a little like a superpower, in my opinion," said Ehrenberg. "It hasn't really changed through history, the joy and importance of reading, but is almost magical in its effects."
---
Join our next virtual Book Club discussion
Join Tim Ehrenberg from Mitchell's Book Corner and author Nathaniel Philbrick for a virtual discussion on "Travels With George: In Search of Washington and His Legacy" on Tuesday, Nov. 23 at 6 p.m.
Buy "Travels With George" from: Bookshop | Mitchell's Book Corner
GIVEAWAY
Publisher Viking is raffling off 10 free copies of "Travels with George" to Boston.com readers. RSVP to the event and submit a discussion question for your chance to win! (Open to U.S. or Canada residents only.)
Join the 'Travels with George' virtual author discussion | Nov. 23 at 6 p.m.
Stay up-to-date on the Book Club
Catch up on the latest Boston.com Book Club pick and join the virtual author discussions