Celtics
Tell Us: How do you think the Celtics will do this season?
The first Celtics game will tip off on Wednesday at 7:00 p.m. How will they look after their 82nd game?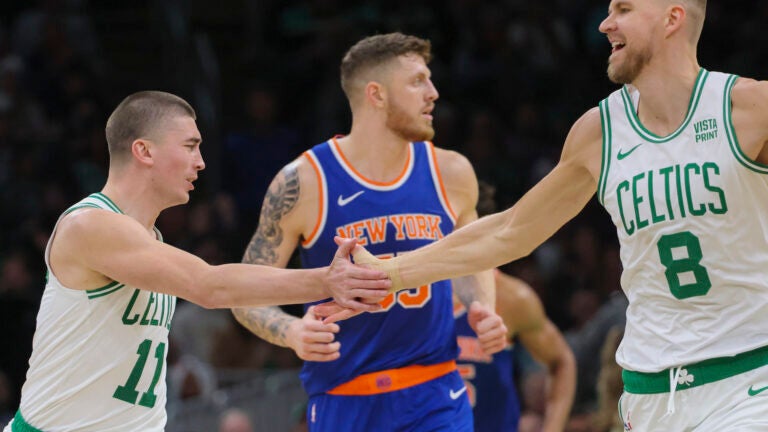 It's almost time for the Boston Celtics' season to start.
On Wednesday, the Celtics will face off against the New York Knicks at Madison Square Garden. It will be the first battle of an, at minimum, 82-game journey that will ultimately conclude with one team hoisting the Larry O'Brien trophy in June.
Many expect the Celtics to be one of the teams best poised to compete for this year's trophy. They had gotten too close to winning it all in each of the past two years, and they improved their roster over the summer through the additions of Kristaps Porzingis, Jrue Holiday and several other new Celtics that will play this season on one of the teams to beat in the Eastern Conference.
Those aren't just our words. About one-third of NBA general managers who responded to a recent survey predict the Celtics to win the 2024 NBA Finals, which is the most amount of predictions any team received. They are the current betting favorites to hang a banner on FanDuel, and share the top spot on BetMGM alongside the Milwaukee Bucks.
But other people have concerns with the Celtics. In acquiring Porzingis and Holiday, they lost several key players from last year's Eastern Conference Finals team, including Marcus Smart, Malcolm Brogdon and Robert Williams III. Many have fears that there isn't enough big man depth behind Porzingis and Al Horford, and they worry what will happen if one of them goes down with a long-term injury.
This season could end in a variety of ways, but what do you think will happen? Will the Celtics finish their season by spraying champagne in their locker room, or will this season of high hopes conclude after a "we couldn't get the job done" locker room interview?
Tell us how you think the Celtics will finish their season in the form below or e-mail us at [email protected] for a chance to be featured in a follow-up article.
Sorry. This form is no longer available.