Boston Marathon
Running helped this mom cope with her son's rare leukemia diagnosis
"[G]etting back into running was what helped me work through a lot of the emotions I'd pushed aside during his treatment."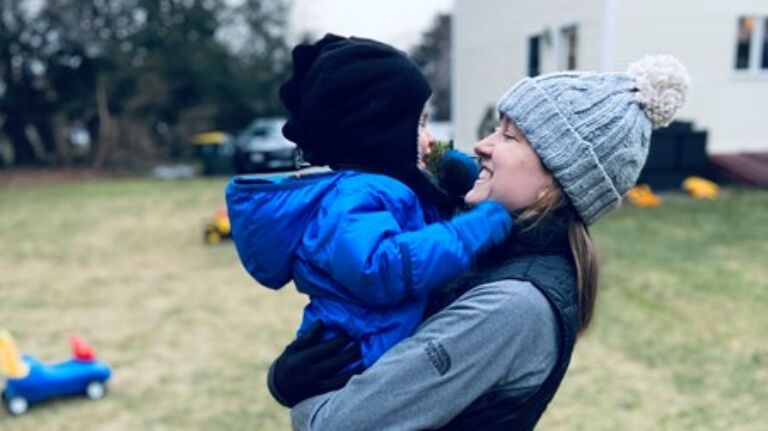 In our "Why I'm Running" series, Boston Marathon runners share what's inspiring them to make the 26.2-mile trek from Hopkinton to Boston. If you're running the marathon, you can share your story here.
Name: Carolyn Kuehnel
Age: 36
From: Franklin
In April of 2021, my youngest boy (of three) was diagnosed with a rare, aggressive form of leukemia called juvenile myelomonocytic leukemia, or JMML.
Freddie was only 10 months old at the time, and his brothers were almost four and two and a half. Needless to say, our world was suddenly turned upside down.
The team at Massachusetts General Hospital provided the most exceptional care for him, and for our whole family. We had the best nurses, doctors, music therapists, social workers, child life specialists, administrative staff, and more!
They explained every procedure, answered every question, and provided every resource available. They also collaborated seamlessly with medical professionals at Dana-Farber Jimmy Fund Clinic and Boston Children's Hospital, facilitating Freddie's stem cell transplant in August of 2021.
During our stay at Boston Children's, the MGH team sent handwritten cards and checked in on us regularly. Since then, they've been by our side celebrating every milestone with clear communication, consistent follow-up, cheers for our son, and words of affirmation for us as parents.
I'm happy to say that my son has responded amazingly well to treatment, but the last couple of years haven't been easy.
When we were quarantining for months after his transplant, the days at home with three kids under five were LONG, and getting back into running was what helped me work through a lot of the emotions I'd pushed aside during his treatment. I typically spent their nap time on my treadmill, dreaming of running down Boylston again.
I'm so excited to say the dream will soon become a reality, and I'm thrilled to have an opportunity to give back to the team that has done so much for our family. We will continue to do whatever we can to assist MGH with fighting kids' cancer, one step at a time.
Editor's note: This entry may have been lightly edited for clarity or grammar.