Boston Marathon
Meet the runner who took on Boston at 32 weeks pregnant
Cathy Huang finished the 126th Boston Marathon in just over four hours.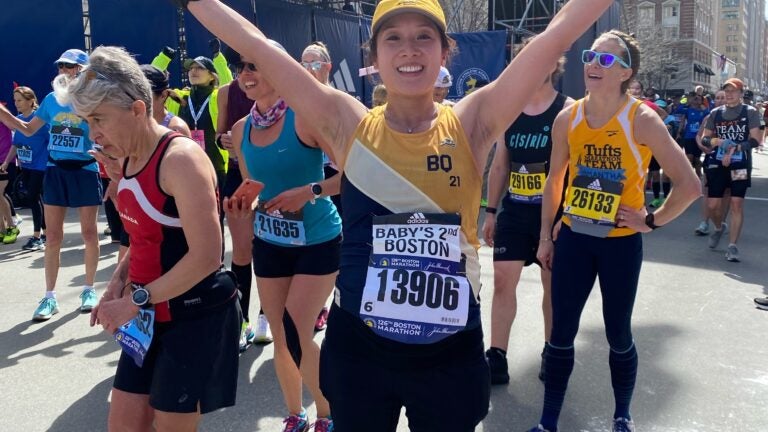 Running the Boston Marathon is a challenge enough, but long-distance runner Cathy Huang upped the ante by running the marathon while pregnant.
Huang ran her first Boston Marathon during the fall 2021 race and took on the 26.2 miles again less than a year later. She finished the 2021 marathon in 3 hours and 42 minutes but didn't know at the time that she was pregnant. Now, at 32 weeks pregnant, Huang completed the race with a baby on board for the second time.
"For a lot of women, when you get pregnant, the first thing they tell us is you can't do this, you can't do that. And I wanted to be able to keep running if my body allowed me to because I wanted to stay healthy throughout the pregnancy," Huang told Boston.com. "Part of me was just like, well, let me just try and see if I can keep up running and see where that takes me."
Huang is no stranger to taking on competitive running. She's run over a dozen races in recent years, including the Philadelphia and New York City marathons, and the Wineglass Marathon in Corning, New York. In 2019, she completed Ironman Lake Placid, a triathlon that tackled more than 140 miles of running, biking, and swimming.
The Jackson Heights resident started running as a way to share an activity with her twin sister, but her passion for running has grown over the years as she's created personal goals and challenges for herself.
"If you told me when I first started doing triathlons 5 years ago that I would one day compete in an Ironman, I would've told you you're crazy," Huang wrote in an article detailing her experience completing the Ironman. "Thankfully I had family and friends who lent an ear, talked me off the ledge, and offered to ride/train with me to keep me accountable."
Given her pregnancy, her training for this year's Boston Marathon looked a little different than previous races. Huang said that while she's been able to run consistently throughout her pregnancy, she was less concerned about her pace for this marathon. She ran much of the race by doing nine minutes of running followed by one minute of walking. Her finishing time was 4 hours and 19 minutes.
"The course of Boston is designed in a way that you can actually have a really good time if you train well," she said. "The downhill really helped me cut some time and I was just feeling really good from the energy. Just knowing that I was doing Boston again a second time, that really helped me."
Running this year's race during the 50th anniversary of women officially competing in the marathon added another level of accomplishment.
"I've been lucky enough to keep running and as I realized the timing of it was the 50th anniversary, it just made it all that special," she said. "I didn't go out with this plan of being here to prove something. It was more personal for me, but it ended up tying nicely with the anniversary."
For Huang, running the Boston Marathon will always be a highlight of her pregnancy.
"It's so special to be able to run Boston two times with the baby, so I said let's try it. I was always going to listen to my body and see where that took me," Huang said. "And I was able to have a really good run."
Get the latest Boston sports news
Receive updates on your favorite Boston teams, straight from our newsroom to your inbox.