Boston Marathon
This 73-year-old is running Boston for Dana-Farber
George O'Malley went from "one-and-done" to running Boston again and again.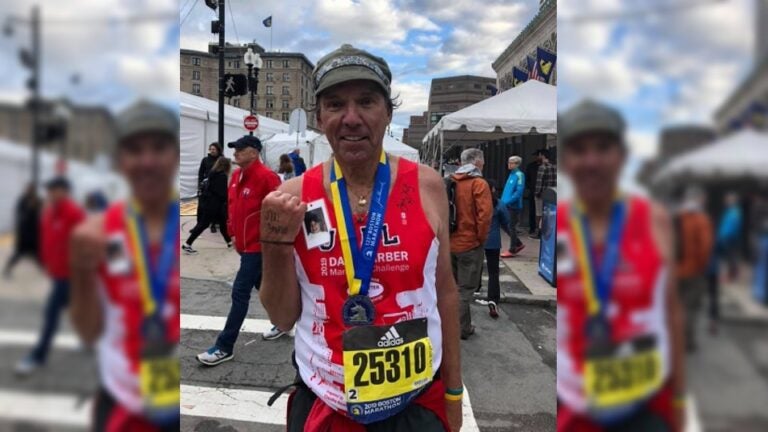 In our "Why I'm Running" series, Boston Marathon runners share what's inspiring them to make the 26.2-mile trek from Hopkinton to Boston. If you're running the marathon, you can share your #WhyImRunningBoston story here.
Name: George O'Malley
Age: 73
From: South Yarmouth
One of the things on my bucket list was to run the Boston Marathon. Life got in the way so I did not attempt it until 1999 at the age of 49. It was meant to be "one-and-done" but it was evident that many runners were using the race as a means of raising funds for many charities. In 2001, after my brother Joe died from cancer, I applied to the Dana-Farber team to honor him and help raise money.
After that race, I determined that I was too old to continue, so I hung up my sneakers. When the marathon bombing occurred in 2013, I was incensed enough to participate one more time to show that bad guys cannot take this venerable institution away from Boston. The run in 2014 was meant to be another "one-and-done" for me. It was a great and emotional run on many levels. Unfortunately, our oldest child, Jill Anne was diagnosed with stage 4 cervical cancer and commenced treatment at Dana-Farber in the fall of 2014. I was motivated to run one more time. Part of the motivation was that Jill Anne was going to watch me from the "patient's section" at mile 25.
Unfortunately, Jill Anne died 3 weeks before the race. I have run every year since then as I am obligated to pay Dana-Farber back for their exemplary care of Jill and to pay it forward. I will continue to run for as long as I can to honor those who have fought and continue to fight. Our achievement will be the continued support of the researchers and scientists at Dana-Farber in their race to a world free of cancer, so no other parent has to endure this life altering event.
Editor's note: Entry may have been lightly edited for clarity or grammar.