Boston Marathon
Why I'm Running: 'Running motivates and pushes me'
Racquel Mendez is running for mental health awareness, suicide prevention, women, and Serenity Mendez, her daughter.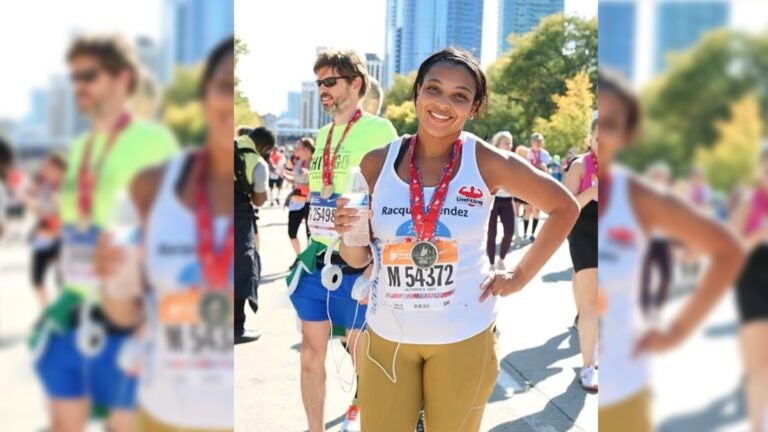 In our "Why I'm Running" series, Boston Marathon runners share what's inspiring them to make the 26.2-mile trek from Hopkinton to Boston. If you're running the marathon, you can share your #WhyImRunningBoston story here.
Name: Racquel Mendez
Age: 41
From: Boston
My name is Racquel Mendez and I am a proud Latina living in the city of Boston with the honor and the privilege to run the 2023 Boston Marathon.
Why do I Run? Running motivates and pushes me. Running challenges me, which helps me evolve as an individual. When I run, I feel unstoppable, like all my dreams are attainable as long as I persevere. I find peace within myself when I run. I use running as an outlet to work through the stressors in my life. The faster I run, the stronger I feel. The more miles I run, the more I feel I can achieve. I feel so proud, determined, and capable. Running empowers me to set, beat, and surpass my goals. I run for me. It is my self-care, and I hope it pushes others toward greatness. I run because I want to inspire my daughter, for her to be proud of me, and remind her that she is powerful beyond all measure.
It has always been a goal of mine to run the Boston Marathon. When I first started running, I couldn't even run a mile. Over the years, I challenged myself to run 5ks, 10ks, a half marathon, and a marathon. When I finished my first marathon, the course was being disassembled, and I was the second to last person to finish. I was proud of my accomplishment but knew I was capable of more. I have consistently challenged myself to overcome obstacles that once seemed impossible, so much so that I recently completed the Chicago Marathon.
As a proud Dominican American, I am running for mental health awareness, suicide prevention, women, single mothers, and Serenity Mendez, my daughter. I hope to represent all these people and ideals at the Boston Marathon, "Empowered people empower people."
Editor's note: Entry may have been lightly edited for clarity or grammar.