Red Sox
Here's what Boston.com readers would do this offseason if they were in charge of the Red Sox
"I would spend whatever is needed to sign..."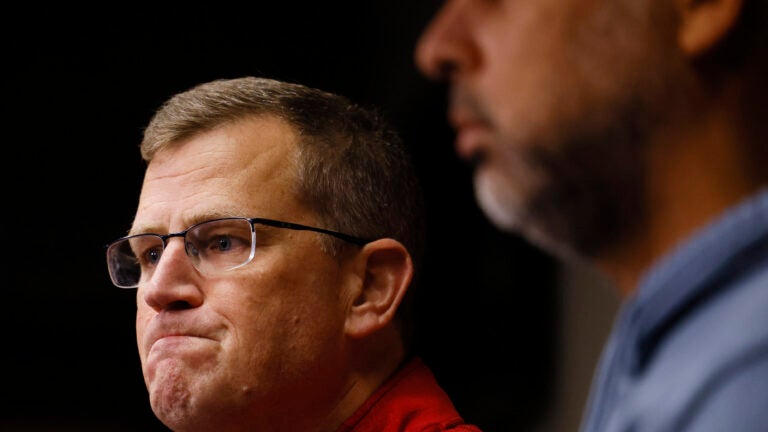 The Boston Red Sox are in for an offseason of change.
By firing former chief of baseball operations Chaim Bloom, the Red Sox have signaled that they are heading in a brand new direction. They say that they want to get back to winning, and they've already made some changes to the coaching staff to help accomplish that goal.
But what does it mean to build a winning baseball team? There are many different ways to answer that question. Some will say that the answer is to patiently trust the farm system to develop and build from within. Others will advocate jettisoning that farm in exchange for some of baseball's biggest superstars.
There is no objectively correct answer to that question, especially in the Red Sox' case. In what will be one of the most important offseasons in the club's recent memory, there are a number of different ways the new top executive can change this roster. So we asked Boston.com readers what they would do if they were hired to make roster decisions for the Boston Red Sox. Here's what they said:
Pitching
Readers submitted many different ways they would change the Red Sox. But the overwhelming majority of readers have the same priority:
"Pitching, pitching, pitching and pitching," Joe D. from Bridgewater said.
The Red Sox' pitching staff was perhaps the team's biggest weakness. The team pitched to a 4.52 ERA last season, good enough for just 11th-best in the American League. They allowed 1,416 hits (13th-best in AL) and 718 runs (11th-best), not to mention 208 home runs (12th-best). Their rotation couldn't stay in games for long enough, which explains why their 1,430 innings pitched ranked as the third-worst in the AL East. Boston.com readers would make significant changes to the Red Sox' pitching corps, because statistics show that last year's group was not good enough to contend.
As far as offseason additions to the staff go, many readers share a primary target.

"I would spend whatever is needed to sign [Yoshinobu] Yamamoto," Michael B. from Fort Worth, Texas said.
"Yamamoto…. Yamamoto…..Yamamoto!!!" Jason from N. Shore said.
Yamamoto is one of the most tantalizing free agents from overseas that MLB has seen in a long time. In the 164 innings he has pitched this season with the Orix Buffaloes, he has dominated opponents with a 1.21 ERA and a 0.88 WHIP with 145 strikeouts. He's a two-time Pacific League MVP winner, a three-time Triple Crown winner, and will likely win his third straight Sawamura Award (NPB's Cy Young Award).
What would a contract for Yamamoto look like? Derek F. from Mount Sterling, Ky. submitted what he would offer.
"Try to sign Yamamoto to a seven-year, $224 million deal that you can increase to seven-year-$245 million," Derek said.
Such an offer would be a very reasonable deal to give to one of the best pitchers in the world, but readers agree that just Yamamoto will not be enough. There are a few other free agent pitchers that readers have their eyes on.
"Full court press for Yoshinobu Yamamoto, [and] acquire Blake Snell in free agency," Donnie from Norton said.
"I would push to sign [Jordan] Montgomery in [free agency]," Michael B. from Fort Worth, Texas said.
"I would pry Corbin Burnes away from Milwaukee, and sign Aaron Nola," Riley A. from Tewksbury said. "Burnes is one of the most dominant pitchers in the game, and Nola is a dependable workhorse, who hits another level in the playoffs."
The Red Sox could sign Snell, Montgomery and Nola this winter without having to give up any of their roster pieces. But pitchers like Burnes are still under contract and would require a trade. Readers are very aware of that, and have created trades to get Milwaukee's ace.
"If you cannot get Yamamoto, then you make a trade for one of the Brewers' main three to be your No. 1 starter," Derek F. from Mount Sterling, Ky. said. "Something along the lines of [Kutter] Crawford, [Wilyer] Abreu, and [Angel] Bastardo for Burnes."
Burnes isn't the only pitcher that readers would pay a hefty price for. They would be willing to make a deal for star players who have been rumored to be shopped in the past, such as Dylan Cease and Shane Bieber.
"The Red Sox should pursue Cease from Chicago [White Sox] and offer [Ceddanne] Rafaela, [Garrett] Whitlock and [Alex] Verdugo in return," Mark L. from Salisbury, N.C. said. "They should also sign one of the top free agent pitchers."
"Trade [Tanner] Houck, [Mikey] Romero and [Brandon] Walter to Cleveland for Bieber," said Derek F. from Mount Sterling, Ky.
Readers say that the Red Sox need to make decisions not just on who to add to their rotation, but also about the future of some of the starters they currently have. In particular, readers are tired of the Red Sox frequently moving Whitlock and Houck between the rotation and the bullpen, and prefer for them to stay in one place for good.
"Decide if you want Whitlock and Houck as starters or in the bullpen and then stop messing with them," Jim S. from Port Saint Lucie said.
"Return Whitlock to the bullpen where he was such a multi-inning weapon prior to the 'braintrust' screwing around with his role and his head, the latter of which I hope hasn't been damaged beyond repair," Don C. from Sacramento, Calif. said.
The Red Sox will need to add more than just pitchers in order to fix their rotation. They currently have a vacancy at pitching coach after the firing of Dave Bush, and Jonathan R. from La Quinta believes there's a perfect replacement out there.
"For pitching coach, I'd hire Julio Rangel, [the] Cardinals' assistant pitching coach," Jonathan said. "He knows the Red Sox minor league pitching system well (former pitching coordinator), [is] bilingual and a great communicator."
Other acquisitions
Readers view pitching as the team's biggest area of need, but they also believe the Red Sox could use a little bit more star power. Many of these readers have a certain generational talent in mind that they'd like to add.
"First thing is to do whatever it takes to sign [Shohei] Ohtani," PJ from Goshen, Conn. said. Not only does this help your product on the field but from a marketing standpoint it's a home run!"
Ohtani needs no introduction, nor do readers need much convincing to welcome him to Boston. Many view him as one of the world's most talented athletes, with his ability to both hit and pitch (before requiring Tommy John surgery) at a very high level. Some consider him the best baseball player of all time. He's the winner of the 2021 AL MVP award and will likely win it again this year. Dressing him in a Red Sox jersey would not only help the team win more games, but it would certainly increase fan interest in the club and increase revenue.
Of course, there will be many teams vying for Ohtani's services. If another team ends up signing Ohtani, readers would like to make a deal with San Diego for superstar left fielder Juan Soto.
"Trade for and then offer a Manny Ramirez type of deal (eight years, $160 million) to Juan Soto, a player who led the league in walks and played 162 games in 2023," David M. from Billerica said.
Soto is one of the most gifted hitters of the past few decades. He put his unrivaled command on display this season with his MLB-leading 132 walks, and he showed the value of his bat with his 109 RBIs, which tied for fourth-best in the league. He's a World Series Champion, a three-time All-Star and a three-time Silver Slugger Award winner…and he's only 24 years old.
The Padres are rumored to be prioritizing cutting costs, so it's possible they'd try to move on from Soto this winter. A trade will be required to obtain Soto, and that deal will likely be hefty. What would readers offer for Soto?
"If they can manage a trade-and-extend, the Sox should trade [Marcelo] Mayer, Abreu, and a top-ten minor league pitcher for 10 years of Juan Soto," Mark L. from Salisbury, N.C. said.
"I'd package Verdugo and another good prospect to trade for Juan Soto," Riley A. from Tewksbury said. "The 'Ted Williams' of his generation would surely benefit from hitting in the same park as the Splendid Splinter."
Readers are also eager to make trades for a second baseman. As of now, second base is currently being shared by a variety of young prospects and non-everyday players, and it would bring readers peace to add a sure thing at the position.
"Trade Verdugo and David Hamilton to the Padres for Ha-seong Kim to shore up second base," Derek F. from Mount Sterling, Ky. said.
"I would put a package together for Luis Arraez (say Rafaela, [Nick] Yorke, [Shane] Drohan and Verdugo) to play second base," Michael B. from Fort Worth, Texas said.
Readers are eager to add surefire talent to this roster, and they would not mind making sacrifices to do so.
Current players
While a lot of the conversation surrounding this offseason will be about potential new additions, the Red Sox have very important decisions to make about their own players. Of their position players, outfielder Adam Duvall will become a free agent this winter, as will designated hitter Justin Turner assuming he declines his upcoming player option. If readers were in charge, Duvall would play his home games at Fenway Park next year.
"Re-sign Duvall to a 2 Year-$28 Million deal with a Player Option for Year 3 at $11 Million," said Derek F. from Mount Sterling, Ky.
"Keep Duvall," said Josh F. from Las Vegas.
Turner, on the other hand, was more divisive for readers. He was one of the Red Sox' best performers this year, and he was an important leader in the clubhouse. But he's 38 years old and dealing with a foot injury, both of which will likely confine him to designated hitter, a spot readers want to see filled by Masataka Yoshida or Rafael Devers. There are pros and cons to both options, and the variance in readers' responses reflect the ambivalence surrounding a re-signing.
"Let Turner walk so Masataka [Yoshida] can DH," John from Vero Beach, Fla. said.
"Resign Turner if you can get him for a couple years," Jim S. from Port Saint Lucie said.
The Red Sox do have free agent pitchers, namely James Paxton and Corey Kluber. But Jim S. does not believe that either of them have a place on next year's team.
"Let Duvall, Paxton and Kluber walk," Jim said.
Some Red Sox players aren't free agents, but are eligible for extensions. The Red Sox will have to make difficult decisions as to whether they should extend some of their players, but most readers said that they would not offer one to right fielder and left-handed hitter Alex Verdugo, especially if it means adding a right-handed hitter to replace him.
"I would trade Verdugo and look for a right handed power hitter to man right field," Larry H., who currently lives in Pontypool, Wales, UK said. "Our best hitters all bat from the left side."
Another player eligible for an extension this year is pitcher Nick Pivetta. Pivetta got off to a rocky start as a starter last season, but quickly became one of the club's most important pitchers as a reliever later on in the season. Pivetta has said that he was open to an extension, and Larry H. would give it to him if he was the chief baseball officer of the Red Sox.
"This is probably out of left field, but I would try to get Nick Pivetta signed to an extension," Larry said. "With the advice of Chris Martin, he seems to have turned a corner, and if so, extend him NOW."
Outside of acquiring starting pitching, the one move that almost every Red Sox fan said needs to happen is extending the contracts of their young, homegrown superstars, Brayan Bello and Triston Casas. Bello emerged as one of the Red Sox' best rotation arms this season, and Casas was good enough to warrant conversation as a finalist for MLB Rookie of the Year.
"Extend Casas and Bello to past their arbitration years," said David M. from Billerica. "The price is only going up on both of them."
Neither of these two players are in danger of leaving the club anytime soon. But readers would like to extend them both to reasonable deals before they become good enough to be too expensive to retain. Such a mistake would be imperative for the Red Sox to avoid, as that's partially how they lost Mookie Betts in 2020 and Xander Bogaerts in 2022.
"I also would try to sign Casas and Bello to team friendly extensions before they price themselves out like Mookie [Betts] and Xander [Bogaerts]," Riley A. from Tewksbury said.
Bello and Casas have emerged as members of a young Red Sox core that looks to compete sooner rather than later. Readers want this team to compete soon as well, and they have several different ways they would get them back to the postseason if they were hired to make roster decisions for the Red Sox.
Sign up for Red Sox updates⚾
Get breaking news and analysis delivered to your inbox during baseball season.