Cocktail Club
Cocktail Club: 'Why is the Black community still underrepresented in hospitality?'
BarNoirBoston's Kyisha Davenport digs into the roots of hospitality and shares two cocktail recipes.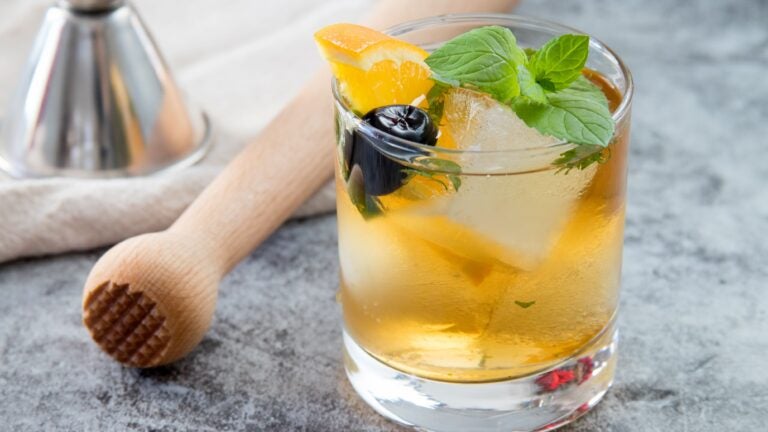 Happy Black History Month! As February draws to a close, we reflect on celebrations past and present, as well as a reminder that Black history happens every single day.
In the past several years, the cocktail world at large has begun to dig deeper into the roots of hospitality, of which was largely established by Black people. From titans like Cato Alexander, a pioneer mixologist who ran the popular Cato's Tavern for decades in early 1800s New York, to the labor of enslaved Africans on plantations across the Americas, our contributions have been essential to establishing the industry we work and participate in today.
"The Ideal Bartender" is one of those texts that has begun to take its rightful place in the mixology cannon. Authored by Tom Bullock, "Ideal" is only 50 pages long, yet packed with nearly 200 cocktails for every occasion. As an esteemed bartender, Bullock was a master of punches, juleps, sours, cobblers, and more; his cocktails were typically made to entertain the country's elite. As bartenders continue to take interest in exploring cocktail history, recreating recipes from generations' past, we continue to keep the names and work of trailblazers like Bullock alive and thriving.
"Tiki: Modern Tropical Cocktails" by Shannon Mustipher, made waves in the cocktail world due to its vast knowledge of classic and contemporary tiki cocktails accompanied by stunning photography, as well as being the first cocktail book published by an African American since Bullock's "Ideal." Again, citing the significance of Black talent and labor in mixology – why is the Black community still critically underrepresented in hospitality?
Here in Boston, the numbers speak directly to a lack of access for Black people in the food and beverage business. Of just over 1,400 liquor licenses in the city, only eight are held by Black proprietors. Licenses tend to cluster in predominantly white neighborhoods. With a family median wealth of $8 in Boston, and less than 1% of Black entrepreneurs being funded in Massachusetts according to the Boston Globe, it's incredibly difficult to compete with the secondary liquor licensing market, let alone navigate the requirements for the application process if purchasing directly from the city.
This means there are fewer businesses in Black communities able to generate the kind of revenue from alcohol service that's all but required for restaurants to thrive. As a result, there aren't as many places that cultivate Black mixology, turning out the next generation of Black business owners.
From a Black bartender's perspective, it's not at all uncommon to be the only Black person working at a bar in Boston. We know that opportunities often are network based, leaving Black beverage professionals out of core hospitality experiences like conferences, certifications, competitions, travel, activism, leadership opportunities and overall advancement. Black bartenders in Boston are often faced with the choice of dealing with tokenism and stagnation at home, or taking their talents to other cities; given there's so few beverage professionals as is, leaving has an especially negative impact on long term growth of the Black hospitality community in Boston.
And in the scope of Black-owned products, Massachusetts overall has only just begun to move the needle in distributing Black-owned beer, wine, and spirits at large.
Tom Bullock used his skill as a mixologist to free his enslaved family. In fact, many bartenders of his day did the same. Hospitality has always sat at the intersection of culture and activism for Black people, be it purchasing your family out of slavery, opening businesses where Black community members and travelers are free to safely gather, or being the first documented master distillers and craftspeople, establishing successful Black-owned brands.
Approaching the third year of a pandemic which brought many of these hard truths to surface, what does the hospitality landscape of Boston look like? What's improved? Where is there work to be done? And certainly most importantly this month, how can we celebrate our successes, and each other?
For this edition of Cocktail Club, I'll be joined by Marsha Lindsey and Tersillia Valentini, both previous guests of the Club, to recreate one of Tom's classic cocktails, and an original BarNoirBoston recipe! We are privileged to host this session at the historic Wally's Cafe, one of the oldest jazz clubs and Black-owned bars in the world, and will be shouting out Black bars and brands to know and support. Join us as we continue to push forward Black history in Boston, sip by sip.
Brandy Julep
Ingredients
2 oz. brandy
½ to ¾ oz. simple syrup
5 to 6 mint leaves and mint top for garnish
2 dashes Jamaican rum (optional)
Decorative fruits
Branching Out
2 oz. mezcal
½ oz. local maple syrup
fresh ginger slices, to taste
2 dashes orange bitters
2 dashes old fashioned bitters that are not Angostura (like Fee Brothers, The Bitter Housewife or Bittermens) 1–2 bay leaves
Instructions
Important: Always take precaution when working with an open flame. Use a long lighter or matchstick. Smoke glass on a fire safe surface.
Smoke your glass. Muddle maple syrup and ginger in a mixing glass. Add mezcal and bitters. Fill the mixing glass with ice and stir well, about 30 times. Strain into smoked glass over a large cube. Garnish with bay leaf.
---
Watch our virtual cocktail class
On Feb. 24, Boston.com's Cocktail Club host Jackson Cannon and special guest host Kyisha Davenport, founder of BarNoirBoston celebrated Black History month with bartenders, Marsha Lindsey of SRV and Tersillia Valentini of Black Lamb. They mixed drinks drawn from Tom Bullock's "The Ideal Bartender," the first African American authored cocktail book from 1917 and "Home and Away," a cocktail piece by BarNoirBoston first published in the Fall 2021 edition of Edible Boston magazine. On deck was the classic Brandy Julep and a more modern Branching Out. Watch the virtual cocktail class below.
Kyisha Davenport is a mixologist and the founder of BarNoirBoston, a network dedicated to investing in and elevating Boston's Black hospitality community.