Cocktail Club
Recipe: Here's how to mix a Naked and Famous cocktail
Chartreuse and Aperol complement the key ingredient in this mezcal cocktail.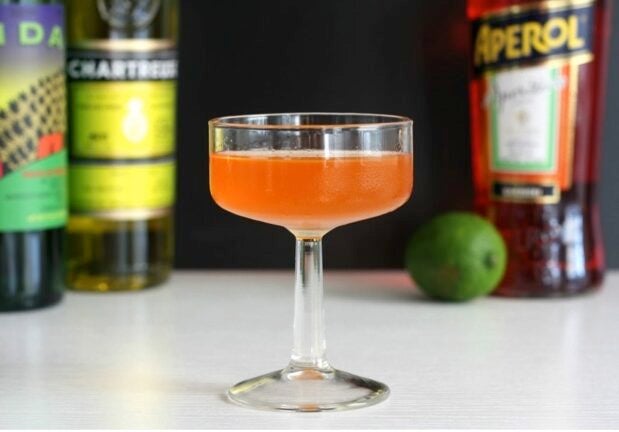 Since antiquity the number four has been associated with stability and firmness, its power related in the points of a cross, directions of the compass, and the architectural soundness found in objects like a chair or a house frame. In the world of drinks there is a lineage of solidly grounded potations that express a universe of complex flavors and aromas through a simple equation of four equal parts.
Often referred to as quatros in general these drinks follow a simple formula of three-quarters ounce each of base spirit, herbal modifier, sweet or bittersweet modifier, and fresh citrus juice. The beginning of this family is the ironically named Last Word. It's a blend of gin, Chartreuse, maraschino liqueur, and fresh lime juice. Its equal parts belying a complex dance between the botanicals of gin with the herbaceousness of Chartreuse, the fiery, bittersweet of marasca cherries with the tart, crisp balance of sweet lime. Often overlooked in this category is the Corpse Reviver #2. To its equal parts of gin, lillet, orange liqueur, and lemon juice go a few drops of absinthe — which enhances the cocktail, but technically moves it away from the quatro mindset.
With some careful insight into how we substitute ingredients into this equation, modern bartenders have created a plethora of delightful modern classics. The most famous being the Paper Plane by Sam Ross. In this drink created at Milk and Honey, a nexus of craft cocktail activity in the early 2000s, bourbon is the base while the herbal and bitter sweet modifiers are overlapping. Both Amaro Nonino and Aperol possess attributes that crossover each other and deliver an utterly unique flavor profile that is at once sophisticated and accessible.
One of my personal favorites in this line is Naked and Famous by Joaquín Simó. Known in the industry as "Funky Jesus" Joaquin now owns a bar called Pouring Ribbons that is a monument to stirred cocktails, great hospitality, and the idea that everything in life is a little better with the Carthusian elixir Chartreuse. He created Naked and Famous during his tenure at New York's Death & Co, and has called the cocktail "the bastard love child of a classic Last Word and Paper Plane, conceived in the mountains of Oaxaca."
Sticking to quatro dogma and drawing from these two cocktails, Simó incorporates Chartreuse from the former and Aperol from the latter to complement the drink's key ingredient, mezcal. "The botanical intensity of the two liqueurs gives such great length to the drink that it manages to be simultaneously crushable and complex," said Simó. "There's just enough sugar to balance the tart lime and funky, smoky mezcal, but not so much that it gets cloying. It's a great balancing act that gives the cocktail enough structure to let all its complex ingredients speak in turn, rather than all at once."
Rigorous blind tasting of the results derived from various expressions of mezcal, Simó lands hard on Chichicapa, a Del Maguey bottling that has a touch of tobacco and gravel in its smokey constitution and punches elegantly through the rest of the mix. If veteran bartender Sam Ross could name his drink after a hit MIA song, then Simó riffing off this would use a lyric from one of his favorite artists, Tricky. In "Tricky Kid," the lyrics wind around until the point is fully made, "And everybody wants to be just like me, I'm naked / And famous."
No surprise the song is a dense and layered mix, a complex and gravely story that winds about. In sum it's a balancing act and it hammers home in 4/4 time.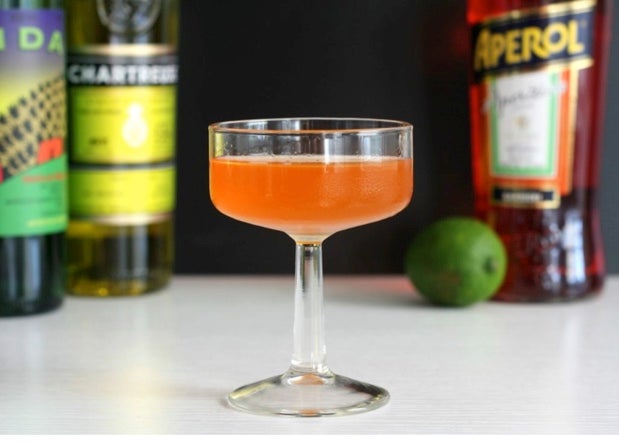 What you'll need
Naked and Famous
Ingredients
¾ oz. Chichicapa Mezcal
¾ oz. Aperol
¾ oz. yellow Chartreuse
¾ oz. fresh lime juice
Instructions
Shake over ice and strain into a chilled cocktail glass
No garnish
---
Join our virtual cocktail class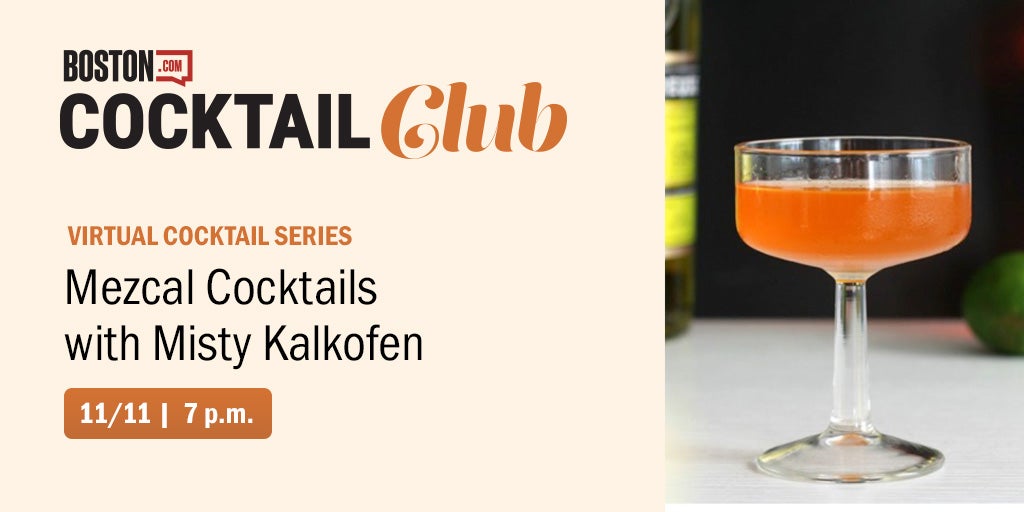 Join us Thursday, Nov. 11, at 7 p.m. for Boston.com's Cocktail Club with host Jackson Cannon and his special guest Misty Kalkofen, a longtime Boston bartender and cultural liason for Del Maguey Single Village Mezcal. This week they'll be making cocktails with mezcal, catching up about the Boston restaurant and bar scene, and sharing tips the pros use to make great drinks at home. They'll be mixing the neo-classical cocktail naked and famous and a cloud people. Everything you need is in the shopping list here.