Cocktail Club
Meet the content creator who wants you to add fresh ingredients to your cocktail
"What's blooming now, what's growing now, that's a really fun starting point for a drink."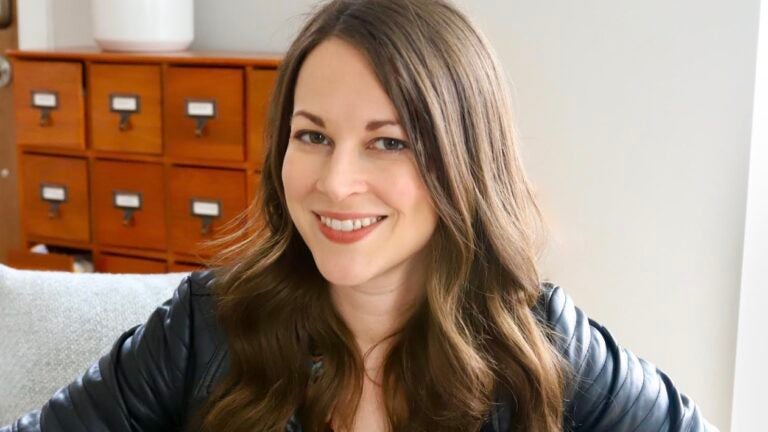 When Katie Stryjewski gardens, she makes sure that nearly everything she plants is edible. That's in part because adding fresh ingredients to the cocktails she mixes makes for a beautiful touch, and she takes pride in using botanicals that she's grown herself.
"The fresh ingredients really add something special to a drink," Stryjewski said. She added, "My favorite thing is definitely mint, because it's so easy to grow. It's also too easy to grow. You kind of want to put it in a container, because it lets out these shoots underground, and it'll start popping up all over your lawn… Definitely basil and rosemary are my other two favorites to use."
Stryjewski is a content creator based in Somerville who writes, takes photos, and publishes recipes on her blog, Garnish, which launched in 2015. In 2021, she released a book called "Cocktails, Mocktails, and Garnishes from the Garden," the perfect guide to mixing drinks in the spring.
Stryjewski told Boston.com about her journey through the cocktail world and how she invents new recipes. We talked with her ahead of her virtual event with Cocktail Club on March 23 at 7 p.m., where she'll be showing us how to make a Bee's Knees and the Bronx, both using gin, with host Jackson Cannon. Below, read about the work she's done in media and publishing, and why she loves using herbs and floral flavors in cocktails.
What was the inspiration behind Garnish, your blog?
I started getting interested in craft cocktails in graduate school and it really started at Eastern Standard. I went out with my husband—I was celebrating that I had gotten a fellowship. I had a cocktail there, and it was my first real craft cocktail. It tasted totally different from anything I'd had before. I got really interested in it, but we were poor graduate students, and we couldn't go out all the time. Instead, we started buying different bottles, so we could start making things at home.
I would use blogs to find recipes. Often, I would go to a bar, try a drink, and then I could Google it, and it would be on a blog, with the recipe. I always wanted to start a blog, and I was interested in cooking and baking too, and I would use those blogs. But cocktails were cool because they have this history behind them that I really liked. Every time I would try a new one, I would look up the history, who created it… When I finally moved into an apartment that actually had windows, I got a camera and started working on photography and finally started the blog. It was a way to record all of these recipes I was trying and also an excuse to look up the history and write it all out.
… One thing that's become a big part of the blog, and especially Instagram, is incorporating fresh ingredients from the garden. That started because Instagram is a very visual medium. No one can taste the drinks, unless they make them themselves, but they need to look pretty. I started learning what flowers are edible and how I can grow them. That turned into an unexpected niche for me. I'm definitely inspired by fresh ingredients a lot, as spring starts coming around. What's blooming now, what's growing now, that's a really fun starting point for a drink.
Can you tell us about your book and how people can use fresh ingredients to make interesting cocktails?
Herbs are so easy to work into cocktails. What I like to do, and what I do in the book, is take a classic recipe and then work in a new flavor… It gives it something a little different. It's all trial and error, I suppose. If you want to know, "Would rosemary work in this cocktail?" You can just try it, garnish it with some rosemary, and see how the smell works with the drink. It's hard to go wrong, really. You can definitely find some that work better than others, but just playing around and experimenting and having fun is the way to do it, if you're new to creating your own drinks.
[For the book], the publisher approached me with the idea, so I feel like I skipped the hard part, a little bit. They wanted to do a book on cocktails and gardening, and then they found my blog and my Instagram and thought I might be interested in writing it. It was right up my alley… I proposed to them this format of 25 classic cocktails and 25 variations that incorporate ingredients from the garden. It's a good book for beginners, because it goes through the basics. It goes through these 25 drinks I think everybody should know. Then, if you want to get a little more creative, you can try the others. It's also good for beginner gardeners, because there's a whole section on how to grow basically any ingredient that I included in the book, with some information on what climate does this grow in, is it perennial or annual, and how do you get the plant started.
Do you have a favorite bar in Somerville, where you live?
I live a block away from Back Bar, and it is absolutely my favorite bar. We used to go across town to come here, so I couldn't believe [it], when we found a place so close to it. The drinks are fantastic. They just do such a good job. And they're constantly changing their menu or doing daily specials. It's a place you can keep going back to, and it's not always the same thing. It's also just a really friendly and fun spot.
Can you tell us about the drinks that you'll be mixing for Cocktail Club?
The Bronx is an old cocktail, and it's one that I tried for the first time recently. I think [host Jackson Cannon] saw my blog post on it, which is what made him think of it. It's a bit of an unusual cocktail. People kind of don't love using orange juice in cocktails anymore. It was much more popular a hundred years ago. It's a hard ingredient to get right. It doesn't have as much acidity as lemon and lime juice. It's kind of tough to make a balanced drink with orange juice. But I really loved the drink when I first mixed it up. There's a lot of different recipes out there. I kind of like one that's a little lighter on the orange juice.
… [The Bee's Knees] is such a crowd pleaser. It's so easy to make. It's a great cocktail. It has honey syrup, which is even easier to make than simple syrup, because honey will dissolve in water very easily. You just mix equal parts honey and water, then gin and lemon juice. … It's one of my favorite drinks to add fresh ingredients to. Any herb will be delicious in that cocktail. I like using different bitters. There's lots of different ways to dress it up a little bit more, if you want to.
Gin is kind of the perfect spirit for springtime. It's bright, and it's got all these botanical flavors. It tastes like springtime. And it works well in both spirit forward drinks and in more citrusy, fresh drinks. It's probably my favorite springtime spirit. It's fun to try different ones that have different flavors and different botanicals, and find one that you really like.
---
Join our next virtual event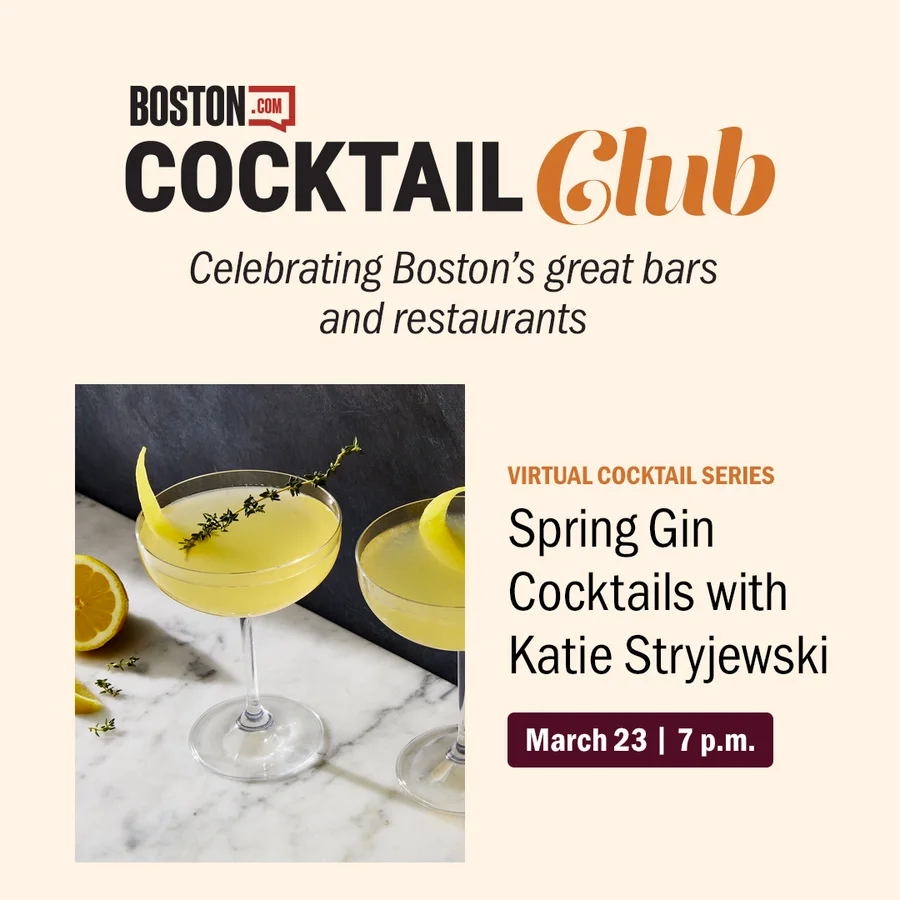 Join us Thursday, March 23 at 7 p.m. for Boston.com's Cocktail Club with host Jackson Cannon and his special guest content creator Katie Stryjewski for spring gin cocktails.