Community
Where to get the best ice cream around Boston
Nearly 2,000 readers shared their favorite places to get ice cream in the Boston region.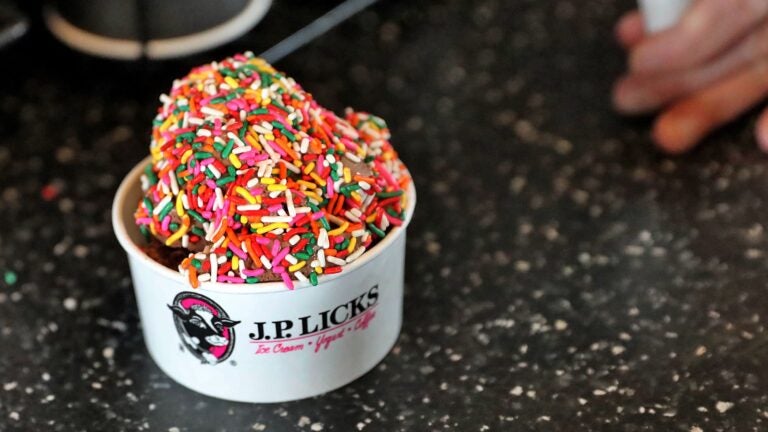 Ice cream is the perfect treat for cooling off on a hot summer day. From black raspberry to classic chocolate, there are so many flavors to choose from for your ideal cup or cone. We asked readers where to go in Boston and beyond for the best scoops, and nearly 2,000 people responded.
One thing is for sure: Bostonians know and love their ice cream.
Homemade ice cream chain J.P. Licks, which has 17 shops in the Greater Boston area, came in first place, earning 22% of the vote. You told us about Crescent Ridge Dairy, where the ice cream is made according to a 50-year-old recipe, and The Scoop N Scootery, open until the early hours of the morning.
We put together a guide to your top five places to get ice cream, including a map and complete listing of your recommendations. Scroll down to see more. For more ideas about all things ice cream in New England, look here. You can learn about places to get decadent sundaes and the expansion of a soft serve shop to Harvard Square. We know you'll be craving a spoonful.
5. FoMu
Multiple locations
What's not to like about FoMu? Called an "Earth-inspired dessert," FoMu's ice cream is made from plant-based ingredients, so that even lactose intolerant customers can enjoy it. The shop took 5% of the vote. Readers recommended the Banoffee Pie, which uses fresh bananas, and the Dark & Stormy, where juiced ginger gives it flavor. One reader recommended "anything with their vegan hot fudge," while Dan J., of Roxbury Crossing, said: "Never thought I would say nut milk based ice cream would taste smoother and creamier and tastier than any dairy based ice cream — but FOMU is incredible — highly recommended for any coconut milk based flavors."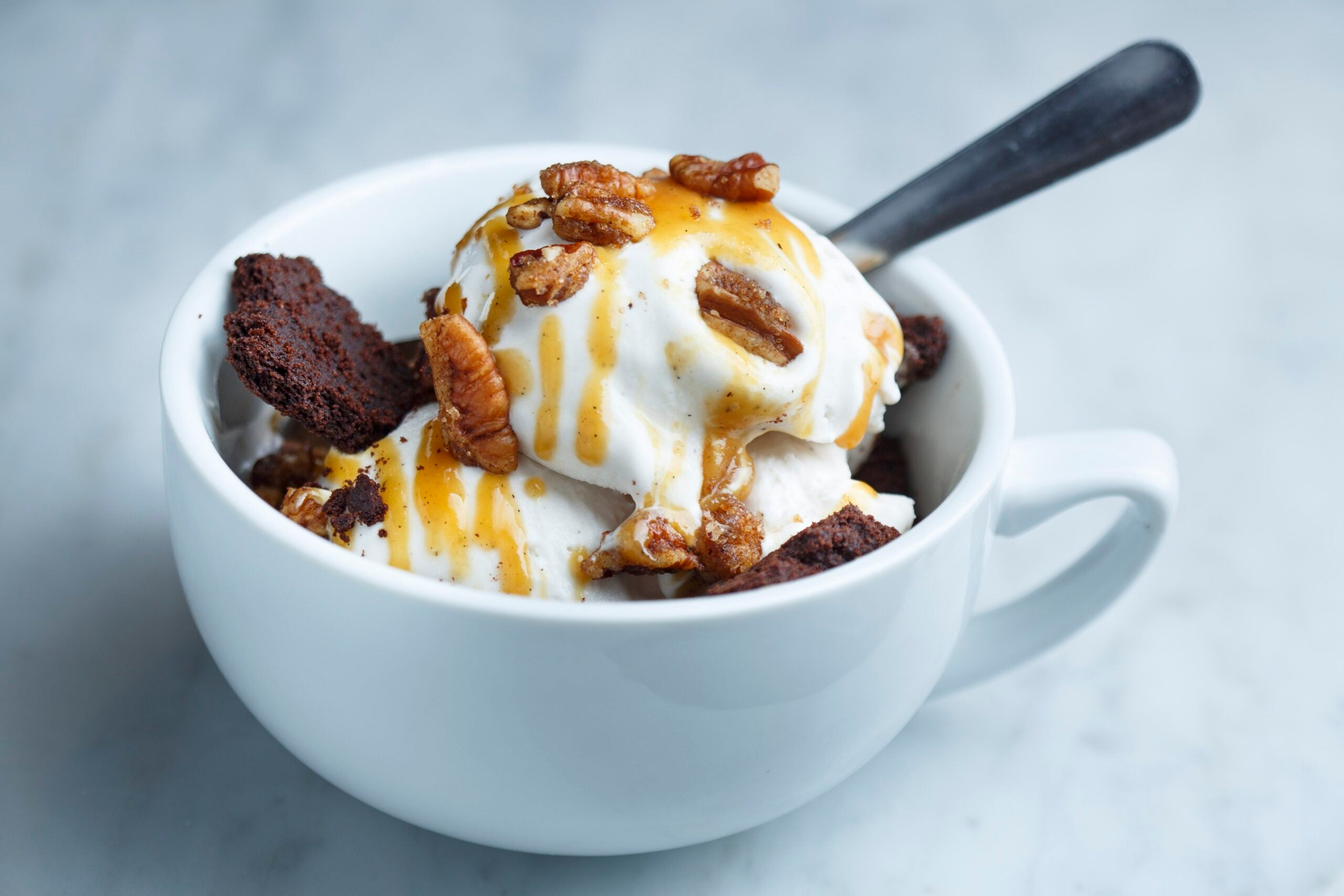 4. Emack & Bolio's
Multiple locations
Emack & Bolio's was started in 1975, when Bob Rook, a music lawyer, wanted to create a place where musicians could go after gigs and enjoy something cold and delicious. Ever since then, rock and roll lovers have flocked to Emack & Bolio's to get a taste of what the shops call "unique, outrageous flavor combinations." Today, the chain churns original flavors such as the grasshopper pie, maple walnut, and "deep purple" chip. The spot is a crowd pleaser, earning 7% of the vote. Reader Erin from Salem, N.H., said: "Bananas foster ice cream, on a cone that has been chocolate-dipped with sprinkles… yum!"
3. Ron's Gourmet Ice Cream & Bowling
1231 Hyde Park Ave, Hyde Park
559 High St., Dedham
Handmade ice cream is on the menu at Ron's Gourmet Ice Cream & Bowling. Some of the shop's signature flavors include mocha almond, Oreo cake batter, and Dutch chocolate. You can stop by just to pick up a cone, or you can plan a party and rent out a retro bowling lane. Ron's garnered 7% of the vote. According to Mary Ellen G. from Brighton: "Both the Hyde Park and Dedham locations have the creamiest, most delicious flavors I have ever had. I usually get the caramel fudge brownie or a raspberry lime rickey. The staff is super friendly, and the atmosphere is friendly and warm. A classic for decades."
2. The Scoop N Scootery
Multiple locations
It's no wonder The Scoop N Scootery earned 8% of the vote: They deliver ice cream sundaes to your door until 2 a.m. The shop started as an ice cream truck, before getting their first brick-and-mortar storefront in Arlington. These days, options include sundaes like The Garland, using s'mores ice cream, and the Filling Berry Fluffy, topped with bananas, strawberries, Nutella, and more. Anais L. from Arlington said: "Turtle ice cream, hot fudge, graham crackers, whipped cream. Absolutely delicious! Open until super late!" Meanwhile, other readers praised the "inventive sundaes," adding that The Scoop N Scootery serves "so many varieties."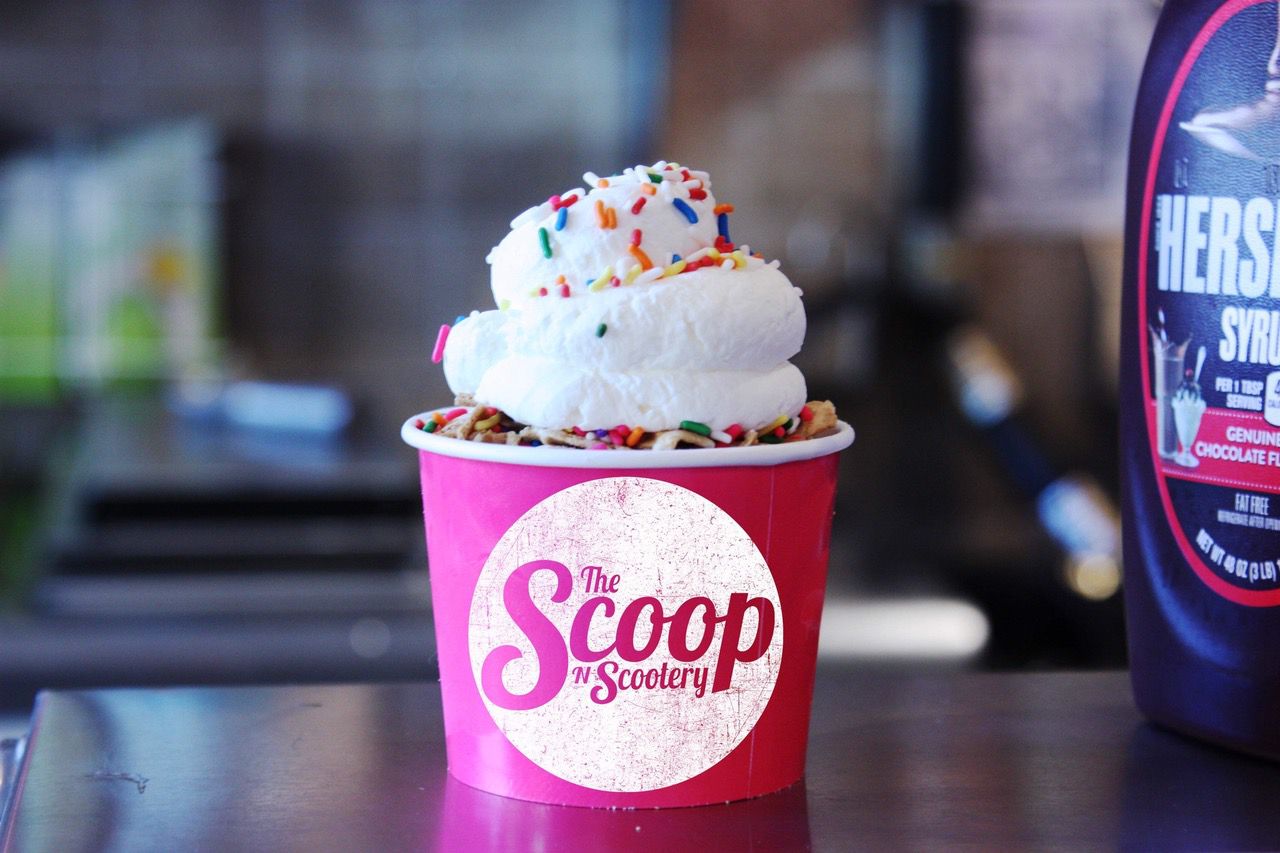 1. J.P. Licks
Multiple locations
Founded in Jamaica Plain in 1981, J.P. Licks has created something of an empire in Massachusetts, with 17 stores in the Greater Boston area. Taking 22% of the vote, the chain was the most beloved pick among Boston.com readers, who lauded flavors such as the coffee cookies 'n' cream, maple butter walnut, coconut almond chip, and mint chip. For a specialty treat, you can try the raspberry mango sundae or the peanut butter cup sundae. Readers noted that the employees at the shops are friendly and personable, as Angel from Malden said: "I order a brownie sundae with cookies 'n' cake batter ice cream, with chocolate chips in place of the walnuts. I love this place, because the staff of the Charles Street location is always welcoming and fun to interact with."
Here's the list of reader-recommended ice cream spots in Greater Boston:
Abbott's Frozen Custard, 311 Broadway, Arlington
Ashland Farm Dairy, 680 Plymouth St., East Bridgewater
Bedford Farms Ice Cream, 20 North Road, Bedford
Ben & Jerry's Ice Cream, 174 Newbury St., Boston
Benson's Homemade Ice Cream, 181 Washington St., Boxford
Bertie's Creative Creamery, 305 Washington St., Westwood
Black Cow Ice Cream, 1397 Main St., Millis
Boston Ice Cream Factory, 777 William T. Morrissey # A, Dorchester
Broadway Dairy Maid, 960 Broadway, Everett
Bubbling Brook Restaurant, 1652 High St., Westwood
C&L Frosty, 27 N. Main St., Sherborn
Cabot's Ice Cream & Restaurant, 743 Washington St., Newton
Cal's Creamery, 122 Main St., Reading
Captain Dusty's Ice Cream, 60 Beach St., Manchester-by-the-Sea
Carter's Ice Cream, 534 Salem St., Haverhill
Cedar Hill Dairy Joy, 331 North Ave., Weston
Celebrity Pizza, 684 Mt. Auburn St., Watertown
Cherry Farm Creamery, 210 Conant St., Danvers
Chill on Park, 142 Park St. #1228, Dorchester
Cold Stone Creamery, 94 Belvidere St., Boston
Colleen's Ice Cream & Sandwich Shop, 61 High St., Medford
Cravings, 389 Main St., Wakefield
Crescent Ridge Dairy, 407 Bay Road, Sharon
Daddy's Dairy, 95 Central St., Norwood
Dairy Delight, 766 Main St., Malden
Dairy Queen, 323 N. Main St., Natick
Dairy Twist, 580 Washington St., Pembrok
Dairy Witch Ice Cream, 117 Boston St., Salem
Dandi-Lyons, 1331 Main St., Reading
Dizin Fruttiberri, 127 Mt. Auburn St., Watertown
DownRiver Ice Cream, 241 John Wise Ave., Essex
E.W. Hobbs Inc., 207 Fort Ave., Salem
Emack & Bolio's, 290 Newbury St., Boston
Erikson's Ice Cream, 12 Great Road, Maynard
Far Out Ice Cream, 419 Harvard St., Brookline
Farfar's Danish Ice Cream Shop, 272 St George St., Duxbury
Flint Farm Ice Cream Stand, 789 East St.,Mansfield
Foley's Ice Cream Shoppe, 132 Hancock St., Braintree
FoMu, 140 Brookline Ave., Boston
Frosty Boy, 1167 Lakeview Ave., Dracut
Frozen Freddies, 435 Washington St., Quincy
Furlong's Candies & Ice Cream, 1355 Boston Providence Highway, Norwood
Great Brook Farm Ice Cream, 165 North Road, Carlisle
Heidi's Hollow Farm, 165 Liberty St., Hanson
Hilliard's Chocolates, 316 Main St., North Easton
Hodgies Too of Newburyport, 251 Low St., Newburyport
Hornstra Farms, 246 Prospect St., Norwell
J.P. Lick's, 150 Charles St., Boston
Jamie's Ice Cream Co., 5 Station St., Brookline
Jay Gee's Ice Cream & Fun Center, 602 Lowell St., Methuen
Jay's Pizza & Ice Cream, 167 Centre St., Malden
JJ's Ice Cream Shoppe, 167 Milford St., Upton
JJ's Dairy Hut, 140 Chief Justice Cushing Highway, Cohasset
Kell's Kreme, 437 Revere Beach Boulevard, Revere
Kennedy's Ice Cream Bar, 888 Main St., Melrose
Kimball Farm, 400 Littleton Road, Westford
Lizzy's Homemade Ice Cream, 367 Moody St., Waltham
Mad Maggie's Ice Cream, 1025 Osgood St., North Andover
Mad Willie's Ice Cream & Frozen Yogurt, 963 Worcester Road, Framingham
Meadowlands Homemade Ice Cream, 328 N Billerica Road, Tewksbury
Meletharb Ice Cream, 393 Lowell St., Wakefield
Melt Ice Cream, 60 Washington St., Salem
Miller Farm Ice Cream & Garden Center, 277 Main St., Northborough
Moozy's Ice Cream, 2 Trapelo Road, Belmont
Nanabette's Ice Cream, 156 Main St., Woburn
New City Microcreamery, 534A Boston Post Road, Sudbury
Nona's Homemade Ice Cream, 19 Main St., Hingham
Oddfellows Ice Cream Co., 33 Boylston St. Suite 5578, Chestnut Hill
Park St. Ice Cream Shoppe & Cafe, 14 Park St., Natick
Parlee Farms, 95 Farwell Road, Tyngsborough
Peaceful Meadows Ice Cream, 60 Bedford St., Whitman
Picco Boston, 513 Tremont St., Boston
Pizzi Farm Ice Cream, 495 Lincoln St., Waltham
Rancatore's Ice Cream & Yogurt, 1752 Massachusetts Ave., Lexington
Reasons To Be Cheerful, 110 Commonwealth Ave., Concord
Richardson's Ice Cream, 156 South Main St., Middleton
Ron's Gourmet Ice Cream & Bowling, 1231 Hyde Park Ave., Hyde Park
Sandy's Chill Spot Ice Cream & Seafood Restaurant, 800 Pulaski Boulevard, Bellingham
Sarkisian Farms Driving Range & Ice Cream, 159 Chandler Road, Andover
Schoolhouse Ice Cream & Yogurt, 216 Cambridge St., Burlington
Scoops Ice Cream Company, 540 Nantasket Ave., Hull
Shaw Farm Dairy, 204 New Boston Road, Dracut
Skinner's Sugar House, 24 Union St., East Bridgewater
Slush King, 211 Bennington St., East Boston
Soc's Ice Cream, 67 Lynn Fells Parkway, Saugus
Stanney's Ice Cream & Sandwich, 300 Union St., Holbrook
Sugar Hill Dairy, 602 Pleasant St., Bridgewater
Sullivan Farms Homemade Ice Cream, 176 Middlesex Road, Tyngsborough
Sully's Ice Cream Stand, 55 Graniteville Road, Chelmsford
Sunshine Farm, 41 Kendall Ave., Sherborn
Taiyaki NYC, 119 Seaport Boulevard Suite B, Boston
Tangerini's Spring Street Farm, 139 Spring St., Millis
The Big Dipper Ice Cream Stand, 327 Main St., North Reading
The Flannel Cow Creamery, 88 Chilson Ave., Mansfield
The Ice Creamsmith, 2295 Dorchester Ave., Boston
The Scoop N Scootery, 112 Massachusetts Ave., Arlington
The Tipping Cow, Charles River Speedway, 525 Western Ave., Boston
Three Pugs Creamery, 70 Randall Road, Wrentham
Treadwell's Ice Cream, 46 Margin St., Peabody
Trombetta's Farm, 655 Farm Road #2763, Marlborough
Truly's, 35 Grove St., Wellesley
Twist N' Shake, 482 Shirley St., Winthrop
Uhlman's Ice Cream, 234 E. Main St., Westborough
Wally's Wicked Good, 419 Lexington St., Auburndale
West Side Creamery, 537 Massachusetts Ave. #100, Acton
White Farms Ice Cream, 326 High St., Ipswich
White Mountain Creamery, 19 Commonwealth Ave., Chestnut Hill
Sign up for The Dish
Stay up to date on the latest food news from Boston.com.