Community
Boston.com survey: What's the best new music release by a Boston artist?
We'll compile your favorites for a local artists playlist — and don't worry if you're stuck, we have suggestions.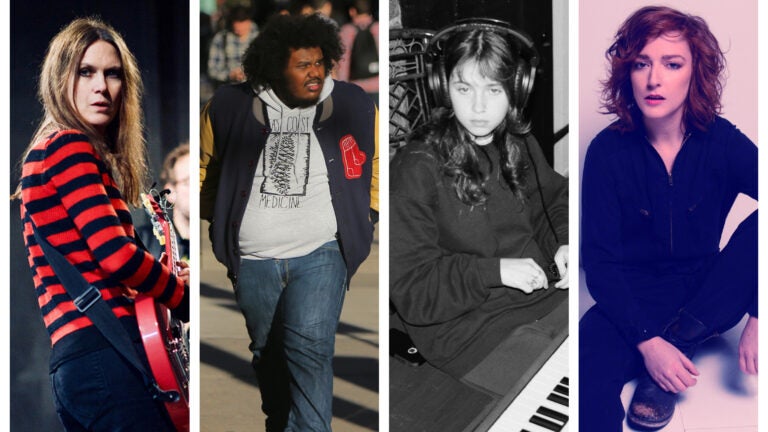 If there's one thing Boston doesn't lack for, it's musical prowess: Hub-area acts have been tearing up the charts for decades, with hits from the likes of Boston (of course), Donna Summer, The Cars, J. Geils Band, Aerosmith, and New Kids on the Block all making their way onto our personal playlists over the years.
But just because some of those artists have shuffled off this mortal coil, or refrained from releasing music of late, doesn't mean there isn't still plenty of new stuff out there by local artists — for proof take a listen to the "Wicked Local Wednesday" show on Emerson College's WERS, which finds new Boston-area acts to spotlight each week.
Meanwhile, some of our favorite usual local suspects have released great new albums this year, including the Dropkick Murphys' excellent "Turn Up That Dial" (replete with Boston references), and the latest entry into Juliana Hatfield's spectacular late-career renaissance, the striking collection "Blood." But we know what we're listening to; we want to know what you're listening to.
Fill out the survey at the bottom of this post, or email [email protected], to let us know what new songs or albums by Boston-area artists you're enjoying most right now. (For our purposes, we'll consider "new" to be anything released 2020-2021, and "Boston-area" to be New England.) We'll compile a playlist of the top tunes that we'll reveal in a @BostonDotCom Twitter Spaces event Aug. 12, and in a future Boston.com article.
Meanwhile, if you're looking for some suggestions, we can help: Here are five options we'd be very disappointed not to see on the list:
Pronoun, "I WANNA DIE BUT I CAN'T (CUZ I GOTTA KEEP LIVING)″ from "OMG I MADE IT" (2021): Hot on the heels of her 2019 full-length album "i'll show you stronger," the Boston native and Berklee grad (née Alyse Vellturo) is back with even more ingratiating indie synth rock.
Clairo, "Blouse," from "Sling" (2021): Clairo's confessional dream-pop (is that a thing?) has definitely touched a nerve — since her song "Pretty Girl" went viral on YouTube in 2019, Clairo (known as Claire Cottrill when she was growing up in Carlisle) has been profiled in Rolling Stone and seen her new album — and this track in particular — rack up millions of streams.
Bia, "Whole Lotta Money" (remix, 2021): If you were on TikTok this past spring (and who wasn't?), you probably heard the version that was on the Boston rapper's 2020 EP "For Certain" when it started making the rounds there. But it was the surprise remix with Nicki Minaj that really took off when it dropped last month. (Warning: lyrics NSFW, or most other places.)
Michael Christmas, "Nissan Altima" from "Giving" (2020): The Boston rapper's mellow groove and winking rhymes on this track, from his album released late last year, is proof positive there should be more songs about midsize sedans.
GrandEvolution, "Glow" from "Glow" (2021): We're going to go out on a limb and predict that this outfit from Worcester will capture hearts and minds with their luscious '90s-style alt-pop and folk-rock — check out the title track from their new album and we think you'll agree.
What's your favorite new music by a local artist? Take the survey below:
Newsletter Signup
Stay up to date on all the latest news from Boston.com