Community
'Dunkin', what have you done?': Readers say they'll miss the Dunkaccino
The coffee and doughnut chain discontinued the popular drink.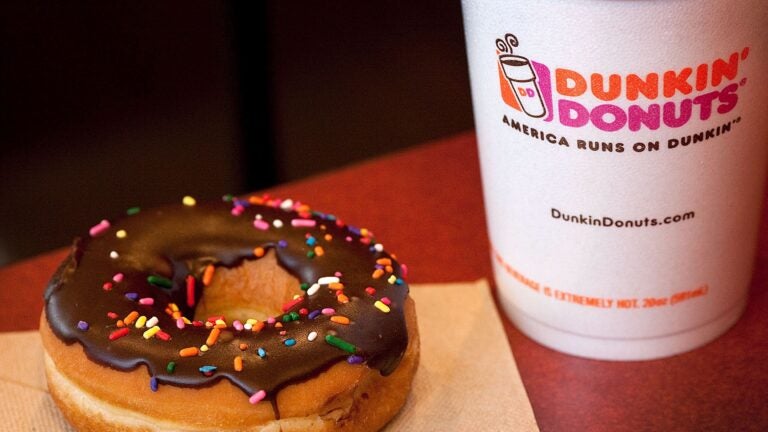 Dunkin' recently pulled the Dunkaccino from their menu, and readers are mourning the end of the classic drink.
The beverage, a "unique blend of coffee and hot chocolate flavors," was launched in 2000 and had an over two-decade run. According to CNN, it seems to have disappeared "in recent months." Dunkin' did not give any reason for retiring the drink but said it may not be gone forever, telling Boston.com "there's always the chance for its return in the future."
We asked readers how they felt about the end of the Dunkaccino, and almost 200 people responded. Most of the respondents, 68%, were very disappointed by the loss of the drink. Eleven percent said that Dunkin' made the right decision.
Below, find the results of our poll, and see what readers said about the discontinuation of the Dunkaccino.
What do you think of Dunkin's retirement of the Dunkaccino?
I'm so disappointed. That was my favorite drink.
I think they made the right decision.
I have mixed feelings.
Other
"The tastiest beverage in the world"
"The Dunkaccino was the perfect treat yourself beverage. Enough caffeine to wake you up, with a great flavor. Sometimes I would cut it, and ask for half coffee, half Dunkaccino. Was it a sugar bomb? Sure. But it really hit the spot. I've been missing it recently, and am sad to see it is gone… hopefully not forever!"

—Clare, Dorchester
"I don't drink coffee but wanted to feel included in the Dunkin run! In the winter, the Dunkaccino allowed me to have a cozy drink and be part of the fun! Hot chocolate is 'fine' but something I can very easily make at home with the same quality as what I can get at Dunkin', but the same isn't true about the Dunkaccino. It was very unique."

—Patty B., Dighton
"This was by far our family's favorite drink! I raised my kids on these. Nothing like sitting by the Christmas tree drinking these with my four kids and nine cats. Dunkin', what have you done!"

—Kathy, Revere
"I'm not much of a coffee drinker, but back in junior high and high school, it was a super cool thing to do, to either have off campus privileges or sneak off campus and go to Dunks. [A] Dunkaccino and a strawberry frosted donut was my go-to. I don't order them as much recently, but last year I tried to get one, and they said no, that thing is over. So [I'm] rooting on a comeback."

—Nate H., Medford
"I think Dunkin' has made a grave mistake, and they will rue the day they decided to cancel what is quite possibly the tastiest beverage in the world. Seems like everyone's asleep at the wheel at Dunkin' headquarters, probably because they can't get their Dunkaccinos."

—Megan
"I first had the drink due to a friend mistaking my order. The mistake was instantly forgiven, as I fell in love with the Dunkaccino. This was back in 2006; I now live in Georgia and, sadly, have noticed it was not being sold at most locations. The let down has been somewhat lifted as I found a site that showed me how to make my own at home. It is not the exact same but it suffices, for now."

—Danny A., Georgia, formerly of Roslindale
"Too bitter"
"I love a mocha, but whatever they put in the Dunkaccino had a chemical, fake taste. I order half-coffee and half-hot chocolate, and it's vastly superior."

—Brian, Beverly
"I'm [a] DD lover, but I do recall by taste [a] blend [of] hot coffee and hot chocolate, [and] I didn't like it [on the] first try. Too bitter. Never reorder again. I don't know how many creamers [I should] order to get [the] perfect taste. I knew [it disappeared from the menu], after [I'd] not seen it as [an] option [on the] list for [a] while."

—Kevin, North Chelmsford
Mixed feelings
"The Dunk' was harmless—hot chocolate with a splash of coffee. Corporate probably realizes there's much more profit today in selling over-sweetened, high fructose corn syrup liquid desserts."

—Bruce T., Plymouth
Boston.com occasionally interacts with readers by conducting informal polls and surveys. These results should be read as an unscientific gauge of readers' opinion.
Sign up for The Dish
Stay up to date on the latest food news from Boston.com.