Events
10 day passes to escape the winter weather
Want to escape the cold? Check out these indoor activities to keep you warm and entertained.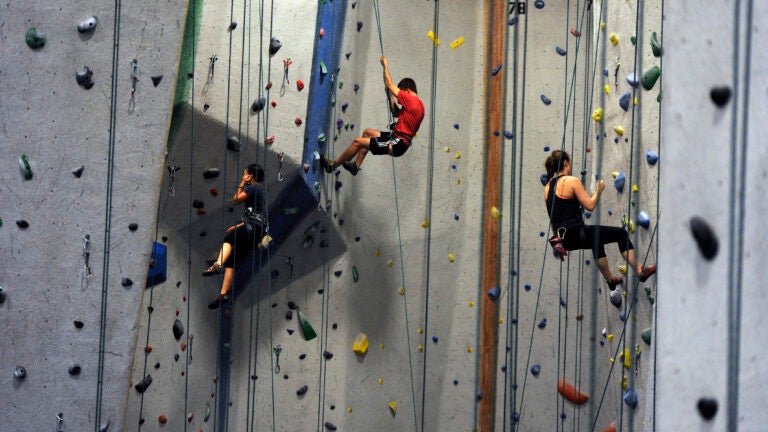 Boston was looking like a winter wonderland on Tuesday, and if you were hoping we turned a corner as we kick off March, well, it's not over yet. After our first "plowable" snow this week, WCVB Chief Meteorologist Cindy Fitzgibbon projected a wintry mix on Friday leading into Saturday. It will be a "sloppy" storm, she said.
With more snow, rain, and cold headed for Boston, we wanted to share a list of 10 ways to escape the winter weather. Want to add to our list? Share your recommendation for an indoor day pass in Boston by e-mailing [email protected].
If you are looking for "a unique combination of library, museum, and cultural center in a magnificent landmark building," the Boston Athenaeum might be the place for you. One of the oldest independent libraries in the country, the Boston Athenaeum recently completed a $17 million renovation that included a 12,000-foot-expansion, according to Boston magazine. Their collection contains more than half a million books and other works such as paintings, prints, photographs, maps, manuscripts, and sculptures. They also offer author talks, book clubs, exhibitions, concerts, and other opportunities. Their hours of operations Monday to Thursday 9 a.m. to 8 p.m. and Friday and Saturday 9 a.m. to 5 p.m. Day passes are $40.
10-1/2 Beacon St., Boston
Looking for a fun way to spend the snow day with your kids? The Boston Children's Museum offers a range of activities for youngsters, and parents may find some fun too. The museum was created to encourage kids to discover and play hands-on. Their three floors of exhibits include activities with bubbles, puzzles, art, stories, and a climbing area. Those looking to visit should choose one of the time slots when the museum is open Wednesday through Sunday, the first from 9 a.m. to 12 p.m. and second from 1:30 p.m. to 4:30 p.m. General admission tickets are $20.
308 Congress St., Boston
Looking to spend your day binging a good read? Visit the Boston Public Library in Copley Square, find a cozy corner, and curl up with a good book for hours. And with their selection you really could stay there for hours. The Boston Public Library has over 23 million books in its stacks with all the genres and topics you can imagine. It doesn't just have books, though, it has maps, manuscripts, letters, drawings, DVDs, audiobooks, e-books, and magazines. The Boston Public Library is also adorned by its wall, illustrations, etched ceilings, and lion statues. So really, there are quite a few things that you could do and see on a snowy day. The best part? No day pass needed. Visiting is free for all. The Boston Public Library opens at 9 a.m. every day except Sunday, when it opens at 11 a.m. See their website for the varying closing hours.
700 Boylston St., Boston
If you want to turn the heat up with your day pass, maybe try the Central Rock Gym. Aside from the basic weights and cardio equipment that most gyms have, the Central Rock Gym has rock climbing walls where you can boulder all day. Work on your strength and push your limits, but make sure you're not afraid of heights. Standard day passes are $30 and $5 for shoe rentals. See their website for hours.
99 Beverly St., Boston
Exhale Battery Wharf is an option for anyone who feels like treating themselves to a day at the spa. Have you been feeling stressed lately? Exhale Battery Wharf offers facials, acupuncture, waxing, nail therapies, and massages, as well as, barre, cardio, yoga, or HIIT classes if you want to work up a sweat. According to their website, their relaxing sanctuary can restore your mind and body. Interested in putting that to the test? They are open Monday to Friday from 7 a.m. to 8 p.m., and Saturday and Sunday from 7:30 a.m. to 7 p.m. Adult spa passes start at $40.
2 Battery Wharf, Boston
If fun and games is on your snow day itinerary, check out Lucky Strike. Take the day to bowl, win it all at the arcade, and dine out. Plus, adults can visit the lounge for pool, food, and drinks. Bowling is $18 per person per hour Sunday to Thursday, and $22 per person per hour Friday and Saturday. See their website for hours.
145 Ipswich St., Boston
Looking for something that isn't just for kids? The Museum of Science has fun for everyone. The Museum of Science is another option to learn and engage in activities for all ages. They have a wide variety of exhibits to explore, so you'll be sure to find something that intrigues you. Are you into engineering? Visit their Engineering Design Workshop to learn how an engineer approaches a problem. More into dinosaurs? Then we'd suggest Colossal Fossil: Triceratops Cliff where you can see the complete fossil of a Triceratops. Another popular attraction of theirs is the planetarium where you can gaze up at the night sky. If you are looking for an indoor day pass that is fun and educational, this might be the thing for you. The museum is open Saturday through Thursday from 9 a.m. to 5 p.m. ,and 9 a.m. to 9 p.m. on Fridays. Tickets are $29 for adults, $24 for kids, and $25 for seniors.
1 Museum Of Science Driveway, Boston
Want something a bit more leisurely? Visit the Museum of Fine Arts. Their selection of art and history features nearly 500,000 works that "tell the story of the human experience." The MFA has its permanent exhibits like "Art of the Americas," which presents paintings and sculptures made throughout America, and their "Mummies" exhibit. They also have some temporary ones worth checking out, as well. Right now you can visit "Who Holds Up the Sky?" an exhibit revealing "work of artists who have been documenting the war—providing testimony of Russia's crimes and a glimpse into many Ukrainian citizens' lives." You can visit the MFA every day except Tuesday; hours vary. General admission tickets are $27 for adults, $10 for 7- to 17 year-olds, and free for those 6 and under.
465 Huntington Ave., Boston
At the New England Aquarium you can see the wonders of the tropics while snow falls outside. However, if you are in the mood for something more arctic, you can find that by visiting the penguins. The New England Aquarium has a large variety of exhibits including the largest shark and ray touch tank on the East Coast and the Giant Ocean Tank, which houses a green sea turtle and hundreds of Caribbean animals. After visiting the aquatic life, sit back and relax at their Simons Theatre, featuring films such as "Incredible Predators" and "Secrets of the Sea." The aquarium is open 9 a.m. to 5 p.m. on weekdays, and 9 a.m. to 6 p.m. on weekends. General admission tickets are $34 for adults, $25 for children, and $32 for seniors.
1 Central Wharf, Boston
Another perfect day pass for the family is the Salvation Army Kroc Center. Salvation Army Kroc Center is a community center that has a gymnasium, drop in fitness classes, a climbing wall, a game zone, and the indoor waterpark. The water park, equipped with splash pads, pools, a lazy river, and waterslides, would be a perfect getaway from the winer weather. Purchase their day pass for the aquatics park for just $5 to enjoy a day in the pool. Check their website for hours.
650 Dudley St., Dorchester
Need weekend plans?
The best events in the city, delivered to your inbox.