Food
9 places to get a perfect martini in Boston
Olive or a twist? 🍸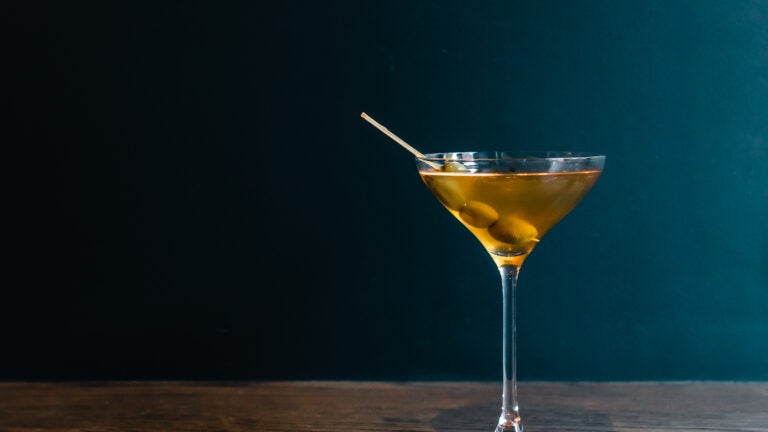 There's no denying that martinis are having a moment. While some may say it's a case of "everything old is new again," for a cocktail as timeless as the martini, others will argue it never really went out of style.
Defined by Merriam Dictionary as a cocktail made from gin or vodka and dry vermouth, garnished with an olive or a twist of lemon, there have been many variations of the classic martini over the years.
These versions — like the vesper, the dirty martini, and the espresso martini —have likely contributed to its resurgence.
We're not here to argue what makes a martini, but rather who makes some of the best martinis in town and what makes them the best.
From a traditionalists' take on a gin martini, to a dirty vodka martini with hand-stuffed blue cheese olives, to a dive bar serving martinis in crystal coups next to a basket of truffle fries, here are a few spots to sample the timeless libation.
406 Stuart St., Boston
If you're reading this and realize you've never relished a classic martini, a visit to The Banks Fish House is in order to set the bar high. Jason Percival, The Banks Fish House beverage manager, embraces the early days of martinis, explaining that "a perfect martini is something to wake up the palate before sitting down to dinner." He continues, "It should be cold, quick, and brisk." To execute this, Percival and his team start with gin, add dry French vermouth for an herbaceous, salty bite and brined, green Castelvetrano olives stuffed in-house with softened blue cheese, and finish by expressing a swath of lemon peel over the top, which Percival concludes, "brings out the citrus notes of the gin and adds all the aromatics."
161 Berkeley St., Boston
For an unexpected twist on the classic, Grill 23 offers a perfectly chilled martini by serving their vodka or gin martini over crushed ice. Hugo Bensimon, bar and beverage director at Grill 23, explains that crushed ice is used to achieve the balance needed to craft a perfect martini. "Because our martinis are so large, the crushed ice keeps them extremely cold while continuing the dilution while enjoying them," says Bensimon.
571 Tremont St., Boston
A dirty martini is simply a classic martini with a splash of olive brine — but of course, it's not that simple. Even if high-quality olives are used, resulting in quality brine, if that's not filtered or stored properly in between uses, it can create a rather lackluster martini. This is not the case at Black Lamb, where Ryan Lotz, beverage director for Black Lamb, Bar Mezzana, and Shore Leave, explains their use of an olive brine bottled specifically for cocktails. "It's about intention," he said. "We take a few extra steps and infuse our vodka with black pepper and olive oil for a second layer of savoriness, and then we add a few dashes of salt solution to make sure everything is well seasoned and tasting bright."
433 Columbus Ave., Boston
Dive bars and dirty martinis aren't typically associated with each other —probably because of the aforementioned quality of the key ingredient, the brine. However, Anchovies Bar in the heart of the South End defies this logic, shaking up one of the best dive bar martinis. It pairs flawlessly with their overflowing basket of truffle Parmesan fries. This no-frills rendition of a dirty vodka martini is so devilishly good, it may have you doubling down on your order.
569 Columbus Ave., Boston
Even when a bar masters and makes a top-class, traditional martini, there's still room for tweaking it. SRV does this by suggesting guests swap the typically-used London dry gin for their "new gin obsession," Glendalough Rose Gin. Partner at SRV, Ted Hawkins explains, "the hint of floral mixed with classic juniper makes for a fun twist on the classically simple cocktail."
371 Commonwealth Ave., Boston
Clean, crisp, and ideally chilled, Deauxave stirs up some of the best vodka martinis that are truly for the traditionalist. The minimal cocktail brilliantly emulates the eloquence of sliding into one of the few available stools at the intimate bar of the suave, French restaurant on the corner of Massachusetts and Commonwealth avenues. Only carrying the finest vodka and vermouth, this is your go-to spot for a classic vodka martini, garnished with a twist of lemon peel.
30 Rowes Wharf, Boston
A dirty martini's bolder, feistier cousin comes in the form of a "hot and dirty" martini, which happens to be exceptionally popular on the East Coast. Tasting as it sounds, this beverage presents a kick from varying spice elements, and at Pasta Beach, that is Calabrian chili paste combined with their signature spirit, Malfy Gin con Limone. "Incorporating the citrus notes of the Malfy lemon gin alongside the Calabrian chile paste, it's the perfect blend of floral and spice topped with some blue cheese stuffed olives," shares James Ruggiero, beverage director at Pasta Beach.
241 Hanover St., Boston
To say the espresso martini at this North End hotspot has a cult following would be an understatement. Bricco Bar Manager Glenn Le Maitre shares that this year alone, 50,000 espresso martinis have been ordered. And yes, they're absolutely worth it. Though there's a lot of debate among espresso 'tini fans on cream versus black recipes, like we said at the beginning, we're not here to prove anything. We're just sharing what tastes good, and this is undoubtedly delicious. "We make ours with Absolut vanilla, Kahlua, fresh espresso, Disaronno, Bailey's, Frangelico and topped with a raw sugar and cocoa rim and three espresso beans," shares Le Maitre. "We love the balance that the creamy texture and flavor provides to the more acidic, bitter espresso flavor."
55 Hanover St., Boston
In case an espresso martini isn't dessert enough for you, this beloved North End coffee shop has a secret favorite hiding in plain sight — the pistachio martini. Though it's listed on the menu, this beverage that doubles as a sweet treat is often overlooked, but locals and neighborhood fans of this Caffè will proudly vouch for it. Made with vanilla vodka, amaretto, a splash of Midori, and a scoop of homemade pistachio gelato, this is your chance to really veer off the path of the classic martini, and indulge in how right that feels.