Food
'A meal that possibly saved my life': 10 memories of Gourmet Dumpling House
Readers told us what the Chinatown restaurant meant to them.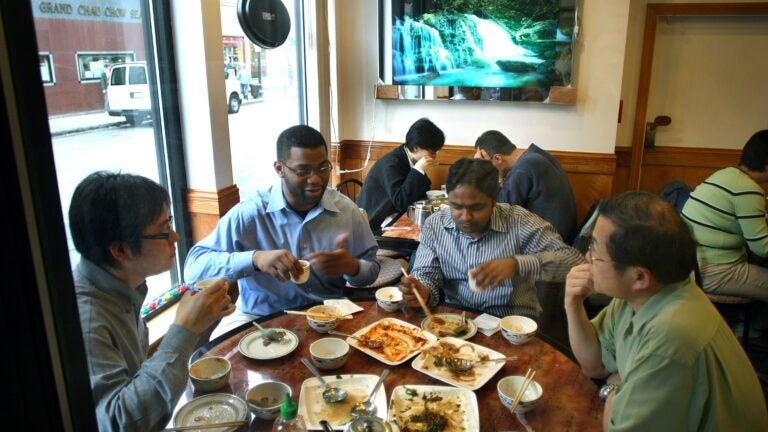 Today marks the last day that beloved Chinatown restaurant Gourmet Dumpling House will serve customers. Adam Bing, the son of Xuehua Gong, a co-owner the restaurant, told Boston.com that the lease is expiring and that his parents are retiring, in addition to some employees. Bing said he believes the space will continue to be a restaurant, operated by new owners.
We asked readers to share with us what the spot on Beach Street means to them. You told us about how you enjoyed discovering new menu items when you visited, and how it was a tradition to have a meal there while studying for school.
Ten readers told us about how they will miss having the restaurant be part of the community, and we compiled their responses below. Read on to see what customers had to say.
Readers reflect on what Gourmet Dumpling House meant to them:
"A good friend and I have been to Gourmet Dumpling House probably 20-30 times over the past couple of years. The Szechuan Style Sliced Fish is unparalleled in terms of quality.

One of the last times we went, we ordered so much food that the staff moved us from our two-person table to a larger table, as there would not have been enough space on the table for all of our dishes.

Truly a sad day for the Boston food scene."

-Dan, Cambridge
"Having a meal that possibly saved my life. When Marathon Bombing happened, I was supposed to be at the spot where bombs went off. Instead, I got hungry and convinced a friend to go to Gourmet Dumpling House. It was where I learned of what happened and people started coming in, confused and in shock, looking for a reprieve in the meal."

-A.M., Arlington
"There is nowhere you can have as many different types of dumplings and try all of them in one sitting. Twice!!"

-Anonymous, Boston
"What the heck? I am shocked to hear the big news of Gourmet Dumpling House closing soon. It is the best Chinese restaurant in Chinatown. I have already tried all other Chinese restaurants all over the place and Gourmet Dumpling Restaurant is the champion like [the] NBA Finals. Nobody can challenge it. It is very sad for me. My Chinese wife, who managed a Chinese restaurant in Shanghai, and I always ate there whenever we were in the neighborhood. …"

-Peter H., Reading
"Me and my family (wife and two kids) dine at the Gourmet Dumpling House every New Years Eve. We will need to find a new tradition. Good luck in retirement and enjoy."

-Rob S., Hyde Park
"Heading there late night as a law student at Suffolk is one of my favorite memories. I'll miss it!"

-Dave, Weston
"Discovering new dishes on every visit. I rarely looked at the menu. Instead, I would look around at what other diners had on their table, and if it looked good, I'd order the same thing. Never disappointed!"

-Samantha, Bellows Falls, Vermont
"My favorite memory was biting into a delicious dumpling that exploded all down my shirt and tie (we had to wear those…)! But it was worth it! I love this place and the work life lunch memories! Best of luck to the family—definitely the end of an era!"

-Rick H., Wellesley
"Dumplings were integral study/celebratory meals for Tufts Dental degrees."

-An Instagram user
"My grandpa introduced me to the Gourmet Dumpling House in 2011 when I was in high school. It was my first visit to Boston and easily one of my favorite stops. Though my grandpa no longer lives in Boston, I've made the trip to Boston several times in my young adult life, bringing along various friends and family—and always make Gourmet Dumpling House an essential stop (even when closed during COVID, I paid a visit to their front door just to say I did). Last trip, I brought a bag of their dumplings on the plane home to Dallas. My purse smelled like cabbage the next day or so — but it was worth it. Gourmet Dumpling House, you WILL be missed!

-Kelsey H., Dallas/Fort Worth, Texas