Food
Gong Cha to open new location in Harvard Square
Milk teas, fruit-based beverages, slushes, and more will be on the menu.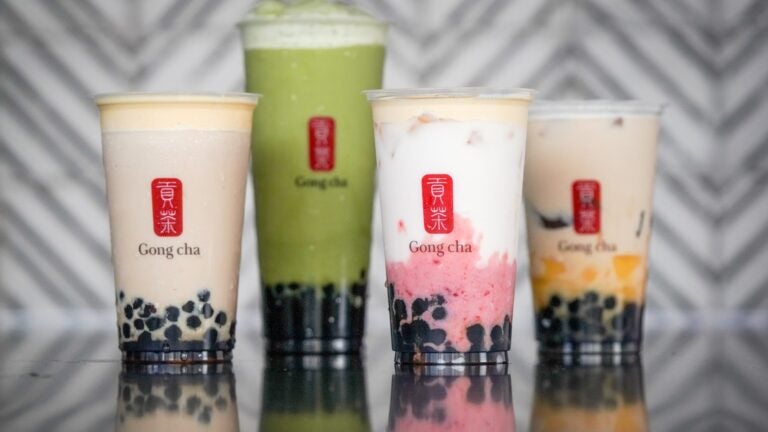 A new branch of the bubble tea company Gong Cha will open in Harvard Square on Sept. 9. This shop marks the 100th store of Anchal Lamba, Gong Cha's "youngest and most successful" master franchisee in the U.S., according to the company.
Lamba said she has been interested in the Harvard Square neighborhood for several years because college students love to drink bubble tea, but it was just a matter of finding the right space.
"It's right by Harvard University, it's got great retail, and it's kind of a perfect fit for Gong Cha," Lamba said. "I've had stores in the Boston area since 2017, in Chinatown, Allston, [and more]. We really are growing. Harvard Square's always been at the top of our list for many years."
The menu will be the same as those at other Gong Cha locations, featuring items like the dirty brown sugar milk tea and the crème brûlée strawberry latte. Customers can also pick from the Creative Series, which offers drinks such as the hibiscus green tea and lychee oolong. The Slush Series will bring guests beverage flavors like the passionfruit yogurt and taro milk.
The owners of the Harvard Square Gong Cha are Ting-Ho Tam and Barry Tam, two 27-year-old, Boston native, first-time entrepreneurs. The cousins grew up together, working in their families' restaurants. Ting-Ho enjoyed bubble tea and wanted to be an entrepreneur from a young age, and after graduating from UMass Amherst, he thought that Barry would be a great business partner, according to a press release.
Lamba opened her first Gong Cha in Flushing, Queens, N.Y., in a food court, at the age of 24. Her father had taken a trip to Hong Kong, and he told her that Gong Cha had the best bubble tea he had ever had. Lamba decided to franchise the business in the U.S. and has since sold more than 25 million bubble teas. She currently manages over 750 employees across the country.
On Sept. 9, there will be a grand opening for the Harvard Square Gong Cha. Cambridge Mayor Sumbul Siddiqui will be part of a ribbon cutting, and a traditional Lion Dance will be performed. Lamba told us about her favorite item on the menu.
"My favorite drink is our milk foam green tea," Lamba said. "It's freshly brewed green tea on the bottom base of the drink, and on top, it's a slightly salty but sweet cream. That's what we call milk foam. I think it just blends really well with our tea and is definitely one of our top items."
Gong Cha, 50 Church St., Cambridge
---
Feel free to let us know: Do you have a favorite restaurant in Harvard Square? Share your thoughts in the form below or send us an email at [email protected]. Your response may be used in an upcoming Boston.com article and/or social media channels.
Tell us: What's your favorite restaurant in Harvard Square?
Sign up for The Dish
Stay up to date on the latest food news from Boston.com.