Food
SAVR restaurant to open in the Seaport in late fall
"A modern, spirited American bistro."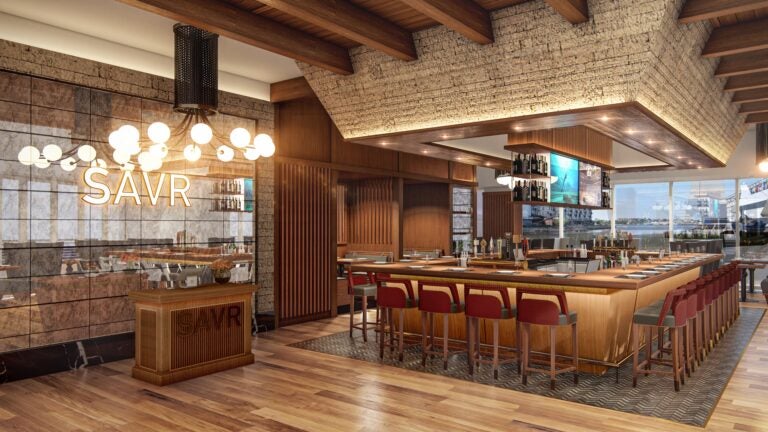 The St. Regis Residences, a waterfront luxury condo building being built in the Seaport, will be getting its own restaurant, SAVRTM, inspired by the motto "savor the moment." According to managing partner David Doyle, the spot will be "a modern, spirited American bistro," serving creative comfort food classics, seafood, and cocktails. It will most likely open in late November or early December.
"The restaurant itself is spread over two levels and has some amazing views of the water," said Doyle. "We were looking for something vibrant, something that would work for everybody's palate. … Whether it's seafood, pasta, steak items, that's the direction we wanted to go in."
While the menu has not been finalized yet, SAVR will most likely feature housemade pastas, southern fried chicken, wagyu beef, and dishes like swordfish and halibut. Wood-fired grill specialties will also be an important part of SAVR's offerings.
The space will seat 300, and it will sit directly on the water. There will be a central bar, a wrap-around terrace with dramatic views, and seating near the Harbor walk. While the restaurant is open to everyone, there will be a private interior entrance for residents. A floating, winding staircase will lead guests to the second floor, where there will be a more intimate bar, more seating, a private event room, and a terrace.
"We're building this brand around hospitality, quality, and consistency," said Doyle. He added, "It's definitely not going to be stuffy. It's going to be comfortable."
SAVRTM, 150 Seaport Boulevard, Boston
---
Do you have a favorite restaurant by the Seaport? Tell us all about it by filling out the form below or send us an email at [email protected]. Your response may be used in an upcoming Boston.com article and/or its social media channels.
Tell us: Do you have a favorite restaurant in the Seaport District?
Sign up for The Dish
Stay up to date on the latest food news from Boston.com.