Food
Taiyaki NYC ice cream shop will expand to Harvard Square
Order your soft serve in a fish-shaped cone.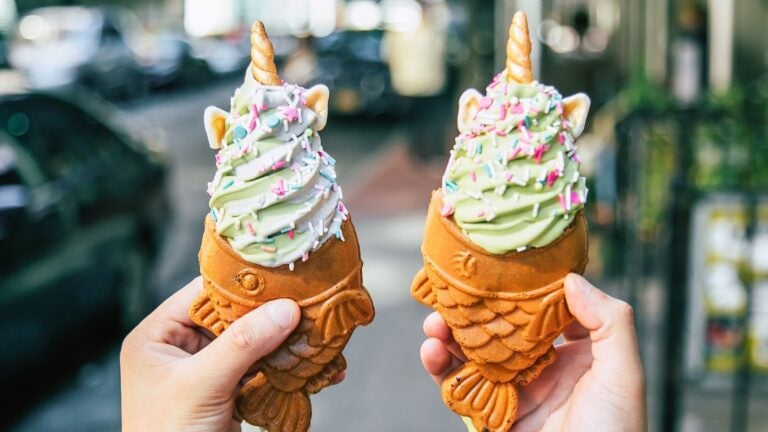 Ice cream shop Taiyaki NYC will add a new location in Cambridge, bringing creative takes on dessert and Japanese culture to the Harvard Square community.
Originally from New York, Taiyaki opened its first Boston location in 2019 in the Seaport District. Its new location is expected to open in Cambridge, in the former Mint Julep space, in mid-July.
"Here in Cambridge, we see the potential; we see the energy," owner Jimmy Chen said. "… We wanted to plant a flag and have a stronghold in the Cambridge community because it's so lively, and it's stacked with students."
The Harvard Square spot will be occupied by both Taiyaki and its sibling shop, The Dough Club, where mochi doughnuts will be sold. Colorful pon de ring-style doughnuts will come with different toppings, made fresh daily. This will be the Dough Club's first location outside of New York.
The literal translation of "taiyaki" is fried fish, and the team behind the shops reimagined the Japanese concept by making fish-shaped cones, with red bean or custard fillings. Some of the ice cream flavors are matcha, hojicha, vanilla, and chocolate. Vegan flavors, like mango and strawberry, are also available. Toppings include sprinkles, mochi on a stick, wafer sticks, and unicorn ears made from fondant.
Chen shared that the taiyaki in Japan is an important symbol.
"The taiyaki is a Japanese fish, and its tie in Japanese culture is that it symbolizes good luck and celebration," said Chen. "During celebrations, people hang the taiyaki. … It's very popular at weddings and events."
Souffle pancakes, meant to be light and airy, will be another item on the menu. Customers can also order drinks, like matcha lattes and frappes.
The new spot will be small, but it is meant to look pretty and fun, said Chen, who added that the interior will be colored pink and white. Customers will be served by lively and vibrant employees, he added.
Chen said that he is excited for the expansion and admires the spirit of Boston, which has so many colleges and universities. He hopes to infuse the Harvard Square area with new energy.
"We hope to bring a staple. We hope to bring a cool twist to the community," Chen said. "The neighborhood is predominantly non-Asian. We want to bring a tiny piece of Japan to this neighborhood. Japan is such a great country and has great culture. We just want to be a representation of Japanese culture."
Tell us about your favorite place to get ice cream in Massachusetts. You can fill out the form below or send us an email at [email protected]. Your response may be used in an upcoming Boston.com article and/or its social media channels.
Sorry. This form is no longer available.
Sign up for The Dish
Stay up to date on the latest food news from Boston.com.