Food
The Choco Taco lives on: Find re-creations in greater Boston
Restaurants and ice cream shops are keeping the dessert alive.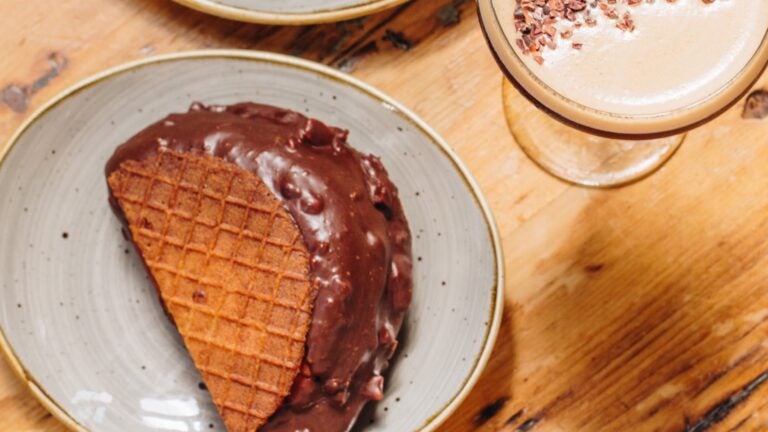 It turns out, the Choco Taco won't be disappearing without a fight. While Klondike has decided to discontinue the classic treat, a few restaurants and ice cream parlors are creating their own version of it, putting a gourmet spin on the frozen snack.
Although many Bostonians are mourning the loss of the Choco Taco, there are still places where you can find original takes on the dessert.
Yellow Door Taqueria and pastry chef Kate Holowchik of Lionheart Confections will be holding a pop-up on Aug. 2, serving a Choco Taco Doughnut for one day only. It will be available at the South End and Lower Mills location, beginning at 4 p.m.
The doughnut is a tender, half-moon-shaped, vanilla brioche filled with vanilla bean pastry cream, then dipped in chocolate-peanut ganache and garnished with a waffle cone tuile — a thin, crispy cookie.
Holowchik specializes in doughnuts and has earned a cult-like following for her desserts. When she came up with the idea for a Choco Taco Doughnut, she wanted to put a twist on the iconic treat, omitting the ice cream.
"I've done this before, because I have Lionheart Confections, and one of the biggest things I do is doughnut pop-ups," said Holowchik. "I was trying to do as many different kinds of doughnuts, and I'm always challenging myself to try to do the next best thing and the next fun thing. One thing that I've always been about with my pastry and my voice in the culinary scene is keeping it fun … That's when I started to [think about] frozen treats and drumsticks. I thought, 'I could probably do a taco version of this.'"
Look below for other unique spins on the Choco Taco.
Cunard Tavern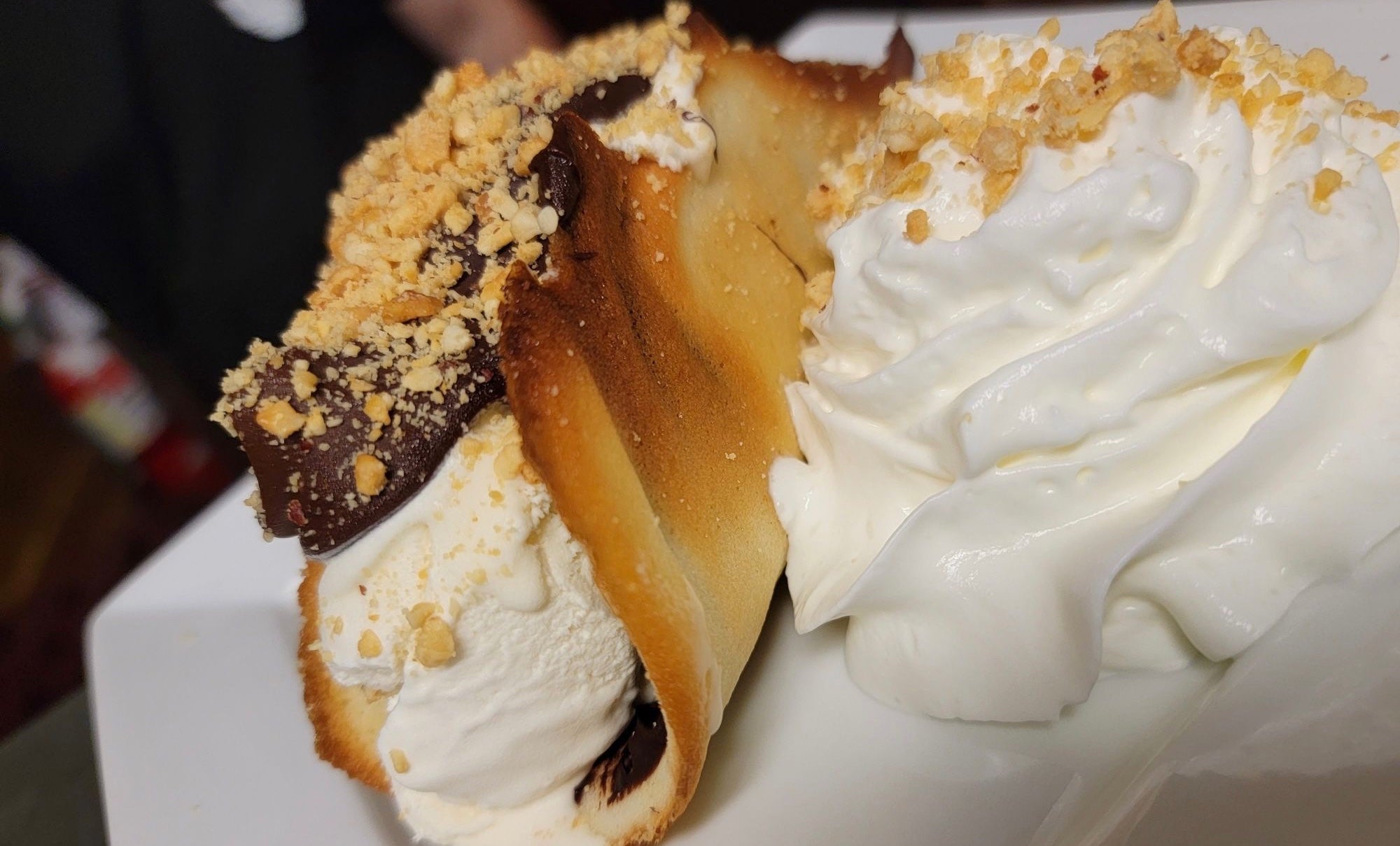 Throughout the summer, Cunard Tavern will serve Choco Tacos in limited numbers. When Chef Anthony Pino saw the response on social media to Klondike's cancelation of it, he was inspired, wondering, why not make his own?
"Growing up in East Boston, my dad had an ice cream truck. He used to drive around, selling ice cream, and it was kind of a big part of my childhood," Pino said. "When I heard people talking, all nostalgic, about ice cream last week, I said, 'All right, we have to do one of these.'"
Cunard Tavern's tacos are fashioned from a housemade, vanilla tuile cookie, which envelopes vanilla bean ice cream, milk chocolate, and crushed, roasted peanuts. The ice cream that Pino uses is usually from Richardson's or Crescent Ridge, and the shell has a satisfying crunch.
24 Orleans St., East Boston
Honeycomb Creamery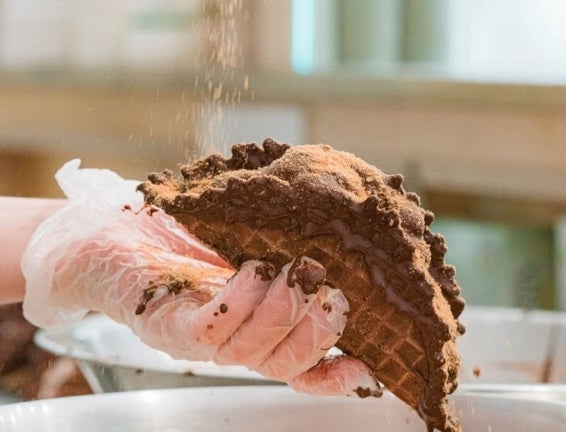 The Cambridge mecca for all things ice cream has been making ice cream tacos, with flavors rotating every two weeks, since the spring of 2017. Some of their past variations include the Blueberry Pie Taco and the Caramel Turtle Taco, filled with chocolate ice cream and topped with caramel sauce and pecans.
"Nobody was really doing anything like this," owner Kristen Rummel said. "It seemed like a really great opportunity to make different flavored Choco Tacos. In addition to being able to build an ice cream sundae, we [thought], what's a different way that we can create a combination of flavors and toppings?"
Currently, Honeycomb Creamery is serving a S'mores Taco, which features a chocolate waffle cone, malted vanilla ice cream, homemade marshmallow, dipped in a dark chocolate shell and rolled in graham cracker crumbs. Next week, they will be offering a Peach Cobbler Taco, incorporating a jam made from a batch of fresh peaches, vanilla ice cream, and a biscuit topping.
1702 Massachusetts Ave., Cambridge
The Paddle Inn
Since The Paddle Inn opened six years ago, Chef Suzi Maitland has been making her original Choco Taco, a staple here to stay. Chef de cuisine Michael Dyer called it "the perfect summer snack," a small but refreshing bite at the end of a meal.
Maitland's Choco Taco features a crispy, tuile shell, which gets its flavor from cinnamon, nutmeg, and vanilla. A custard-like, housemade vanilla ice cream is sandwiched between the thin cookie, and the whole thing is then dipped into a Mexican, dark chocolate ganache. It is topped with cookie crumble.
Dyer said he was disappointed to hear that Klondike discontinued the Choco Taco but that hungry eaters can find an alternative at The Paddle Inn.
"I was sad to hear it," Dyer said. "I have a couple kids that are 3 and 5. That's one of their favorite things to get when the ice cream truck comes by. It's sad, I guess, a little bit of nostalgia getting taken away." As for the tacos being served at the Newburyport restaurant, he had one thing to say: "Come and get one."
27 State St., Newburyport
---
So tell us: How do you feel about the discontinuation of the Choco Taco? Let us know through the form below or send us an email at [email protected]. Your response may be used in an upcoming Boston.com article and its social media channels.
Tell us: How do you feel about the end of the Choco Taco?
Sign up for The Dish
Stay up to date on the latest food news from Boston.com.