Food
Tiffani Faison's Fool's Errand bar reopens in the Fenway
The popular spot returns, with a new menu and seating arrangement.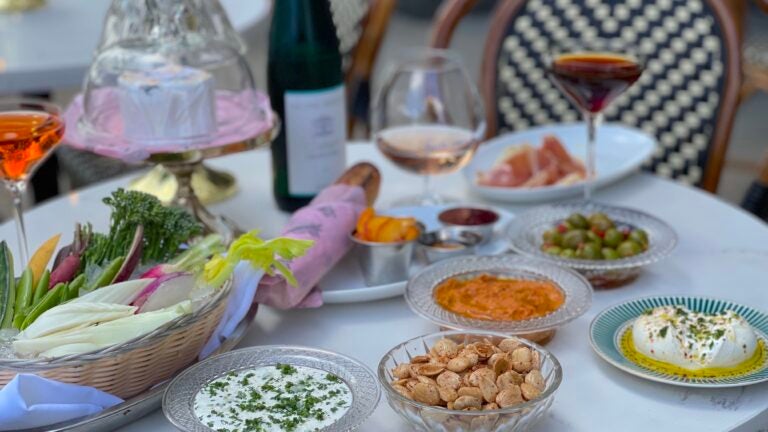 Fool's Errand, an "adult" snack bar created by chef and restaurateur Tiffani Faison of Big Heart Hospitality, softly reopened on July 20, after having closed shortly after the pandemic began. Although the Fenway spot held pop-ups and private dining events during the time of the coronavirus, it is emerging now with a return to the cocktail forward concept that first made it popular.
"The original concept of Fool's Errand was inspired by European cocktail and wine bars that I'd been to in general travels," Faison said. "Obviously, while going through the pandemic, bars were the first to go, so we needed to rethink what we were doing with it. The space became everything from a wine shop to an ice cream shop, … It was a blessing to have."
"Coming back to the original idea," she added, "it is cocktail forward at this point, with incredible wine selections and some beers, then curated selections for snacks. It's kind of back to what it was."
Cocktails include the Chef's (Still) Going to Marry Christian Slater, which features dark rum, Ramazzotti, NOLA, cherry, acid-adjusted orange, and egg white. Also on the menu are The Mantelli, made with lemon cordial and amontillado, and an Espresso martini. Snacks like the black label Serrano ham and the summer crudité, with sour cream and onion labneh, will be served. For guests with a sweet tooth, they may look to the chocolate olive oil mousse.
When Fool's Errand first opened in 2018, it was a standing room only bar. It now has 16 comfortable barstools positioned around the bar and open kitchen, as well as at the window, and there is seating with tables outside on the patio.
Faison's Italian restaurant Orfano closed earlier this summer, but her restaurant empire in Boston continues to include barbecue joint Sweet Cheeks Q and three recently opened concepts at the High Street Place food hall downtown: Dive Bar, Tenderoni's, and Bubble Bath. Up next, Faison will be opening a new project at the former Tiger Mama space in the fall.
Fool's Errand, 1377 Boylston St., Boston
---
Feel free to let us know: Do you have a favorite restaurant in the Fenway? Share your thoughts in the form below or send us an email at [email protected]. Your response may be used in an upcoming Boston.com article and/or social media channels.
Tell us: Where's your favorite place to eat in the Fenway?
Sign up for The Dish
Stay up to date on the latest food news from Boston.com.