Food
Here's what to eat and drink to celebrate Pride Month in Boston
11 restaurants and bars serving specials to support the LGBTQ community.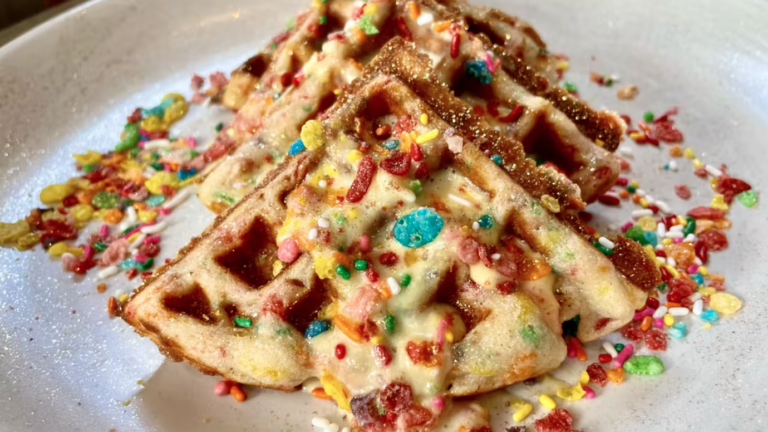 Throughout June in Boston, restaurants and bars are finding ways to show their support for Pride Month in Boston.
This year marks a different moment for honoring the LGBTQ community, as Boston Pride, the organization that for decades hosted the annual parade, dissolved last year. For the first time there was no parade, but there are still other ways of celebrating Pride in the city. Lamplighter Brewing Co. will be holding a Pride Trivia night on June 16, and on every remaining Wednesday in June, the City will be hosting "A Very Proud City," a series of free and open-to-the-public events. And many local eateries and bars are donating proceeds to organizations that support the LGBTQ community.
We put together a guide to the 11 dishes and drinks around Boston to celebrate Pride Month around Boston.
As you continue to celebrate the LGBTQ community, we also want to know what Pride means to you this year. Tell us in the survey below or send us an e-mail at [email protected]. Your response may be used in an upcoming Boston.com article and/or its social media channels.
Boston Cream Prides at The Banks Fish House
Located in The Clarendon, The Banks Fish House is serving Boston Cream Prides this month, a four-layer yellow cake with vanilla cream frosting and rainbow chocolate ganache. You can also order some heart-shaped Funfetti cookies, available for take home orders, as well. The Banks is also serving specialty drinks for Pride, the "Born This Way" cocktail and Lamplighter's "Somebody to Love" pale ale. A portion of sales will be donated to BAGLY, The Boston Alliance of Gay, Lesbian, Bisexual and Transgender Youth, a group that provides support and services to LQBTQ+ youth.
406 Stuart St., Boston
Berry Be Good to Me at Blend
Dorchester native James Clements took over his family's gastropub a few years ago and gave it a focus on LGBTQ nightlife, hosting events like RuPaul screenings and Disco Brunch Sundays. This month, by ordering a specialty cocktail using Tito's from the menu, the vodka brand will be donating $1 for each drink sold to GLAD, GLBTQ Legal Advocates and Defenders. These cocktails include the Berry Be Good to Me, made with strawberry infused vodka, elderflower, basil, and lemon. Or sip on the Pride Water, a blend of Tito's, soda water, and lime.
1310 Dorchester Ave., Boston
Pride croissant at Cocorico
Cocorico the French-inspired boulangerie at the Omni Boston Hotel is featuring the Pride croissant this month, made with passionfruit curd and chocolate crème. They are also serving a Pride cake, a vanilla confection filled with silky, chocolate buttercream. Pride French macarons will come in an assortment of flavors including raspberry, mango passion, and banana dulce.
450 Summer St., Boston
Tito's Refresher Cocktail at dBar
dBar in Dorchester, a LGBTQ-friendly nightlife destination, is stirring a special cocktail, perfectly cooling for summer. The Tito's refresher cocktail mixes vodka, strawberry puree, lemon, and mint, and for every glass you buy, $1 will be donated to GLAD. Tito's will match each purchase with $1.
1236 Dorchester Ave., Boston
It's Cool to Be Queer shandy at Dorchester Brewing Co.
A partially LGBTQ-owned brewery, Dorchester Brewing Co. has developed a special beer for Pride Month. It's Cool to Be Queer is a shandy with a light lager base and lemonade, naturally colored from butterfly pea blossoms. The craft brewery will donate $1 for every pour to the Trans Emergency Fund of Massachusetts.
1250 Massachusetts Ave., Boston
Angel food Funfetti cake at Flour Bakery + Cafe
Joanne Chang and her team at Flour Bakery + Cafe are bringing you sweet treats to enjoy this Pride Month. There's the angel food Funfetti cake topped with Fruit Loops, rainbow Rice Krispie treats, and rainbow sablé cookies. Twenty percent of the proceeds will go to BAGLY.
Multiple locations
Proud craft beer and coffee at Night Shift Brewing
The folks at Night Shift Brewing have brewed up some special drinks in honor of Pride Month, a Proud craft beer and a Proud craft coffee. The beer is hazy golden in color with notes of clementine and flavors of candied lemon, orange pitch, and ripe mango. Meanwhile, the coffee is a medium roast with notes of cherry, strawberry, raspberry, and chocolate. A portion of the beer and coffee proceeds will go to Fenway Health and Boston Proud, a new non-profit aiming to continue Pride in Boston free from discrimination.
Multiple locations
Rainbow waffles at Oak Long Bar + Kitchen
At Oak Long, which sits inside the Fairmont Copley Plaza hotel, you can try chef Zaid Khan's rainbow waffles, made with Fruity Pebbles and served with Funfetti anglaise and gold dust. Enjoy them with a special Pride cocktail, like the Adam & Steve or the Rosa Rosada. For each order, $1 will be contributed to BAGLY.
138 Saint James Ave., Boston
Rainbow pound cake at Revival Cafe + Kitchen
Davis Square, Alewife, and Newbury Street's Revival Cafe + Kitchen has baked up a vanilla flavored rainbow pound cake, featuring bold swirls of color. Fifty percent of all proceeds from will be contributed to BAGLY. While you're at it, get a coffee to go, and make it a delicious mid-day snack.
Multiple locations
Pride roll at Shore Leave
Tropical cocktails, sushi, and bar bites are served at Shore Leave in the South End, and this month, they're preparing a special roll for Pride. Order the Pride roll made with Jonah crab and cucumber, and topped with salmon, hamachi, tuna, and avocado. A portion of proceeds will go to the Trans Justice Funding Project.
11 William East Mullins Way, Boston
Passion & Pride at Trifecta
Trifecta inside the Four Seasons Hotel One Dalton has crafted some Pride-inspired menu items for June. The Passion & Pride is an Azalia milk chocolate mousse with passion fruit crémeux and cocoa nib. Add a drink with your order like the Sashay Away with vodka, rose-infused Italicus, a blend of sherries, glitter, and sparkles. A portion of the proceeds will be donated to Fenway Health.
1 Dalton St., Boston
Sign up for The Dish
Stay up to date on the latest food news from Boston.com.