Food
Here's where to eat and drink around TD Garden
A guide to bars and restaurants you can visit before or during a big game.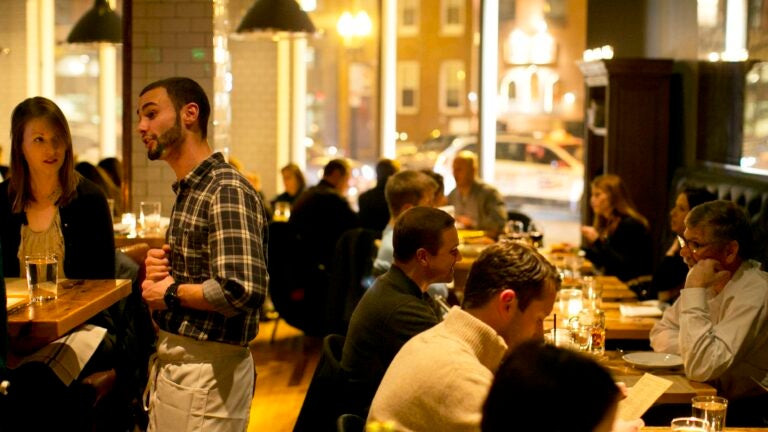 If you've been following the NBA playoffs, you know that the Celtics will be facing off against the Atlanta Hawks in the days to come. Meanwhile, hockey fans are tuning into the Stanley Cup playoffs between the Bruins and the Florida Panthers next week, at TD Garden. Whether you're catching a game in person at the West End arena or just happen to be in the neighborhood, you might be looking for a place to get a drink or have dinner beforehand.
That's where we come in. From Alcove's coastal New England dishes to the Mexican flavors of Guy Fieri's Tequila Cocina, and the ever bustling Hub Hall, there are plenty of options in the area.
We asked readers for their favorite spots to get a meal near TD Garden, and we've updated this guide to include their 2023 recommendations. Scroll down to see a list of 23 bars and restaurants you can visit close to the games, whether you're looking for a fried chicken sandwich, a bowl of ramen, or just a well-crafted beer.
This gastropub seeks to redefine casual dining, putting a gourmet spin on items like grilled salmon, shrimp fra diavolo, and fish and chips. Share a side, like the bacon parm truffle fries, with a group of friends.
115 Beverly St.
Alcove's menu features a raw bar and "fresh coastal New England dishes" like Old Bay crusted hake and grilled shrimp tacos. Their outdoor patio comes with a lovely view of the Zakim Bridge.
50 Lovejoy Wharf
A modern 25,000-square-foot sports bar and restaurant, Banners has a multi-leveled space filled with high energy and a giant LED TV. Check out their menu for loaded potato tots, the Fat Rooster fried chicken sandwich, and the churro doughnuts.
82 Causeway St.
Rustic glamor is alive at this Mexican restaurant that serves empanadas, enchiladas, and loaded nachos, as well as an extensive tequila list.
57 Canal St.
This spot sports leather banquets and athletic decor, while serving up dishes like baby back ribs, a diced steak tip sub, and a peanut butter cookie skillet sundae for dessert. Reader John P. from Kingston said, "Two floors, multiple big TV's, delicious burgers, wings… big drink selection, and great, old school Boston ambience!"
65 Causeway St.
Live music is a focus at City Winery, but be sure to also dine on a quality dinner at this spot near TD Garden. Order a steak frites, a portobello mushroom burger, or the seared Verlasso salmon, while sipping on a glass of pinot noir. Reader Scott F. from Boston praised the "amazing burger — always cooked perfectly, and great fries!"
80 Beverly St.
Renaissance-style art adorns the walls of this Italian restaurant, but you can also view a game at this cozy spot. Order something delicious, like the lobster ravioli in pesto cream sauce or the chicken cacciatore.
283 Causeway St.
In the neighborhood, you'll find this four-level sports bar that draws a game-watching crowd, while also offering dancing and skeeball. Reader Blackie from Boston said their steak tips rank among the "top six… in Boston. And hands down the best tips in the West End."
262 Friend St.
This vibrant Mexican eatery is located within luxury music hall Big Night Live, and offers bites such as tacos, tortas, and cotija fries, while bring guests a menu of margaritas and tequila flights.Reader Nicole from the North End said, "The Trash Can Nachos and the Caliente Margarita at Guy's are out of this world!"
110 Causeway St.
Sometimes you just need a slice of pizza or a warm sub. Halftime King of Pizza offers chicken parmesan sandwiches, pepperoni pies, and fresh salads, so you can settle down and eat in front of one of their many TVs. Reader Ed R. from Somerville said, "A must for Bruins/Celtics pre games. Two slices and a tall beer: can't go wrong with that."
115 Causeway St.
This sports bar is spread out across two levels, with three bars and a stage for live music performances. You'll find buffalo chicken dip served with waffle fries, soft pretzels, and their acclaimed clam chowder, a three-time winner of the Boston Harborfest's competition. They will also be opening a Gillette Stadium location.
85 Causeway St.
The food hall near North Station is a vibrant destination that opened in 2021 and features an extensive lineup of vendors, including Momosan, a ramen restaurant, Sullivan's Castle Island, Mike's Pastry, and Now Pouring Wine Bar.
80 Causeway St.
Enter this popular spot, and you'll find that it's a destination for viewing any game at TD Garden, serving pub food like crispy chicken tenders and mac and cheese, while also featuring a DJ on Friday and Saturday nights, as well as during special occasions
150 Canal St.
A intimate Italian restaurant, Massimino's serves up fettuccine alfredo, chicken marsala, penne with vodka sauce, and other classics.
207 Endicott St.
The Lovejoy Wharf location of Night Shift Brewing serves up hoppy IPAs, dark stouts, and "sour or fun" beers, as well as hard seltzer with fruity flavors. On their menu, you can find Detroit-style pizza, rosemary truffle fries, and Nashville-style hot chicken sandwiches. Reader Michael S. from Pennsylvania said, "Their beer and food is great. Very, very good Detroit-style pizzas."
1 Lovejoy Wharf, #101
This casual pub offers food like chili cheese fries, pulled pork sandwiches, and build your own pizzas. Kids will love the warm brownie sundae with vanilla ice cream.
173 Portland St.
Stop by the oldest Italian restaurant in the North End, and order a pizza pie for your table, choosing from a variety of toppings. Highlights include the Meatlovers and the buffalo chicken.
11 1/2 Thacher St.
Steps away from TD Garden, Sullivan's Tap first opened in 1933. The spot features many giant TVs, bar games, and a variety of draft beers. Reader Lyndon from Quincy said the best order is a "Budweiser. This place is unpretentious."
168 Canal St.
Grab an original burger, sandwich, or hot dog at the North Station location of this beloved chain, and pair it with a milkshake or side of totchos — tater tots topped with chili, cheese sauce, tomatoes, sour cream, and scallions.
1 Nashua St.
Located in North Station, Tavern in the Square serves comfort food with a broad selection of beers and cocktails. Try the BBQ chicken pizza, colorful salads, or one of the many burgers, while finishing it off with a margarita. Reader Bob from Somerville said that they have "great food and craft beer options."
120 Beverly St.
The upscale pub has 36 beers on tap and serves an eclectic range of dishes, including chicken tikka sandwiches, Vietnamese spring rolls, and braised wild boar gnocchi.
138 Cambridge St.
Looking for a place with New American cuisine and vintage-inspired cocktails? Visit Ward 8, where you can grab a California turkey burger or rigatoni primavera for dinner. Drinks include classics and riffs like the Freezer Martini, as well as originals like the Hang Ten, featuring vodka, honey, and passionfruit purée. Reader Chris from Belmont said that they have "great cocktails, food, and atmosphere. Easy stroll to the garden without the insane crowds."
90 North Washington St.
You can find vintage sports memorabilia hanging from the walls of this hangout spot. When you get together with pals to watch a game, order guacamole dip, a West End burger with Buffalo Bleu cheese sauce, or the salmon risotto. Reader Sean D. from Weymouth said that you "can't beat the atmosphere, food, and proximity to the Garden."
138 Portland St.
Sign up for The Dish
Stay up to date on the latest food news from Boston.com.