Local
These Boston teens want you to see the city through the eyes of its young people
"I want people that don't know what Boston is to understand that we have such a rich culture."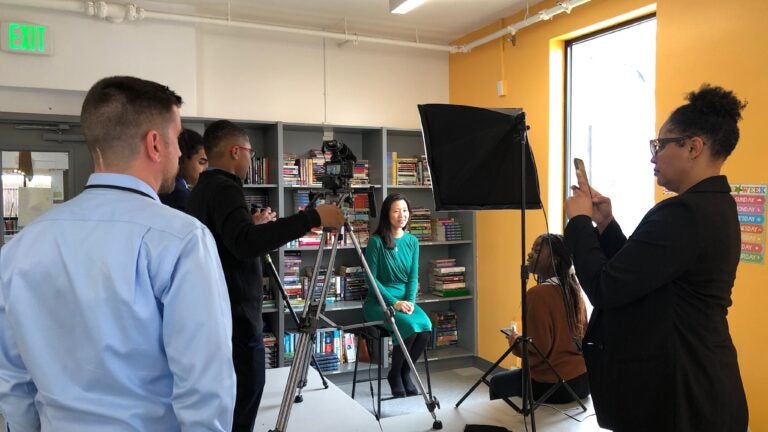 As a young person in Boston, Moses Sibley was tired of people not seeing his hometown the way he saw it: a city brimming with talent and potential. Sibley and his friends at the Josh Kraft Mattapan Teen Center wanted to highlight the artists, local leaders, and young people that give them inspiration through a new film that captures that sense of opportunity.
"I want people to understand that we have youth that are pushing creativity, pushing entrepreneurship, that are pushing great things to make the city better," the fifteen-year-old said. "I want people that don't know what Boston is to understand that we have such a rich culture, that we have…people that are pushing to make Boston better."
The film, "Portraits," shows Boston through the lens of its young people and highlights its arts scene, developmental projects, political work, and culture. Throughout the documentary, viewers see students in conversations with Bostonians like musical artist Najee Janey, City Councilor Ruthzee Louijeune, and Mayor Michelle Wu as they visit Gillette Stadium, State House, New England Aquarium, and more.
The documentary, which premiered on May 6 at the Simons Theatre, also recognizes young people who are already making change through their community connections and peer mentorship at the Boys & Girls Clubs of Boston, which has served the city's youth for 130 years.
Much has been made about Boston's lack of appeal to Generation Z. While they make up a larger share of the population than other major cities in the country, many young people in the city worry they can't build a future here and look to cities like Austin, Miami, or Atlanta. But there are still hopes for the future of the city — the New York Times recently named us the third best city to be Gen Z — and who better to spread the message that Boston is a city with a bright future than its up-and-coming generation?
Sibley directed the documentary and worked with 25 Mattapan Teen Center club members to complete "Portraits," their second film in the last year. Their first documentary, "Mattapan the Documentary," was the winner of the Best 18 and Under Documentary award at the 2022 International Scout Film Festival.
Sibley's aspiration isn't just to become a successful filmmaker, but to be one that uplifts his community. The fifteen-year-old said he started his videographer career at age 11. When he joined the Mattapan Teen Center at 13, the center didn't have an established film program where he could explore his talents so he went to staff leaders and set about starting his own. He wrote a grant to get funding for cameras, lighting, and audio equipment and once it was approved, encouraged his peers to participate.
"I wanted other people that are interested in any aspect of the film to just participate in this program," he told Boston.com. "It makes me feel super good that I was able to bring something as good as the video program to the center."
As a METCO student at Lincoln-Sudbury Regional High School and a Mattapan resident, Sibley's days filming the documentary were long ones, but he said the process of working with his creative collaborators made the process worth it.
"Every week was an interview back to back to back to back and sometimes we'd drive back and forth…to make these interviews happen," Sibley said. "It was a grind and to be real, that was the hardest part, every week getting off school super late. But the result of it and how it looks, it's just so worth it."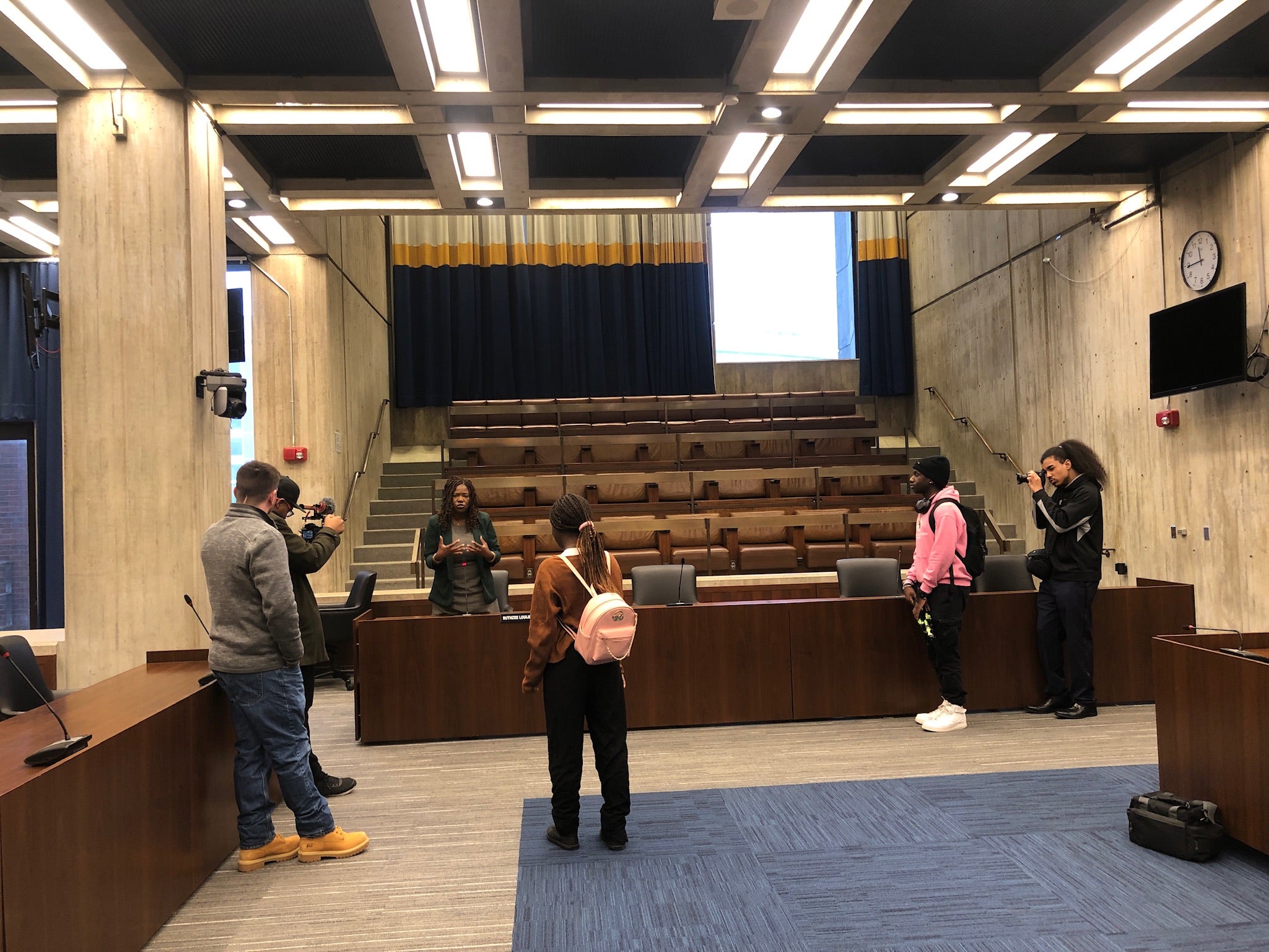 Atisha Leach, 16, was one of the club members who joined MTC's film program. For the first documentary, Leach took a more behind-the-scenes approach to learn more about filmmaking, but in "Portraits," Leach leads many of the interviews, including with Rep. Brandy Fluker Oakley and Robyn Glaser, senior vice president for the New England Patriots.
She drafted the interview questions herself and got the chance to ask interviewees questions about how they've built their careers, what advice they have for young people in the city, and what they love about Boston.
"Working on 'Portraits' put me in places I thought I would never go like Gillette Stadium, the State House, City Hall. I didn't know I would meet with so many unique people. I like connecting with people and getting to know them on a deeper level and that's one challenge but also the great thing about working on this," Leach said.
While Leach is proud to have viewers of all backgrounds watch their hard work, the audience she said she's most concerned with is young people like herself.
"I feel like if kids saw this film they'll be inspired to do, maybe not film, but something greater. They can be a part of the House of Representatives. They could be the mayor. There's so many things you could do in Boston…you could really like to make a change in our city," Leach said. "The youth really want to change this city."
"Portraits" will air twice on WSBK-TV Channel 38 on Wednesday, May 10 at 5 p.m. and again on Sunday, May 14 at 1 p.m. Watch a trailer for the documentary below.
Newsletter Signup
Stay up to date on all the latest news from Boston.com