Local
It turns out Boston City Hall really IS that ugly, at least according to Boston.com readers
"It looks like a prison in the middle of the desert."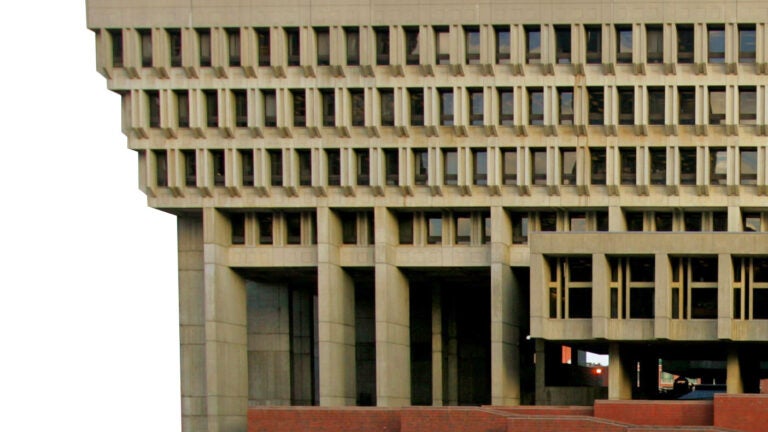 So we've been thinking: Is it possible that Boston City Hall isn't really THAT ugly? Maybe we've just been conditioned to think it is, which is why Buildworld's recent analysis of tweets about the structure proclaimed it the fourth ugliest building in the world.
In fact, one anonymous respondent to our poll on the matter declared that, in reality, it's the most attractive building in Boston, and that we've all simply been brainwashed to think otherwise: "Willing to bet that the reason for it being tweeted the ugliest building is because of the standard Boston Duck Tours script that calls it so." We knew there was a reason we never trusted those Duck Tours.
But if that's the case, those Duck Boat captains did a really good job, at least based on the almost 500 Boston.com readers who responded to our poll. They overwhelmingly chose City Hall as the ugliest building in Boston, with a full 61% of them rating the building a 5 out of 5 for ugliness. (And at least one reader asking, "Why did the rating stop at 5?")
On a scale of 1-5, how ugly is Boston City Hall?
1 (not ugly at all)
2
3
4
5 (the ugliest)
Other
"Super hideous and an embarrassing feature, wrecking the ambiance and views within such a beautiful and historic city!," declared Noah T. of Beacon Hill, who is clearly emphatic on the subject. "The building is the biggest stain in the city!"
Marie Elena S. of Cambridge went into further detail: "The gray cement facade always looks dirty, as if it has absorbed years of pollution without relief. The design pattern is far too busy and looks chaotic. Too many very deep shadows," she said. "Hard to even find the entrance because unlike most buildings that simply is not the focal point. You can walk around the massive structure and not even see an entrance."
And as if the building weren't bad enough, several readers pointed out that, recent updates notwithstanding, the plaza that surrounds it isn't much better. "The brick plaza is the worst use of public space in America," said one reader from Everett. "No one wants to be there. Not even the bricks."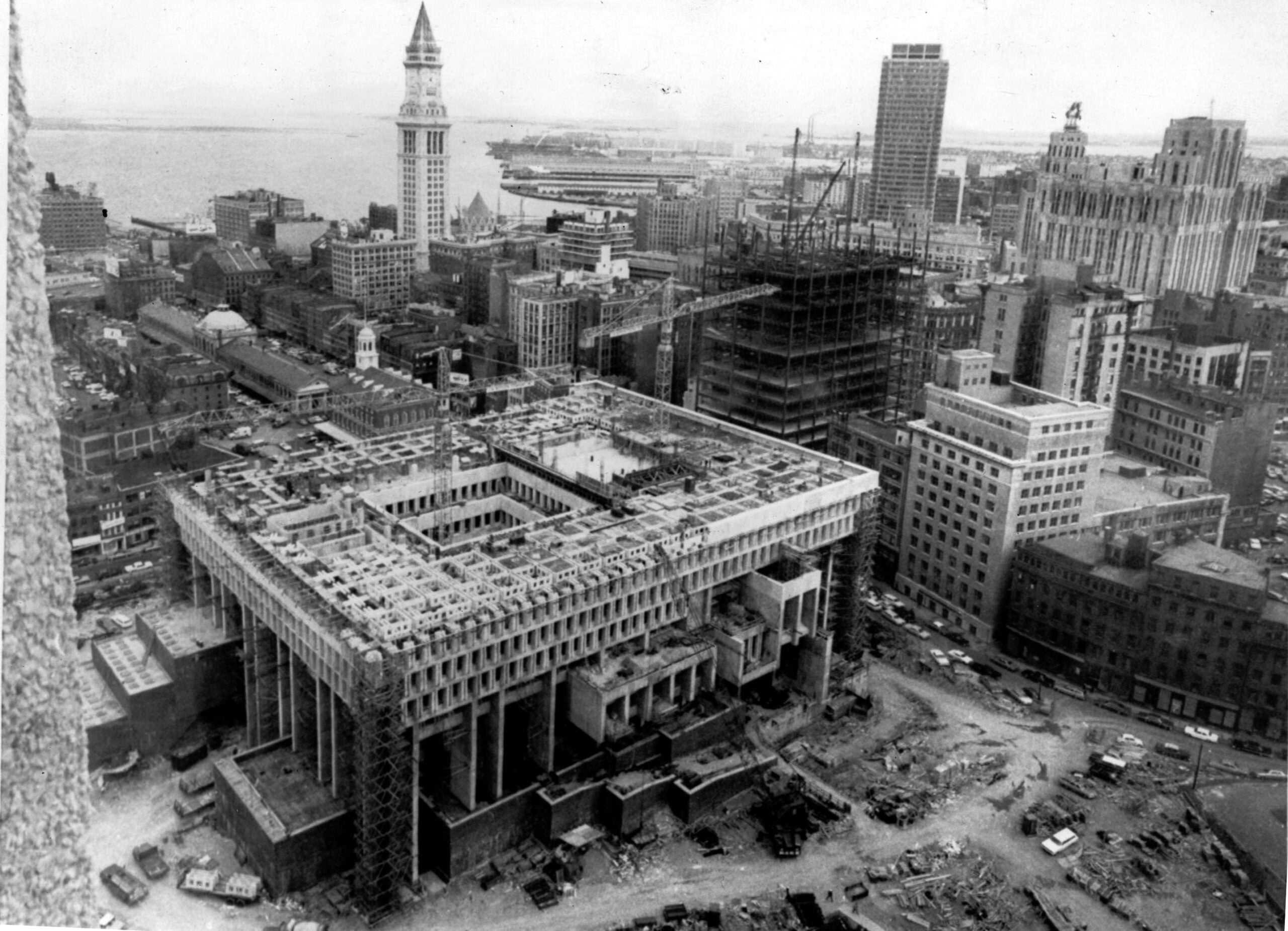 Boston City Hall, deconstructed
At the risk of piling on, here's what some other Boston.com readers had to say about our much maligned City Hall:
"I've always thought the building had the architectural pretense of a skyscraper lopped off at the knees." — Tom. A, Duxbury
"It was built when I was a teenager growing up in Boston. I was shocked and appalled at the design then and continue to cringe every time I see that building. It should represent the best of Boston and not play a discordant note in the hum of a vibrant city. I couldn't understand the reasoning then and am surprised that it is still standing all these years later. It assaults your senses!" —Anonymous, formerly of Hyde Park
"City Hall surely takes the prize. Mostly due to its prominent location and the sadly squandered opportunity to represent a uniquely historic town with a more symbolic, elegant, human structure. It's beyond unfortunate that the committee responsible bought into the architects' line about the virtues of the post-WWII brutalist style— known for its austerity and severity. Brutal, indeed. It just never fit in Boston." — Brian N., Lowell
"City Hall is the ugliest building in Boston, and I was shocked Will and Kate were hosted out in front of it in December. It was so embarrassing for the city to have chosen the most hideous building as a backdrop to their visit. The whole world unfortunately got an eyeful of that eyesore, and I cringe every time I think about it, still weeks later. Ugh." — Megan
"It combines the pointlessness of modern art with the soul-crushing imposition of totalitarian design." — PJ K., Weston
"It is brutal to look at. Concrete is a suitable building material, but we shouldn't see it in a finished product." — Dale G., Gloucester
"Hated it when they put it up and have disliked it more ever since. Tear it down and leave a hole in the ground as that would be much better looking." — Steve G., Wayland
"It looks just very ugly, unnecessarily ugly. Unfortunately, I have not seen an attractive building in Boston." — Ann T., Brookline
"Gotta be City Hall, both for how it looks and its history. Demolishing a vibrant city square of generally underprivileged people to build a huge government office complex is bad enough, but they chose to build that with the space?? Really???" — Mark A., Mission Hill
"It is cold and uninviting. It looks like a prison in the middle of the desert." — Anonymous
The other uglies
While "support" for City Hall in the race to the bottom left us without even a clear second when it comes to ugly Boston buildings, several other structures did make Boston.com readers' hall of shame. Here, in no particular order, are some of those mentioned, and the reasons why they earned eyesore status:
125 Summer Street: "The creepy, faux historicist pastiche that it strives for would be much more appropriate on the Las Vegas strip." — Alan C., Brookline Village
Thomas P. O'Neill, Jr. Federal Building, 10 Causeway St.: "Underrated ugly building. It's not even ugly in a unique way like you could argue for, it just looks uncanny and bad." — Tim M., Boston
BU Law School Tower, 765 Commonwealth Ave.: "Another major eyesore from the brutalist era. I still think City Hall is worse, but the Law Tower earns some negative points for being more visible because of its height above the city." — Connor K., Malden
Prudential Center, 800 Boylston St.: "I get some people complain about City Hall, but at least someone tried to make that interesting … There's nothing interesting about the Pru, and no matter how much money they pour into it to make it interesting, it never will be." — Anonymous
Harbor Towers, 65 E. India Row: "Ugly gray boxes blighting one of the prettiest waterfront cityscapes on the planet (and drowning out the gorgeous Custom House)." — Mike, Dedham
BU Center for Computing & Data Sciences (the "Jenga building"), 665 Commonwealth Ave.: "It doesn't fit in architecturally with its surroundings. It feels like a transplant." — Avery, Watertown
100 Cambridge St.: "While not 'ugly,' lacks character and feels somewhat like the uninspired Soviet Era architecture of Russia and Eastern Europe." — David H., formerly of Revere
One Federal Street: "A celebration of all that is dull, bland, unimaginative. It's a squat, rectilinear brown/beige blob with terrible proportions and absolutely nothing creative in design or execution." — Christian W., Somerville
111 Huntington Ave.: "Who are they kidding with that weird crown-shaped monstrosity on top of a pile of glass? Please." — Eleni
Mandarin Oriental, Boston, 776 Boylston St.: "Replacing a space that allowed light to filter down to a plaza on Boylston enjoyed by lunch crowds from around the area was its first sin. The fact that this wealth building towers over the other buildings like a foreboding monster about to crush us all with its heavy shadows, and generic architecture should be enough to make it Boston's ugliest." — Robert A., East Boston
Boston Government Services Center, 19 and 25 Staniford St.: "Fortress like. Creepy looking. Not welcoming. Makes City Hall look charming by comparison." — Jack P., Revere
100 Federal Street (Bank of America building): "The building looks like a giant beaver gnawed on it." — Garrett V., Newton Highlands
NOTE: Lest you think we're just a bunch of negative Nellies, we also asked Boston.com readers to name the most beautiful building in Boston — and they came up with quite a selection. Check back soon for that list and the motivations behind it.