Music Club
Everything you need to know about the Boston.com Music Club
Local musician Adi Sun will perform for the Music Club on March 30.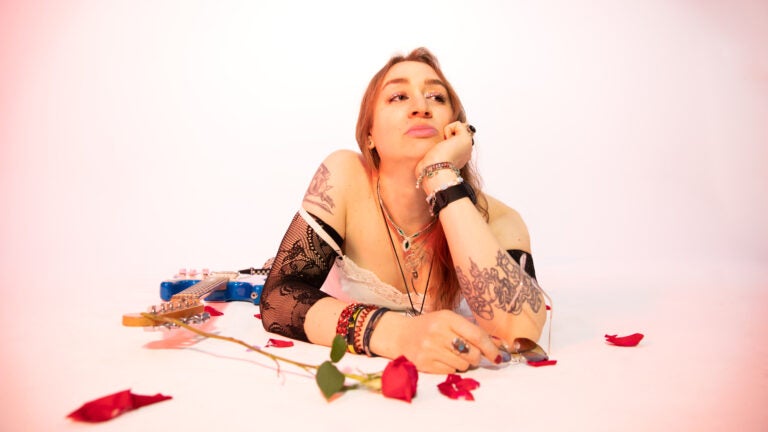 Welcome to the Boston.com Music Club!
Our first performer is the self-described "shape-shifting singer-songwriter" Adi Sun.
It's been a tough two years for Boston's music community, but things are starting to look up. Live music venues, both large and small, have opened again. Local and national acts are booking more shows than they're canceling, and music fans are cautiously venturing out to experience live music. It's a time of both transition and celebration, so in the spirit of re-introducing you to Boston's vibrant music scene, we introduce you to the Boston.com Music Club.
What to know about the Boston.com Music Club
Every month, we'll come together to enjoy a live performance and a chat with a local artist. The initial plan is to gather virtually, then eventually congregate in-person. Like you, we love everything about the Boston music scene, from the live spaces to the people who play in them to the music that they make. So we're looking forward to getting back into those spaces with you and enjoying music together.
If you're a long-time Boston.com reader, some of this might ring a familiar bell. From 2012 through 2018, Boston.com was the home of RadioBDC, Boston's original streaming alternative radio station. RadioBDC's Live in the Lab series and RadioBDC Sessions spotlighted dozens of local and national artists, and the Boston.com Music Club will shine that light even brighter. In addition, the Music Club will give us all a space to come together, share, and discuss the music we're discovering.
I'm in a unique position to lead these discussions, as I've spent the majority of my 25 years in broadcast media working in Boston radio and bearing witness to the evolution of Boston's music scene. I cut my teeth as an undergrad at Northeastern's WRBB, worked on-air at legendary Boston alternative rock radio stations WFNX and WBCN, and helped launch RadioBDC, which I then helped shepherd into its current form, indie617. The common thread through all of this? My passion for music. The only thing I love more than discovering music, new and old, is sharing it…with gusto. I'm currently doing that weekdays from 11 a.m. to 4 p.m. on Boston's ROCK 92.9, and I look forward to doing even more through the Boston.com Music Club.
Who's the first guest?
Adi Sun is a trans singer-songwriter from Boston. After making her name out in front of Boston shoegaze act Phenomenal Sun in the 2010s, Adi has made a post-transition pivot as a solo artist. In a short time, she's released three singles, racked up two Boston Music Awards nominations, and was recently named Keynote Speaker at the Trans Community of New England's First Event 2022. We think Adi is a prime example of what's new and exciting about Boston's music scene in 2022. And we think you will, too.
So join us virtually on Wednesday, March 30 at 8 p.m. for a live performance and conversation with Adi Sun as we kick off the Boston.com Music Club!

UPDATE: Boston.com Music Club's event on Wednesday, March 30 at 8 p.m. with Adi Sun has been postponed. Register for updates on our next event.