Music Club
Meet the local rapper set to perform at Boston Calling 2022
"[Music] was also a way for me to figure out who my people were, who my family and friends would be," Oompa said.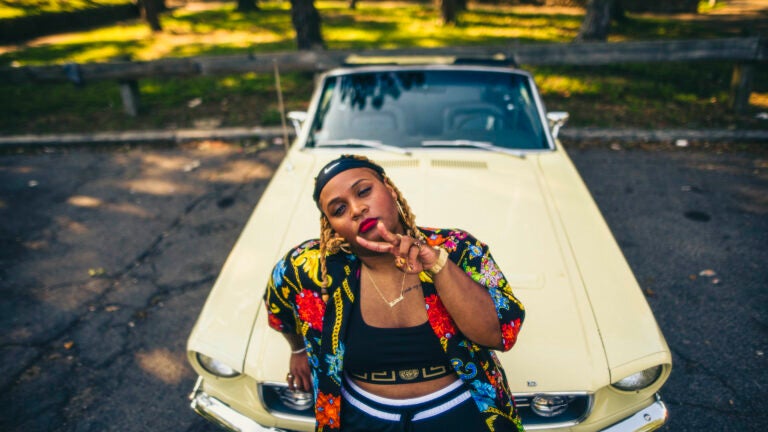 If you've been plugged into Boston's music scene over the past few years, you've probably heard of Oompa. The Roxbury-born poet and rapper has been a force in the city, even before she dropped her debut album, "November 3rd," in 2016. Since then, she has released songs about survival that have given her national acclaim, crafting hits like "Lebron" and "By You." She came out with her second album, "Cleo," in 2019. In 2021, she released her latest album "Unbothered."
Oompa grew up in Academy Homes, a low-income housing development near Jackson Square, and was adopted, with two biological sisters. Her identity has played a role in shaping her work, and recently told Boston.com that that she is "forever representing the queer, Black, orphaned, and hood kids." In her music, she often writes about her struggle, which earned her the 2018 Unsigned Artist of the Year from the Boston Music Awards.
On May 29, she will be performing at Boston Calling, something that has been a dream of hers for a long time.
We caught up with Oompa to talk about what inspires her and why she's excited to perform at Boston Calling.
How did you get started in the music world?
I was very into rapping and writing raps since I was in middle school. I started in battle rap in the cafeteria and then wrote for myself in private, as a meditation. When I was in undergrad, I started rapping in open mics, and they encouraged me to do more, to come on the school radio station, these kinds of things. I really enjoyed what that felt like and wanted more. I was curious about what it could be, how I could record music.
As I was doing poetry at the same time, I met a couple buddies of mine. One of those people was Cliff Notez, who's also performing [at Boston Calling]. They were like, "We love you. We love what you do. Let's record your first mixtape." They did it, and it kick started my career.
The thing that really made me feel like I could rap, that I could do it seriously, was "good kid, m.A.A.d city" by Kendrick Lamar. It came out in 2012, and that album really helped me survive. It just gave me a format and a structure for being able to tell my story and get through something. That was a key motivation for me. [Music was] therapeutic. I had been going through a lot, over the last few years of my life, so it was very therapeutic in a way that I needed. But it was also a way for me to figure out who my people were, who my family and friends would be. I connected to a lot of amazing people through music.
What was it like to begin your work as an artist in the Boston slam poetry scene?
I started in slam in 2015 or 2016. I just [performed] in a bunch of different places. I used to perform at the Haley House, Lizard Lounge, and Cantab Lounge, different places like that in the city. I would go further out to Worcester. It was another space where stories were held. Eventually, I had experiences that pushed me out of it, but initially, it was just a place where stories were held, and people telling those stories felt like they were heard.
But it's really challenging, when you do things like slam, where you are telling a lot of vulnerable stories for points. A lot of things, in terms of how community is built, change when it's based on who's winning or what stories are supported most, those kinds of things. But it was super formative in terms of learning how to be on stage and how to perform, when I didn't have things like music or musicians or dancers, these other things around me that could otherwise serve as a crutch. It was really helpful in forming that. During slam, it's super quiet. It's you alone, just voices and bodies. And slam is interesting because you can go to a slam that's successful, good, and quality, that has seven people in the audience. And if you go nationally, there could be thousands of people. Or you could be at the universities on tour, and it's 60 people, the best or the worst audience you've been a part of. It depends. It's intimidating to just be up there with your story and your voice and your body, and those being the instruments.
Is there a song that was the most fun for you to record?
The most fun was probably "Lebron" or "Outta Patience," and "It Ain't Safe." I actually modeled the second verse after what I felt — you know when Beyonce gets a rap verse, the way it makes you feel? The second verse of "It Ain't Safe" would feel like a Beyonce rap verse.
Tell us about how you got invited to play at Boston Calling.
I just got a call that was like, my manager just said that Boston Calling wanted me to play. I was just like, "What? Let's go." I got inspired when I saw StlGld, they performed a couple years back. They're like big brothers to me. So that was like one of my silent goals, to be invited, to give the kind of performance that would get me invited to Boston Calling.
You identify as a Black, queer, and orphaned singer, representing people who have shared similar experiences. How has this background shaped your music?
I think the series of identities that I have put me in a certain set of social locations. The intersections gave me these coordinates that describe what my set of experiences would be. In that way, my perspective was built based on those coordinates and events. Without them, I wouldn't have the lenses that I have. They're just mine — they're not better, worse, or essential, they're just my set of experiences, but without them, the music would be completely different.
Music is narrative. For this album, "Unbothered," the name of it or the idea of it was significant because it came out of a time when we were in a pandemic, art in the world was shut down, and there was a certain in-your-face racism at the same time. What it means to be a Black woman, queer, visibly masculine, and big, all of these different things kind of impacted how my life would be, impacted by the world around me. So joy became of the utmost importance to me, being unbothered and going with the flow, going wherever life would take me and submitting to whatever my future was. I was exhausted, just surviving.
Have the past few years been good or bad for writing new music?
I think it's been really good. I think we have had to face our mortality in a different way. …It's been easier to write a different kind of music. There was this break for a long time where it felt like for me, the industry of music as we knew it would never be the same. And so, if the industry was going to die, and it was about business dying, then what kind of art would I make, if I had full range and permission to just do what it is that I wanted to do?
Stay up-to-date on the Music Club
Catch up on the latest discussions and performances from local musicians in your inbox.