Music Club
Meet solo artist Adi Sun, one of the top singer-songwriters in Boston
"I've come to realize that being 100% honest with myself is more important than anything else in life."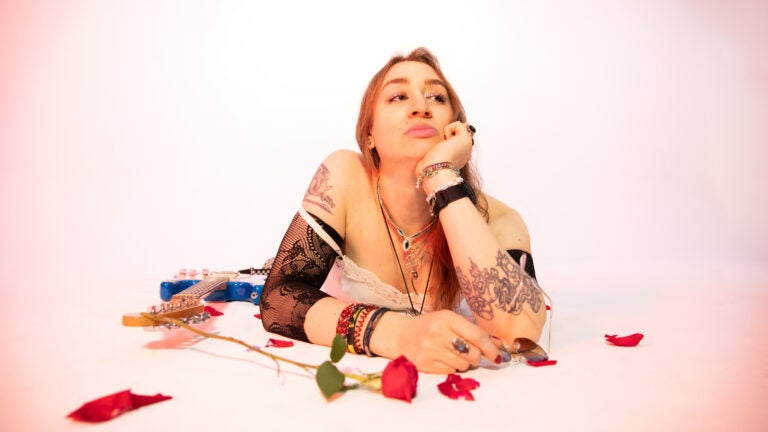 One of Boston's best songwriters is more of a hopeful romantic than a hopeless one. Adi Sun is driven by the notion that people enter and exit our lives in order to help us grow. Some stay, some go, some become the inspiration of a new song.
Twice nominated for Singer-Songwriter of the Year in the Boston Music Awards (2020 and 2021), Adi Sun's music pushes the boundaries of alt-rock and psych-pop through mysticism, and enchantment, reaching the outer limits of a refreshing '90s kind of sound. After making her name fronting rock band Phenomenal Sun in the 2010s, Adi branched out post-transition as a solo artist, releasing three acclaimed singles,"Bella Sun Lever," "My Fault," and "Twin Flame," that earned airplay among local and global outlets.
We caught up with Adi ahead of her guest appearance with the Music Club on June 1 at 7 p.m. and discussed growing up in the Boston suburbs, her favorite lyrics, and how the pandemic impacted her experience coming out as transgender.
2019 was a pivotal year for you when you came out as transgender. Professional transition followed in 2020 when the pandemic changed how and where we all worked. How have the two contributed to Adi Sun, the artist of today?
I've come to realize that being 100% honest with myself is more important than anything else in life. It's taken me a lot of time and dedication to pinpoint and release emotional baggage from the past. It's an ongoing venture of course. But I'd say overall not a lot has changed, honestly. I'm still walking the same spiritual path, asking myself "Who am I?" each day, receiving new answers.
The first year of the pandemic was actually kind of nice in the sense that I got a chance to be around my family and watch my niece growing up. I've been much more isolated for the last twelve months which has begun to take its toll. In some ways I've gotten used to it, but I do miss the security of old routines and daily interactions.
In terms of practical musical artistry, I've always enjoyed the collaborative effort of recording and producing music. I'm old school — I like going to the recording studio, working with an engineer and musicians I trust. Nowadays, I am recording a lot more on my own, and it can be a challenge to stay motivated. It comes and goes in waves. But at this point in my life, I'm fine with that. I'd rather take my time and create something I'm proud of than to pressure myself with arbitrary deadlines.
You grew up in the Boston area. Tell me about your hometown.
I grew up in suburbia at the end of a dead end street. Our family got settled in before most of the town became housing developments. We didn't get much traffic so myself and the neighborhood kids spent a lot of time riding bikes and playing kickball in the street. Until of course I discovered guitar and started locking myself in my room to practice. In my teens I would hang around downtown and get into a little bit of trouble. There was no place for kids to go so we spent a lot of time partying in the woods. Like many suburbanites I've had my fair share of run-ins with the fuzz. I think they were just as bored as us really.
Overall, there was a lot of emphasis on fitting in…everyone just trying to be "cool." It wasn't until I left for college and moved to New York City that I got to experience a lot more diversity across the board, which was a welcome change.
Can you recall the first time you performed live in front of people who weren't related to you?
There was a monthly open mic night that took place at the local Masonic Lodge called "Night of the Stars." It was organized and run by a woman named Adeline who, incidentally, ended up being an influence for my stage name. I was about twelve years old and I performed there as a duo with my next door neighbor Becca on the drums. We called ourselves "Apollo" and played the first song I ever wrote called "Raining Fire." The town actually filmed it for local access and I think a VHS copy still exists somewhere at my folks' house. It's amazingly embarrassing, I should dig it out sometime.
What's the first record (tape/CD) you bought with your own money?
The first cassette tape I can remember buying with my own money was Metallica "Master of Puppets." I bought that and "…And Justice for All" at Strawberries in Milford on the same day. The clerk didn't give me any trouble even though I was about 10 years old. The first CD I ever owned, my mother bought for my brother and I, was Aerosmith "Get A Grip." But the first CD I purchased with my own money was The Offspring "Smash." Yeah…I'm a true '90s kid.
What are your favorite lyrics to a song written by someone else?
I've always loved the lyrics to "The Times They Are A-Changin'" by Bob Dylan. I just think it does an amazing but simple job of describing the cyclical nature of things. But really any lyrics by Dylan, Leonard Cohen, Nick Drake, Bjork, or Fiona Apple are all a pretty safe bet for me.
What's your favorite place in the city to people-watch?
I love the Public Garden downtown and the promenade over by the Hatch Shell. Nothing like willow trees and spring flowers to bring the lovers out on a sunny afternoon.
Anngelle Wood is a Boston Radio DJ known for her time at local institutions WFNX, WBCN, and WZLX. She is host of the long-running show, Boston Emissions, and produces the annual Rock & Roll Rumble music festival and showcase. You can reach Anngelle at [email protected].
---
Join our virtual Music Club event