Music
Boston.com readers picked their 2022 songs of the summer, and there was a clear favorite
"I dare you to not dance and sing along when this comes on the radio!"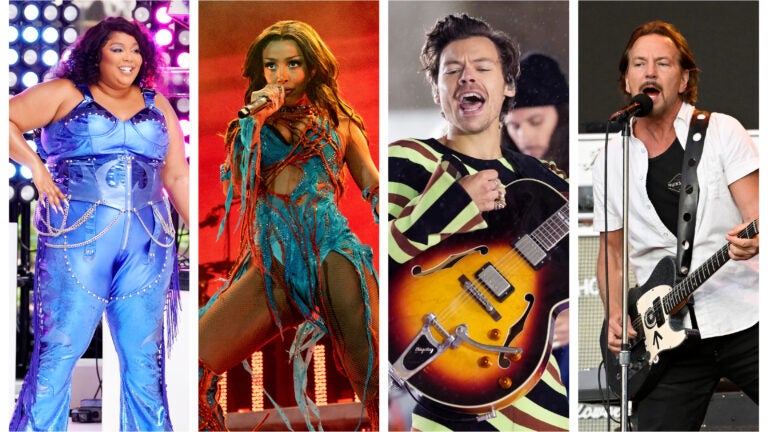 It appears that Boston.com readers are ready to beat the ever-more-oppressive heat this summer the old-fashioned way: by dancing it out! At least that's the impression we get from their responses to our survey asking their picks for 2022's Song of the Summer, an exuberant mix of recent releases sure to be at home wafting from your car windows.
The responses ran the gamut from indie rock (Soccer Mommy's "Shotgun") to country ("She Had Me At Heads Carolina" by Cole Swindell) to hip-hop (Kendrick Lamar's "N95"). And for the '90s kids, local boys New Kids on the Block were represented by "Bring Back The Time," their single with Salt-N-Pepa, Rick Astley and En Vogue; while the solo track "Long Way" by Pearl Jam frontman Eddie Vedder also made an appearance.
Soundtracks are always a summer staple, and our list is no exception: It features two tracks from "Top Gun: Maverick," New Republic's "I Ain't Worried" and Lady Gaga's "Hold My Hand"; two from "Elvis," Maneskin's "If I Can Dream" and Doja Cat's smash "Vegas"; and Diana Ross's unlikely team-up with Tame Impala, "Turn Up The Sunshine" from "Minions: The Rise of Gru."
Plus, of course, "Stranger Things" on Netflix spawned two notable tracks: Kate Bush's "Running Up That Hill," easily one of the top two mentioned, and "Master of Puppets" by Metallica, which provided the epic soundtrack for Eddie's last stand in the season's final episode. Neither are from 2022, of course, but both count as songs of this summer in our book.
The list consists mostly of one-off suggestions, but we did have a top 5 of songs with multiple mentions. Drum roll, please:
1. "About Damn Time," Lizzo
2. "Running Up That Hill," Kate Bush
3. "As It Was," Harry Styles
4. "Break My Soul," Beyoncé
5. "Want Want," Maggie Rogers
Lizzo, who also showed up on the list with "Special," was the clear favorite: "I have been picking summer songs since 1995. I picked this song because it is just about damn time we have had this much fun!" said Paul of Ludwigshafen, Germany, a Natick native.
Meanwhile, we also had a few stubborn readers who refused to stick to new releases, offering up such options as "The Boys of Summer" by Don Henley, "Summer in the City" by The Lovin' Spoonful, and even "Summertime, Summertime," the 1958 hit by long-forgotten Boston group The Jamies. "It is the most Boston summer song ever recorded!" said "Mr. SOTD" of Marshfield. ("Dirty Water" may have something to say about that, Mr. SOTD.)
Between reader responses and staff picks, we racked up 44 songs for the summer of '22. Check out the Spotify playlist for the 2022 tracks below, and scroll down to read why readers chose the songs they picked.
Results may have been edited for length or clarity.
What's your pick for Song of the Summer 2022?
Songs from 2022:
"About Damn Time," Lizzo. Just a fun, positive summer song — Lizzo keeps us smiling through the tough times and at this point we all deserve to celebrate!" — Melissa Lees, Ipswich
"Running up that Hill," Kate Bush. "Any time I can nominate a great song for an under-appreciated '80s artist, I'm going to! The Duffer Bros. have compiled some great '80s music over the four seasons of 'Stranger Things,' some that I had forgotten about. Totally awesome!" — Kathy M., Dorchester
"Bam Bam," Camila Cabello featuring Ed Sheeran. "This has all the hallmarks for the perfect summer song: a danceable beat, a catchy refrain, and two of 2022's best artists. I dare you to not dance and sing along when this comes on the radio!" — Annette, Framingham
"Dance Around It," Lucius featuring Brandi Carlisle & Sheryl Crow. "It is infectious, it is fun and if you haven't discovered Lucius yet, you are missing out." — Jennifer, South Boston
"Fire For You," Cannons. "It's a catchy earworm with relatable lyrics, sung bittersweetly by Michelle Joy. Every time it's played you'll be asked, 'Who is this?'" — Christophe P., Lowell
"Good Times," Jungle. "Jungle is largely unknown and highly underrated. Their third studio album, released in fall 2021, effortlessly blended disco, funk, soul, and electronic sounds. When their dual singles dropped on June 1, I immediately fell in love with "Good Times," a vibrant and upbeat track with an infectious dance beat. "Problemz" is equally as good, with an undercurrent smooth base-line that's addictive to the ear." — Sabina, Somerville
"Turn up the Sunshine," Diana Ross and Tame Impala. "It's a super fun and catchy song, and it has the unexpected pairing of an iconic and epic artist with an amazing band. Plus, it's part of the soundtrack to the summer 2022 movie hit, 'Minions, The Rise of Gru.'" — Nicole, North End
Songs from prior years:
"A Summer Song," Chad and Jeremy (1964). "It is a song about summer. And it's a lot more melodic and breezy than the contemporary crap by people who can't sing we are forced to hear. — Richard, Framingham
"99 Problems," Jay Z (2004). "This song may not meet the criteria of being released in 2022 but I think it meets the criteria of 'having a moment' this year. With everything going on in the world from COVID (still), monkeypox, the war in Ukraine, inflation, wildfires in the west and in Europe, severe weather, etc., this song just feels right!" — Michael R., Billerica
"Baby Shark" (any version). "Because the baby shark song is so cutesy and I wuv wuv wuv it! Oooooooh!" — Shmitty, Marshfield
"Fireworks," The Tragically Hip (1998). "Canadians know how to write a song about Boston." — William H., Beacon Hill
"Summer in the City," The Lovin' Spoonful (1966). "Quintessential summer tune!" — Papa B., Suncook N.H.
"Ring Of Fire," Johnny Cash (1963). "Because soon enough New England will have Florida weather and Florida will be a desert!" — Tom, Revere
"Summertime" from Porgy and Bess (1935). "For as long as I can remember, it reminds me of lazy days at the beach of the lake, eating together, and hanging out on the deck. That is summer!" — Gloria J., Salem
Boston.com occasionally interacts with readers by conducting informal polls and surveys. These results should be read as an unscientific gauge of readers' opinion.