Music
Here are the 20 local bands to see at Boston Calling 2022
A guide to the New England bands playing at this year's music festival.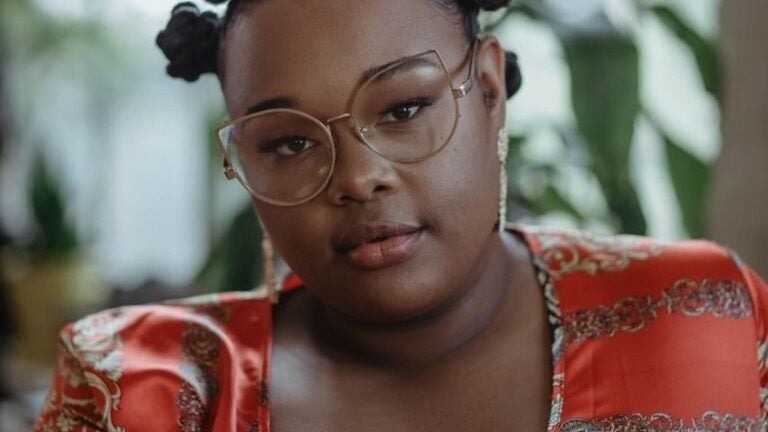 The countdown to Boston Calling has begun.
The three-day music festival returns on May 27 to the Harvard Athletic Complex in Allston—and this year is an important one. The annual festival, which was canceled for the past two years due to the pandemic, will have its largest number of local acts ever, featuring 20 artists with ties to New England.
We wanted to introduce you to the local lineup, many of whom are based in Boston. Twelve will be performing on the new Tivoli Audio Orange Stage, and all of the local musicians will be playing Boston Calling for the first time.
There's Oompa, a Roxbury-born rapper who got her start as a slam poet, and there's Miranda Rae, an R&B singer born in Cambridge. There's the Boston indie rock duo Aaron and the Lord, and alt-rock band Paper Tigers.
Ahead, check out our guide to all the local New England bands playing Boston Calling 2022.
Friday, May 27
Rapper Avenue grew up where lower Roxbury meets the South End, and his lyrics often reflect stories from his upbringing, describing being around gang culture and drawing from what the Boston Globe described as "urban coming-of-age experience." Get a taste for the local musician in his "Bob the Chefs" music video.
5:20-5:50 p.m., Tivoli Audio Orange Stage
This trio from Milford plays emotive rock and roll, writing about breakups, loneliness, the loss of a grandfather, and old relationships. With a basis in the DIY punk scene, they released the EP "Pictures of the Sun" last August.
6:55-7:35 p.m, Tivoli Audio Orange Stage
Inspired by Boston and British culture, this Melrose band released their debut album "All the Things" this past March. Catch their set if you want to hear a retro, mod-pop trio play punchy and easy sing-along tunes.
2:55-3:25 p.m., Tivoli Audio Orange Stage
The Cambridge-born R&B singer, whose music leans towards neo-soul, has a shimmering, velvety voice and strives for honesty in her songs. Listen to some of her hits including "Thinkin' Bout You," "Mama Says," and "Moonlight."
4:10-4:35 p.m., Tivoli Audio Orange Stage
Saturday, May 28
Known for her heartfelt songwriting and soulful voice, Ali McGuirk shines in songs like "That's the Way I Feel About You" and "What Have We Done?" Her introspective lyrics deal with heartbreak and trials of adulthood, told with intimacy and wisdom.
5:20-5:50 p.m., Tivoli Audio Orange Stage
Inspired by artists like Katy Perry and P!nk, Nashville-based singer Charlotte Sands grew up outside of Boston and has been finding her place in the growing pop-punk revival. Her song "Dress" was written in support of Harry Styles' Vogue cover appearance in a dress, while you can hear her rocking out on anthems like "Want You Like That."
2:20-2:55 p.m., Delta Airlines Blue Stage
Retro-rock group Coral Moons released their debut album "Fieldcrest," exploring childhood nostalgia and moving on, often in an autobiographical way. Listen to "Winnebago," a song about getting away, or "Beach Song," about a dream.
4:05-4:35 p.m., Tivoli Audio Orange Stage
The Boston-based indie-rock band released their record "Double Visions" last spring, carrying what Vanyaland called "an undeniable air of renewal." Search for songs like "Tell Me Your Codes" and "Rosemary's Baby" to hear how they capture the light and the dark in their melodies and lyrics.
2:55-3:25 p.m., Tivoli Audio Orange Stage
Singer-songwriter Frances Forever writes lilting, ethereal tunes, dealing with depression and romance on her indie-pop tracks. In 2020, her song "Space Girl" became a viral hit on TikTok, but other ditties like "Paranoia Party" and "Certified Fool" also mesmerize.
3:25-4:05 p.m., Delta Airlines Blue Stage
Somerville's Julie Rhodes infuses her songs with soul and fire, as can be heard in tracks like "Collector Man" and "Hey Stranger." Her first album "Bound to Meet the Devil" came out in 2016, a blues record that showcases her crooning voice.
1:30-2:10 p.m., Red Stage
This Brockton rap collective brings together musicians who introduced themselves as solo artists before bringing their own stories together. WBUR called them "the rap game's best kept secret." Catch some of their favorite numbers, like "Cult" and "Medic."
6:55-7:30 p.m., Tivoli Audio Orange Stage
Sunday, May 29
The indie-rock duo Aaron and the Lord is made up of two musicians who have deep roots in Boston's local music world. Popular tunes include "This Love Ain't Dead" and "World On Edge."
4:05-4:35 p.m., Tivoli Audio Orange Stage
A graduate of Wellesley High, rapper Cam Meekins was injured in a jet ski accident at age 15 and used his time in recovery to plan a debut. You can hear his verses soar on songs like "Out of This Town" and "Slow Down."
6:50-7:30 p.m., Tivoli Audio Orange Stage
The artist from Dorchester produces music rooted in hip hop and calls his work "a continuous exploration of the Black mind," frequently addressing "the political and the personal." Hear his rhythms and lyrics on "Good Riddance" and "Manic, Pt. 1."
2:15-2:45 p.m., Delta Airlines Blue Stage
While the Cape Cod band Crooked Coast prefers not to be defined by a genre, their "powerful lyrics, melodies and undeniable hooks" shine through in all their songs. You can find charging themes, strongly influenced by rock, reggae, and hip hop, on "Hell in a Handbasket" and "Glass House."
5:20-5:50 p.m., Tivoli Audio Orange Stage
Also known as Joe Keery, Djo is best known for starring in the television series "Stranger Things," but he always had a love for music. Now the Newburyport native's work has earned him the title of "psych-pop's most intriguing new talent," according to DIY magazine and he continues to make music that he hopes will "resonate" with people.
3:25-4:05 p.m., Delta Airlines Blue Stage
Indie-groove band from Connecticut Goose was voted on Boston.com as the group that readers are most excited to see perform. While they've been compared to the band Phish before, their influences lean more towards indie-rock and trance. Listen to them jam out on catchy songs like "Arcadia" and "So Ready."
7:35-8:50 p.m., Delta Airlines Blue Stage
Rapper and poet Oompa got her start performing at slam poetry nights and is now ready to shake Boston Calling. An acclaimed musician "forever representing the queer, Black, orphaned, hood kids," you can hear her forceful lyrics on songs like "Lebron" and "It Ain't Safe."
1:45-2:15 p.m., Red Stage
The indie-alt band from Boston has been called "powerful and anthemic," with their "soaring vocals, dynamic guitars, and energetic drums." This past April, they released their single "A Portrait of a Scene," from their recent album "I Wish Someone Would Have Told Me This Sooner."
2:50-3:20 p.m., Tivoli Audio Orange Stage
A seven-piece group dedicated to creating dance music, Ripe has been called "an unstoppable groove" and "the swagger of funk, filtered through a rock anthem." Listen to ecstatic hits "Settling" and "Downward," and you'll see what we mean.
5:50-6:45 p.m., Delta Airlines Blue Stage
Stay up-to-date on the Music Club
Catch up on the latest discussions and performances from local musicians in your inbox.