Neighborhoods
How this 'hidden gem' is keeping the music scene alive in Allston
Performers see O'Brien's Pub as a stepping stone in their careers. "That's where you start," general manager Tim Philbin said.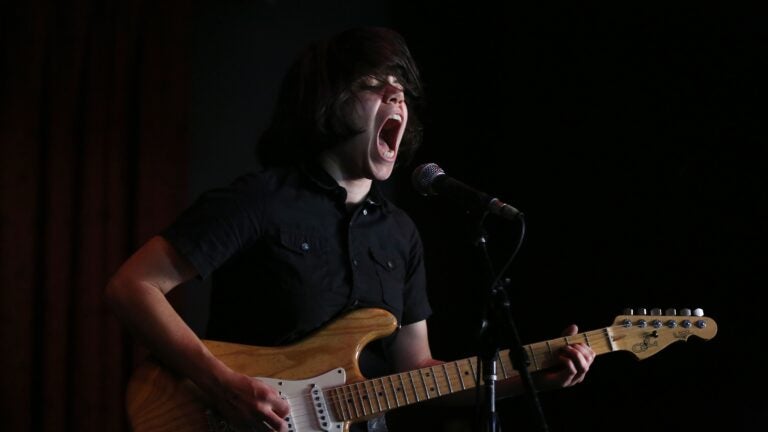 Performing at O'Brien's Pub is considered to be a rite of passage for musicians. After emerging bands play at the Allston venue, general manager Tim Philbin told Boston.com that they hope to "graduate" to larger spaces.
"This is where you can see a band that's basically come out of the basement," Philbin said. "[For] a lot of them, it's their first show in a real venue. We're not a diner that has music occasionally. All we do is live music, and we do it, hopefully, seven days a week."
The spot is a reader-recommended "hidden gem," which reader B.C. from Somerville called, in his opinion, "the premiere, remaining, full time, Boston venue for local bands and touring indie bands." It is a small but cozy club that fits about 70 people in its space. There is one bar where guests like to order Pabst Blue Ribbon, Miller High Life, and Narragansett, said Philbin — you won't see visitors sipping on craft cocktails here. People typically congregate around the stage, standing while they see local and national bands perform, and there can be anywhere from three to five acts a night. The groups can come from everywhere, traveling from as far away as Texas and Montreal, Philbin added. And the crowd who patronizes O'Brien's Pub is fairly diverse, as well.
"The beauty of it is that it's so varied," Philbin said. "Depending on the band, [a different audience] may come to see it. [During past] night[s], [we had] a lot of punk kids, studded belts, a lot of mohawks. If the band is a more established band that's been around for a long time, the average age in the club could be 40s and 50s."
The club opened in 1984 and always had live music, but transformed more into a nightly venue in the 90s, Philbin said. The music played there tends to lean towards heavier styles, like metal and punk, but it sometimes depends on the individual taste of the person booking the acts. For example, in recent years, the venue has been exploring electronic music more. Philbin said that bands he's found memorable have been Larry and His Flask, a folk punk band from Oregon, and Weakened Friends, an indie rock group from Maine.
Philbin shed light on O'Brien's Pub's role in the community. He explained that ideally, bands would get their start there and later move on to other clubs. Before Great Scott, a beloved music venue and O'Brien's Pub's sister club, closed in 2020, the establishment was part of that process, but Philbin said that the music scene is missing something now.
"In a perfect world, they'd play us, and then if things are going well, and they get to the point where every time they play, it's selling out — what they need to do is find the next step. Unfortunately, that's lacking in Boston," he said. "… Great Scott was filling that niche." He added that O'Brien's may be a small venue, but it's stayed an important keystone in Boston's music culture, saying, "That's where you start."
The space is meant to feel welcoming and inclusive, Philbin said. Recently, a local musician named Tiefling performed at O'Brien's Pub. Philbin said that the artist, who identifies as transgender, spoke to him about feeling supported at the club. She told him that she considers O'Brien's pub "a safe space. I know that's a buzzword… but to hear someone say 'I feel comfortable here' [and] 'I feel welcome here,' that's the kind of vibe that we want to create," Philbin said.
WBUR reported at the beginning of the year that Allston-Brighton's music scene had been hit with some losses, namely the closing of the Sound Museum, a large music rehearsal complex. Philbin said that he has seen some encouraging signs in the neighborhood: Silhouette Lounge now offers live music two nights a week, and Fields West, a laid back restaurant and bar, hopes to explore music in the future, according to a spokesperson. O'Brien's Pub is not going anywhere, Philbin said, and Allston still represents "Rock City" to him.
"Rock City is when you would walk down Harvard Avenue and see a kid with a battle vest. You see someone with a mohawk. You see kids carrying their instruments," he said. "You see them loading drums into the back of a van. It was evident that this was where it was happening."
---
What is the best hidden gem in Boston?
Need weekend plans?
The best things to do around the city, delivered to your inbox.