Readers Say
10 eco-friendly stores to shop in Greater Boston
See Boston.com and readers' suggests on where to shop sustainably.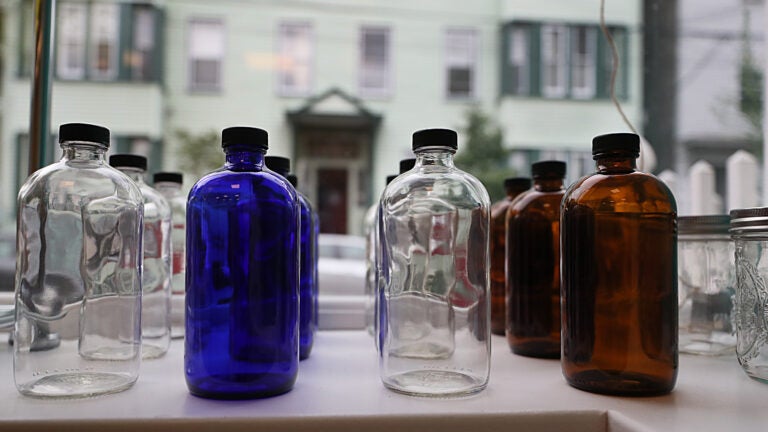 With Earth Day right around the corner, we asked readers where they shop with the planet in mind. There are a number of ways to mark the day, and we wanted to know where to shop sustainably in Greater Boston.
You can start with little changes to your purchases and learn to incorporate shopping sustainably as part of your routine. Even if you don't adopt the habit of regularly shopping at eco-friendly stores, trying out new products may be a fun experience and helps the environment, too.
Below, find a map and list of 10 stores to shop sustainably in the Greater Boston area from readers and Boston.com.
Where to shop sustainably in Greater Boston:
Responses have been lightly edited for length and clarity.
Boston General Store strives to focus on craftsmanship and celebrate producers. "Boston General Store was grown from a passion for the long lasting and the well made," their website reads. The Brookline shop began as a small online retail store and offers sustainable home goods like reusable grocery bags, silicone straws, biodegradable sponges, and reusable glass bottles. They are open Mondays through Fridays from 11 a.m. to 7 p.m., and Saturdays from 10 a.m. to 7 p.m., and Sundays from 11 a.m. to 6 p.m.
305 Harvard St., Brookline
The Brattle Book Shop is a Boston favorite that may not be the first to come to mind when you mention sustainability. However, this second hand book shop allows you to purchase and sell used books. Brattle Book Shop has two floors of general used books, with the third floor for rare and antiquarians books. Brattle also has an outside sale lot when the weather is nice. On their website they call themselves "one of America's oldest and largest used book shops" and provides ideas of how you can sell, browse, and decorate with books. It would be hard for you to not find something of interest at Brattle as their shop carries over 250,000 books, maps, prints, postcards, and ephemeral items in all subjects. They are open Monday through Saturdays 9 a.m. to 5:30 p.m.
9 West St., Boston
Cleenland is a "one-stop shop for low-waste, refillable personal and home care supplies," their website reads. The Cambridge shop has reusable bottles, low-waste personal and home care products, and "smiles to go around." They support local and sustainable stores that are inclusive. They offer refills on products like shampoo, conditioner, hand soap, body wash, lotion, laundry detergent, dish soap, candles, and more. In store, you can purchase bar soaps, lip balm, bamboo hair brushes, utensils, coffee filters, amongst many other options.
"They offer many cleaning and personal care products in bulk to refill your containers… The owners do their homework and offer the cleanest and the greenest products. I have been happy with the quality," said Karen B. in Malden.
They also partner with recycling programs like Albatross Designs, for razor blades, and Preserve, for toothbrushes, so you can drop off your used items to be recycled. They are open Fridays through Sundays from 11 a.m. to 6 p.m. and Mondays, Wednesdays, and Thursdays from 3 p.m. to 7 p.m.
89A Norfolk St., Cambridge
Center Goods supports ethical practices, sustainable products, and small businesses. The shop located in Lexington for things "that are good for people and our planet," their website reads. They offer products that are zero waste, fair trade, environmentally friendly, and refill supplies. They have a wide range of everyday products from things like toothbrushes to candles to tote bags. More options include laundry supples, cleaning supplies, self care products, and gardening supplies. They also donate portions of their sales to support organizations like Pollinator Partnership, One Tree Planted, Natural Resources Defense Council (NRDC), Boston Alliance of LGBTQ+ Youth, and more.
"I just discovered this wonderful store that has just about everything one could want in sustainable items. Purchased many items, but my favorite is my mason jar cover that has a metal pour spout," said reader Anabel G. in Lexington.
They are open Tuesdays through Sundays from 10 a.m. to 6 p.m.
30 Waltham St., Lexington
Credo Beauty sells clean beauty products to create safer, more sustainable, ethical, and transparent products. Their mission aims to examine what goes into the products customers use on their skin and make them safer for people and the environment. At their shops located on Beacon Hill and Newbury Street, you'll find 130 brands and over 2,000 "best-in-clean" products to give multiple options for all customers' beauty needs. They have everything from lip gloss to face wash to serums. Going a step further, they have created their own "Dirty List" which sets their standard for building a clean product. See their locations for hours.
65 Charles St., Boston (Follain); 177 Newbury St., Boston
Our list wouldn't be complete without a thrift store. However, the Garment District considers itself more than just a second hand clothing store. Describing itself as an "alternative department store," the Garment District is a unique retail clothing store, with clothing for all genders in many different styles. They boast over 12,000 square feet of retail space and 40,000 unique items "at any given time." Thrifting is a great way to shop sustainably by opposing fast fashion and instead renewing used clothes. Available daily, the Garment District also offers a pay-by-the-pound clothing selection. You weigh when you're done and pay $2 per pound. They are open Mondays through Fridays from 11 a.m. to 8 p.m., Saturdays from 10 a.m. to 8 p.m., and Sundays from 11 a.m. to 7 p.m.
200 Broadway, Cambridge
"Neighborhood Produce is your new favorite local grocery store, and we've got (almost) everything you'd find at a big box grocery store," their website reads. Neighborhood Produce provides the sustainable alternative to options that you might find in your "big box grocery stores" that includes household items, dairy, eggs, meat, bulk staples, pantry products, and produce. Their products are sourced locally and nationally to reduce carbon emissions and support local, ethical producers.
"They offer approximately 40 items including coffee, tea, spices, beans, cereals, and rice in bulk. You bring your own containers to fill. They sell local milk and products like Sofia's yogurt and most of their products are fresh and not packaged. …The staff is tremendously friendly and helpful," said Karen B. in Malden.
415 Medford St., Somerville; 691 Broadway, Somerville
Farmers' markets, like the Roslindale Farmers' Market, are a great opportunity to shop sustainably. Roslindale Village Main Street hosts a farmers' markets in the summer and winter months with the goal of supporting their community. The market hosts around 30 vendors and brings in about 3,000 customers a week. Additionally, they support food access programs like Summer Eats Meals sponsored by Project Bread, the YMCA free meals for youths, and SNAP/EBT. The summer farmers' market typically starts the first Saturday in June and runs until right before Thanksgiving, and the winter market begins in early January and runs through March.
"You know what you buy is produced locally, so it is directly supporting local businesses and the food doesn't travel hundreds of miles to get to you … Plus you sometimes develop personal friendly relationships with the vendors which builds trust and sustains community," said reader Amy in West Roxbury. Amy also suggested the Needham Farmers' Market. You can find all Boston farmers' markets, like the East Boston Farmers' Market and the Jamaica Plain Centre Farmers' Market on Boston.gov.
4236A Washington St., Roslindale
Savers have opened stores across the U.S., Canada, and Australia and are "committed to making secondhand second nature." Savers gives a few reasons for thrift shopping sustainably: it's "reusing, repurposing, and up-cycling, helping save the planet while saving a few bucks." Savers offers second hand shopping on a range of items including toys, electronics, bags, books, household items, clothing, small appliances, and small furniture. They also accept donations in these categories so that you can reduce your waste habits. Hours vary depending on the location.
Multiple Locations
Uvida is an eco-friendly store aiming to protect the environment from plastic waste which results in environmental degradation. As the city's first zero-waste store, Uvida offers products for the kitchen, bathroom, personal care, pet care, kids, cleaning supplies, and more. Their mission is to help customers make conscious decisions about the products they use and "give life back to the Earth" by only offering plastic free products. Uvida was started by Maria Vasco first as an online venture while she still attended UMass Boston, and later opened Uvida's doors in December of 2020. The Boston Globe described the spot as a "zero-waste wonderland."
They are open Mondays through Fridays from 11 a.m. to 8 p.m., Saturdays from 10 a.m. to 8 p.m., and Sundays from 11 a.m. to 7 p.m.
395A Washington St., Brookline
Correction: The Garment District offers a pay-by-the-pound selection of clothing on a daily basis. A previous version of this story included a purchase limit and incorrect schedule for the By The Pound section of the store. Boston.com regrets the errors.
Need weekend plans?
The best things to do around the city, delivered to your inbox.