Readers Say
10 readers share memories of the Harvard Square pit
The hangout spot is being transformed into a plaza. Boston.com readers told us their reflections of the public space.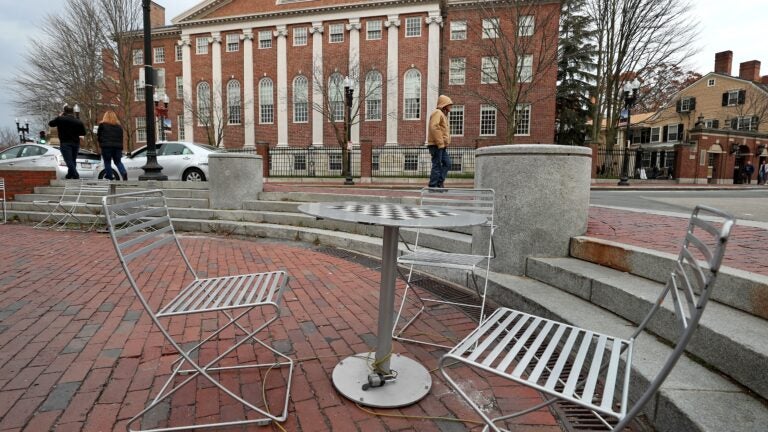 The Harvard Square pit, the red brick, sunken space near the Harvard Square MBTA Station, has been a hangout spot since it opened in the 1980s. Originally meant as an area for street performers to be showcased, the pit will be taken down this summer in order for construction on a new plaza, which will last about 18 months, to begin.
For many people, the public space is part of the culture of Harvard Square. It has become a place for young people, particularly those with a "revolutionary" spirit, to congregate, according to Cambridge city councilor and former mayor Marc McGovern.
"I started hanging out in the pit when I was about 15," McGovern said. "I was in high school and was into the punk rock style in music, and the pit was a gathering place for like-minded young people, so I gravitated there. …You would make your rounds. You would start off in the pit, then you'd go to Cafe Aventura, you'd bum around Newbury Comics for a while — you kind of did the rounds, but the pit was always the anchor."
We've collected memories from readers who shared what the pit has meant to them through the years. Scroll down to read 10 reflections on the Harvard Square pit.
Readers share memories of the Harvard Square pit:
"The pit is something that made that part of Harvard Square unique. I grew up going to the area at least once a month, usually two to three times a month, on weekends. No other area had something like the pit. I will miss it, knowing it is gone. I am glad it is at least becoming a plaza and not being converted into another store building."

— Wayne, Tewksbury
"Cell phones were not a thing when I first found the pit, and I was late to the party. It was 1990; I was 16 and excited by the energy. I had walked through many times with my parents or grandparents heading to Cardullo's or grabbing a burger from the Tasty (no, not Tasty Burger) but never stopped. … [Leaving] the house, [going] to the pit to find out what's up, beats a cell phone any day. Yeah, it was a bit dangerous, but it was alive! … People heard about the pit from all corners of the planet; they will be disappointed when they arrive. …Goodbye, pit, but you've been dead a long time, starved out."

— L.M., Cambridge
"I was a little too shy to hang in the pit when I was in high school. The punk guys were so cute. I didn't feel cool enough. The energy coming from the pit influenced the whole Square, making it feel edgier and fun. When I was a kid, my Mom would bring me there to see folk music and eat hermit bars. The pit was my generation's contribution. I was thrilled to get the opportunity to throw a celebration bash for the place, thanks to the Harvard Square Business Association and councilor McGovern. We had so much fun putting it together. It was exciting to watch old Pit Rats and kids who'd never experienced the scene partying together."

— Jen Deaderick, author and Pit-A-Palooza event organizer
"We used to hang out there with my friends when we were young and listen to punk music."

— William L., Arlington
"The pit is the origin of my social life in Boston. Coincidentally. Not because we went there to be social. [It was an] easy meeting ground, [with] good people-watching. A dirty hole in a clean area. We smoked, we drank. The pit was where the transient population of Harvard Square went to sleep and enjoy their high. The city does not understand the culture of the pit or the pit people; they won't recognize the memories and time spent in the vague lounge-like area outside of the T station. They simply were not there to experience the vibe. It's a damn shame; I'm sure they'd keep it if they knew. Anyways. Pit people for life. Rest in peace, pit."

— Anonymous
"My husband and I spent many beautiful evenings in Harvard Square. The pit was always a destination to hear good music. We always appreciated hearing singer/songwriter Tracy Chapman, who was just starting her career. I also remember greatly enjoying the very talented Shakespeare Brothers whose performance of street magic and circus tricks was outstanding — the three of them went on to great careers. I'm happy the area will become even a better place to invite people to gather and hear great entertainment."

— Cyndi B., formerly of Belmont
"In the early 80's, this was where the punk rockers would hang out. I was in middle school and an upper-classman in my town would hang there with his pet rat sitting on his shoulder. For us who listened to music that wasn't mainstream and wore surplus clothing, the crowd at the pit made us feel comfortable."

— Chris L., Melrose
"1985-1987, ages 14-16, it was a teenage hangout while we were 'in between.' [We were] not old enough for clubs, but ready to be out after dark, hang out with friends, meet new people, and listen to live music. We took the bus from Lechmere to the Square. There was always a performer, playing either blues or rock. Music that was 'old' sounding, but at the same time new to me. We went there in all seasons, but I especially remember the nights that were cold. It was full of alternative people. Maybe some punk kids, maybe some local teens, and maybe even some Harvard kids."

— Laurie, Cambridge
"Proposed to my wife there, [around] 20 years ago. It was cold, dark, and smelly. We're still going strong."

— Andres, Dover
"Years ago, a friend sent his 15-year-old daughter from Germany to stay with my wife and me to go to summer school.

She went out to explore Cambridge on her own, one afternoon. When she returned, we asked her what she had done. She told us she had discovered this wonderful outdoor theatrical production with fascinating actors performing.

We couldn't figure out where she had been, until after much questioning, we realized that she had stumbled across the Harvard Square pit, with its motley collection of oddball characters that was changing by the minute.

At least she had experienced an adventure to regale her friends with when she returned to Germany."

— Lyle J., Cambridge
Need weekend plans?
The best things to do around the city, delivered to your inbox.