Readers Say
10 readers share the best places to go for a summer picnic
"Great food and friends, a frisbee, and a book."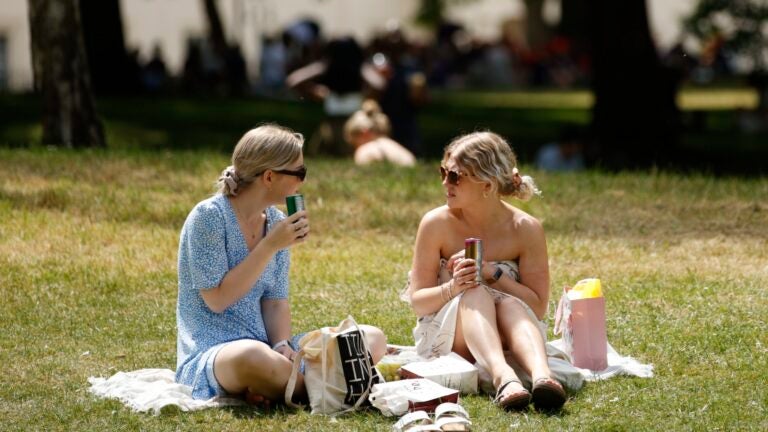 International Picnic Day falls Saturday, June 18, and it's the perfect occasion to get outside, soak up some sun, and have a fun time with friends, bringing along a light meal. You can bring a basket with sandwiches and sodas, a blanket to lay out on the grass, and maybe a frisbee.
We asked our readers where their favorite places are to go for a picnic and what makes the day enjoyable. You told us about your traditions and how you like to visit spots such as the Public Garden and Castle Island. You let us know the exact foods that you like to bring, from crackers and cheese to Honeycrisp apples. A few readers mentioned that they like to take their kids when they picnic, while others said that they'd bring a book or speakers for music.
Here are some of the experiences that you shared with us.
Spectacle Island
"We bring a picnic cooler backpack, which has a pocket for a blanket. We find a picnic table at the top of one of the drumlins and look out over Boston Harbor while eating a sandwich, chips, and a cold beverage."

-Josh, Dorchester
Tanglewood
"Charcuterie, but a lot of every element: cheeses, salamis, olives, pickles, bread or crackers, seltzer and wine, berries, veggies, napkins, a trash bag, each person's favorite chair, a picnic blanket, and a wagon to pull it all! We listen to the Boston Symphony Orchestra and gorge ourselves."

-Kathryn, Arlington
The Public Garden
"The public garden with some friends and sandwiches."

-An Instagram user
"We love doing after work picnics in the Public Garden. We usually just bring a blanket to sit on and a cooler bag with some cheese and crackers, etc. There are often buskers for entertainment but if not, nothing beats the people watching."

-Tina S., Back Bay
Castle Island
"Just a carriage to push the kids, Sully's Cheeseburger with everything, large french fries, ginger ale, plus soft serve ice cream for the grandkids. Nice walks around the Castle, the Sugar Bowl, and lots of fun in the playground. The best place to watch the airplanes fly into Logan while having a great picnic."

-Joe L., South Boston
Emerson Garden, Brookline
"I bring a big tablecloth as our ground spot, two beach chairs (I get back aches sometimes if I sit too long on the ground), sunscreen (I apply at home and re-apply during the picnic, after about 90 minutes of being out), and a large Trader Joe's cold bag. I love to have refreshing and healthy snacks like:

-Honeycrisp apples (pre-cut in wedges so they are easier for dipping in hummus or peanut butter)

-Hummus (in a ready-to-eat packaging)

-Peanut butter (in a small container)

-Clementines (my favorite are the Cuties brand)

-Pre-washed grapes (I bring a container with a bunch cut in halves for my kids)

-Boursin cheese with crackers (I love Ritz crackers for this)

-At least four to five cans of Polar Seltzer water

-Manzanilla olives (we love olives in our family)

-Serrano or Prosciutto ham

-Vermont white cheddar or Parmesan cheese (pre-cut into bite size)

-A bottle of Sauvignon Blanc (and my Yeti for keeping my serving cold)

-Plenty of bottles of water

It sounds like too much, but I have become a master at planning it ahead and packing it all in the Trader Joe's cold bag. It all fits!

My husband always makes sure to bring a Bose wireless speaker to make the ambiance even better.

The great thing about Emerson is that it has a big lawn in the middle of it with a few trees so we can spot under the shade, facing the playground where our daughters love to play. The playground is super fun, it was renewed just before the pandemic, and has a really big sand area."

-Ana R., Brookline
Paul Revere Park
"For me, it's all about the meats and cheeses. I'm bringing a few selections of salumi and a couple of different cheeses, with some crackers and maybe some olives. Depending on the mood, I'm either packing the necessary ingredients to make an Aperol Spritz or I'll just get a bunch of the premade ones from Bully Boy."

-Anonymous
The Charles River
"Next to the Charles with a bottle of wine and couple of sandwiches."

-An Instagram user
Hale Park, Newburyport
"Great food and friends, a frisbee, and a book. This is our favorite spot to have a weeknight picnic dinner. Manicured park near the Merrimack River and all Newburyport has to offer!"

-Aimee H., Newburyport
And as one Instagram user put it, "Anywhere, as long as it's with the ones you love and your favorite brew."