Readers Say
13 readers reflect on the closing of Salem Lowe
The North Shore Chinese restaurant was known for its chop suey sandwiches.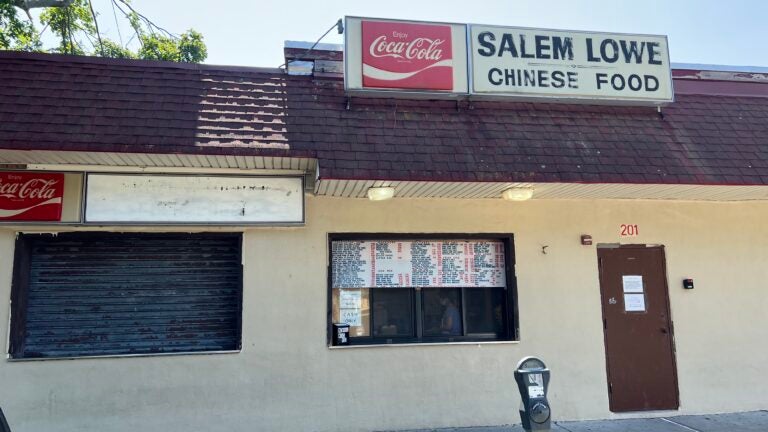 Salem Lowe, an iconic Chinese restaurant located in Salem Willows Park on the North Shore, will serve its last meal on August 14. The spot was a beloved fixture in the Salem community, known for its famous chop suey sandwiches and other dishes, such as chicken fingers, crab rangoons, chow mein, sweet and sour pork, and fried wontons.
We asked readers to share their favorite memories of Salem Lowe, and they responded with stories about the neighborhood haunt. Many had recollections of going to the restaurant, which has been in business for over 50 years, in their childhood or visiting with family. Readers say that they will miss Salem Lowe and that dining there was a kind of tradition.
We put together 13 reflections on what Salem Lowe meant to guests. Read their stories below.
Readers share memories of Salem Lowe:
"When I was in middle school, my friend lived nearby, and I would get the lo mein 3 [or] 4 times a week. I would take change from my dad's spare change drawer to pay for it. It was so good. Now [that] I usually eat there once or twice a summer. I will miss it. Their closure will leave a huge hole in my summer traditions and in Salem."

—Renée, Salem
"I grew up in Peabody, and every summer, my parents would have to have chop suey sandwiches from Lowe's. I remember my sisters picking up sandwiches and surprising them with lunch. It was not until I got older that I actually tried one and liked it. I live in Maine now, and I have never seen any place else that served those sandwiches — a truly unique treat that will be missed."

—Barbara H., formerly from Peabody
"As a single mother, it was a place I could afford to get dinner for my three kids, plus myself. We would walk on the pier and around the park. It's just so special to me. I have also taken all seven of my grandchildren there many, many times. There's no place quite like it anywhere. Thank you Salem Lowe's for many, many great memories."

—Ellen, Peabody
"My mother was on her way to the hospital to have my sister, but she refused to go to the hospital until my father stopped at Salem Lowe and bought her a chop suey sandwich.

My sister and she swore by them ever since."

—Kevin D., Beverly
"What will I miss about Salem Lowe? Chop suey sandwiches. Combination plate #1. I have been ordering both since about 1970 and longer back for my paternal grandparents, parents, siblings. A chop suey sandwich from Salem Lowe's was one of my dad's most favorite things.

In 1978, my parents and I flew to visit my aunt and my sister living in Anaheim, CA. Our carry-on luggage included a small cooler that had two quarts of Salem Lowe chicken chop suey (frozen) in it. The owner of Salem Lowe's father referenced in the online article knew my dad by sight. Anytime he spied [my] dad at the window, he knew [my] Dad would be ordering a bunch of chop suey sandwiches and combo plates for immediate consumption—and that in a few hours [my] dad would be back at the window—ordering at least one more sandwich for the road, plus two quarts to bring home to Somerville.

For my family—Salem Lowe is my dad. Salem Willows was our refuge from the hot city on a dog day of summer night. "Everyone in the car, we're going for a ride." He never said where we were going, but once I saw the Charleston Chew sign in Everett, I would start to hope we were headed to Salem Willows. The old sign on the spice factory in Revere was next. The miles to go from that point to Salem Willows and the original location of Salem Lowe—in between the two big arcades—took an absolute eternity. Eventually the sign for Salem Willows and Winter Island were visible. That meant we only had the task of finding a parking spot (always a battle!) and waiting in line (there was ALWAYS a line in those early 70s), and then waiting another absolute eternity for our order to be ready—then finally the freshest, tastiest, gooiest chicken chop suey on a steamed burger bun was in hand—pretty much my family's version of eating ambrosia.

When my dad passed in 2014, my brothers trekked to Salem Lowe for quarts upon quarts of chop suey to serve at the post funeral collation.

I will be making several visits over the next weeks. I anticipate hoarding the quarts I bring home, in the freezer, as much as I can fit. And crying, I anticipate there will be plenty of tears shed by me."

—Janet B.
"It's a neighboring North Shore tradition to take a trip to Salem Willows, whether you're going to make it a whole day event, stop by for a couple hours for some fun and food, or just simply make a trip for some dinner and dessert. No matter your purpose, it was always worth the trip for [a] Chinese food plate with steak, rice, and chicken fingers. The worst part is that I have no way to make it there this year so I can't get one last plate!!! It's definitely not going to be the same without them. Thank you for all your years of service and good food; I wish you all the best in your retirement."

—Kristin B., Swampscott
"My husband and I always love going to Salem Lowe when going to the beach at Salem Willows. They have the best chicken fried rice we have found anywhere! Such great memories here."

—Jeremy and Matthew M., Salem
"We have been going to Salem Lowe's at the Willows ever since I was a young girl. Now in my early 70s, I still go there, as does my daughter. My mom always got the chop suey sandwich, and it had to be wrapped in the paper with a plastic fork stuck in it. My dad didn't eat Chinese food, so he would get a cheeseburger and a box of French fries! I like the chicken chop suey and the pork lo mein. My daughter [likes] the fried rice, chicken wings, and loved their chicken fingers, as she says their batter is the best! We are going to miss our trips to Salem Lowe's at the Willows, but only wish Dave the best on his retirement!"

—Priscilla N., Saugus
"My parents took me to Salem Willows every year as a child in the 1980s-90s, and we've even visited every so often since. Popcorn bars from EW Hobbs and chop suey sandwiches couldn't be missed. Also, skee ball and the classic coin operated machines, like the miniature monkey brass band.

I dread the day that gentrification wipes out places like Salem Willows and Salisbury Beach, just like Revere Beach and Whalom Park were wiped out. To working class/middle class people, these places are like the Cape and the Islands or the Berkshires, but Massachusetts is increasingly hostile to these places and to these people."

—Joel W., Lowell
"I've been going to Salem Willows since I was a kid. I just celebrated my 60th birthday, so it's been awhile. Having a chop suey sandwich at the Willows is a tradition. Just like playing skee ball, fishing off the pier, and getting a bag of peanuts. It will never be the same."

—Robert H., Peabody
"Been going there since the 60's. My parents took me there. Then I took my kids there, and now I take my grandchildren. Sorry to see you go, but you guys deserve the rest. Good luck. Loved what you do."

—Mike C., Peabody
"Every summer ever since I can remember, it's been tradition to come here with my dad and get chicken chop suey sandwiches. You will be missed. [A] very bittersweet goodbye, but we wish you the very best and nothing but happiness."

—Brianna P., Peabody
"Good luck in retirement, David. — Bob (fire system service guy)."

—Bob G., Quincy
Sign up for The Dish
Stay up to date on the latest food news from Boston.com.