Readers Say
'It is not dependable for me at all': Boston.com readers weigh in on the Uber and Lyft shortages
"I legit almost had to hitchhike home."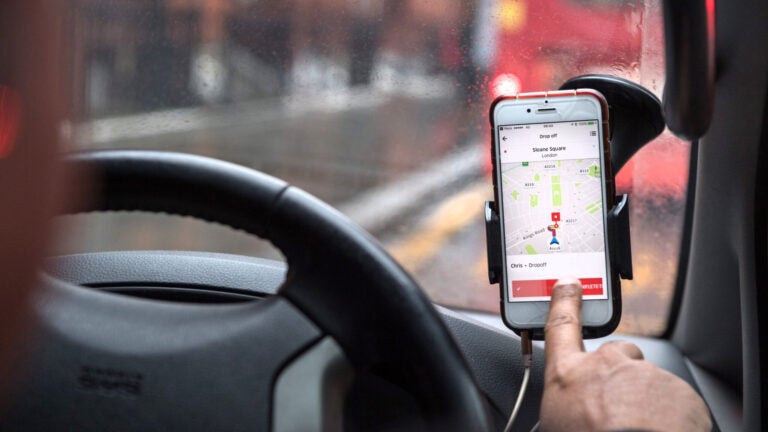 Having trouble getting an Uber or Lyft in a reasonable amount of time? You're not alone.
A decline in the demand for Ubers and Lyfts during the COVID-19 pandemic has led to fewer drivers on the road. The average wait for a ride in Boston this spring was 40 percent longer than wait times in Philadelphia and 147 percent longer than in New York City, according to Uber.
"I legit almost had to hitchhike home," said a reader who waited more than an hour-and-a-half for an Uber to arrive.
We asked readers if they've noticed a change in the quality of ride-share access in the city, and the answer was an overwhelming yes. Ninety-seven percent of 276 readers who responded to our survey said they'd experienced difficulties getting an Uber or Lyft in the last month. Across the board, the biggest issue was the increasingly long wait times.
"A lot of the time, no matter the day or time of day, there are no drivers available on Uber," said Taylor from Dorchester. "Lyft has been a little bit more reliable but with high prices and long wait times."
Some of the respondents described safety issues late at night. After a night out, they reported limited, expensive, or time-consuming options for getting home.
"I have spent over an hour waiting for an Uber. I found a random taxi service to take me home that was four times the price of an Uber," said Amanda Sanderson. "I don't want to drink and drive, but I also live in Malden and can't walk home."
Uber spokesperson Alix Anfang said the company has seen increased ridership across the state as vaccination rates have improved.
"We are working hard to get more drivers back on the road, including by notifying all drivers about the lifting of the surge pricing ban and boosting driver earnings across the state," Anfang said.
Eric Smith, a spokesperson for Lyft, indicated the company expects service to return to normal soon. Increased ridership has drivers in top markets "earning significantly more than they were pre-pandemic," according to the spokesperson.
"Earlier this spring, as vaccines rolled out and people started moving again, we began to see the demand for rides outpace the number of available drivers," Smith said in a statement. "We've added thousands of drivers in the past few weeks, and it's already leading to a better rider experience with wait times down more than 15 percent nationwide, and down 35 percent in some major markets."
Of the eight readers who said they haven't had any trouble with the ride-share services, one noted that the rides have been "a little slower than usual, but not terrible." Still, for many of the 276 respondents, the problem is too hard to ignore.
"Please note this problem is not limited to the city of Boston," said one reader who lives in Norwood. "On three occasions this month, I had great difficulty finding a driver. My first trip took over an hour to get a ride. I was stranded for almost three hours on the return trip by the time I got a driver. Right now, it is not dependable for me at all. I'm disabled and I rely on this service to get me back and forth to the grocery store."
Like that person, many others are having trouble getting to important appointments, coming from work, getting to the airport, and more. Ahead, read a sampling of what people have experienced with ridesharing around the city.
Responses have been edited for length and clarity.
Stranded on late nights and weekends
"The first night after the mask mandate was lifted, I went to a bar in Boston. Closing time rolled around, there were no Ubers or Lyfts to be had for over an hour. Ended up taking a Bluebike home." — Alex, Somerville
"My fiancé and I tried to get an Uber home to East Boston from Southie. We tried for an hour at 1 a.m., and there were no drivers for Uber or Lyft, no cabs available and public transit had closed. We were essentially stranded until a lone Lyft driver happened to pick us up at 2 a.m. and took us home." — Kaylee, East Boston
"Over the last few months, I tried to get an Uber or Lyft for an hour around 11 p.m. and couldn't get one. We ended up having to find Bluebikes and bike home about two miles to South Boston because there wasn't a bus for at least another hour. This was dangerous and frustrating. Public transit from downtown Boston to South Boston is very unreliable unless it's midday and even then, your option is just the bus."
"Unfortunately, because of the shortage of Uber and Lyft, my group of friends has chosen to stay in on the weekends instead of spending our money at bars or clubs. It's not worth waiting an hour for a ride at 1 a.m. Keep in mind that ride-shares destroyed the taxi industry so they are essentially all we have now since the MBTA is a terrible system that operates a horrible schedule." — Shawn, Boston
Struggling with practical transportation
"I don't have a car and rely on public transit or ride-shares to get where I need to go. Lately, there have been multiple occasions where I have missed or had to cancel appointments because there were no cars available at all, or if there were, the wait was longer than the time I had to get to my appointment." — Grace, Malden
"I work in the Longwood medical area and there are NO Uber cars available. It's extremely unsettling when you have kids to not be able to get home quickly if needed."
"My boyfriend, who is blind, takes an Uber to work two to three times a week. Sometimes the wait will be so long that I have to clod down the stairs and drive him myself. Once a week is OK, but sometimes he has to fill in at work last minute for his coworker who gets sad when he can't get to the gym." — Alba, Waltham
"I live just outside of the city but work in it. Before the pandemic shut down the known universe, I used to Uber into town the mornings I was a bit sluggish, which was most mornings. I typically had to be ready to walk out the door before I ordered because I would often barely have enough time to get down the stairs. These days I have to get up extra early and order or schedule a ride sometimes an hour in advance. On multiple occasions, I've had drivers cancel. Uber is failing." — Ken
Stuck at the airport
"I arrived at Boston Logan airport at 1:30 a.m. after a long day of travel due to weather and delayed flights. There were many of us stranded there as my entire flight was trying to get home. There were no taxis or public transit available, along with a limited amount of ride-shares. Makes me question going anywhere outside of my neighborhood on a normal night out and plan my flights during specific hours. I never want to feel that way again." — Andrea C., Brighton
"My flights home to Boston were delayed all day yesterday, extending my arrival time from 11 p.m. to 2 a.m. I originally planned to use the T to get home, but given that the T closes absurdly early even on weekends, I was essentially stranded at the airport by myself in the middle of the night. Boston's transportation is not designed with its people in mind." — Isabelle Russell, Boston
"I've tried to get a Lyft in the early morning to go to the airport from Somerville. I prospectively scheduled a Lyft at 7:15 a.m. on a weekday to get to the airport in time. When 7 a.m. came around, Lyft sent out the request but I had no response until 7:20 a.m. and the driver was 25 minutes away. I had to last-minute drive to the airport and pay the high off-airport parking rates while just barely making it on time." — Kelly O'Connell, Somerville
Boston.com occasionally interacts with readers by conducting informal polls and surveys. These results should be read as an unscientific gauge of readers' opinion.
Newsletter Signup
Stay up to date on all the latest news from Boston.com