Readers Say
More than 1,600 responded, and it turns out Boston has a clear favorite song about Boston
"This song has been THE only song (that matters) about Boston since my teenage years."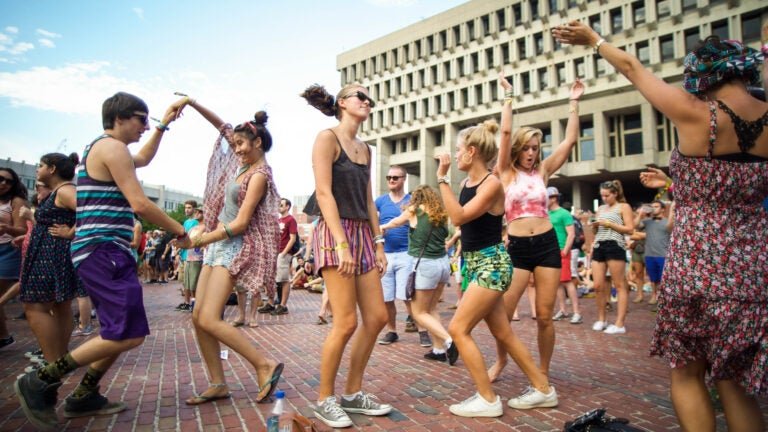 OK, we'll admit it: Boston may not have a "New York, New York" or a "My Kind of Town." (Did Mr. Sinatra have something against us?) But that doesn't mean Boston hasn't made its mark on popular music.
In fact, there are more than a few famous references to Boston in song, and literally dozens of lesser-known ones. ("The Ice of Boston" by the Dismemberment Plan, anyone?) But only one can be the best, and after tallying more than 2,400 responses from more than 1,600 Boston.com readers, we've determined which is the most iconic Boston-related song ever.
But first, some mea culpas.
You'll recall that we assembled a list of Boston-related songs out of suggestions from readers (with a few embellishments from Boston.com staff) before asking people to pick their favorite. But judging from the comments, there were a few omissions that really should have made it on the original list:
1) "Midnight Rambler" (1969) and/or "Memory Motel" (1976) by the Rolling Stones. The first track, off the classic "Let It Bleed" album, is (as true Stones fans know, but we didn't) based on the life of Albert DeSalvo, the infamous Boston Strangler. (How much more Boston can you get?) And the "peachy kind of girl" from the second track, asked by Mick where she's headed, tells him she's going "back up to Boston, I'm singing in a bar." Not exactly a Boston Strangler-level reference, but certainly of some local significance.
2) "Boston" (2005) by Kenny Chesney. Another egregious exclusion, according to readers, was this track, a staple of Chesney's Boston-area sets, about a Red Sox cap-wearing New England girl who's resettled on an island (where it's "warm and real," unlike Boston, we guess?). "I mean it's pretty niche, but come on!" complained Korey of Salem, N.H. "He sells out Gillette Stadium two nights every year, and he has this song that he apparently ONLY plays in Boston. Kenny AT LEAST deserves a spot on the list!"
Our apologies! Now with that out of the way, here's a countdown of the top 5 songs with Boston references as chosen by Boston.com readers from the tracks that did make the list, and what some respondents had to say about them.
5. 'M.T.A.' by The Kingston Trio
In fifth place with 8.6% of the vote, this classic tale of Charlie's subway adventure drew a particularly spirited response from reader May Cadigan, whose Boston-area family had its own Charlie — Charlie Davis — who helped form the Carman's Union in the early 1900s. In fact, the family still pays tribute to him via spirited singalongs, like the one in the video she provided below. ("Chuckie is on guitar and Billy has played the broom for as long as I can remember. He's actually quite good," she reports.)
Anyway, one reader noted that "the song has the energy reflective of Boston," and another asked, "Irish band singing about the T … What could be better?!" Regardless, being the namesake of the Charlie Card is alone reason enough for inclusion in the Top 5.
4. 'Rock and Roll Band' by Boston
With 9.4% of the vote, Boston's eponymous rock band Boston notched number four, with one reader (from Vermont!) noting, "Best song on the list … Performed by a band called Boston from Boston," and another declaring simply, "It's flipping Boston!"
3. 'Roadrunner' by The Modern Lovers
It may have only been able to eke out 13% of the vote — enough for third place — but judging from the comments, Natick native Jonathan Richman's '70s ode to loving Massachusetts is No. 1 in a lot of hearts:
"I just think that 'Roadrunner' is a complete ode to Boston. To me, it's more Boston than any of the others. Jonathan's droll delivery could be any local telling someone why he loves living here." — Jan, West Bridgewater, 40-year resident of Somerville
"Stop & Shop, 128 and Bostonian attitude. Need I say more?" — Greg, Dorchester
"The licks and lyrics race along, reveling in and revealing every Mass. teen's truth. From their first transistor radio tuned to 'MEX' to their ultimate unleashing on the roads with the radio on!" — Jody, Cambridge
"Perfectly expresses the joy of freedom in driving, passion and youthful love. Jonathan Richman and the Modern Lovers at The Channel: best ever!" — David, Boston
"Roadrunner is the pinnacle, the Hub, of Boston-songs. Get out of your house, jump in your car, drop the windows, change some lanes sans blinka, and you will agree." — Tom, Revere
2. 'I'm Shipping Up to Boston' by Dropkick Murphys
There may not be much to Woody Guthrie's lyrics (I lost my leg, check … I'm shipping up to Boston, check … etc.), but thanks to the Dropkick Murphys' howling delivery, it certainly brings the Boston attitude. And 16% of respondents agreed, to land the anthem in third place.
"Dropkick Murphys don't just sing about Boston — they ARE Boston!," noted Ann from Springfield. "They do so much for the city and the state … the people of the Commonwealth. We are lucky to have them!" And Brenda from Marblehead declared, "It has to be the Dropkick Murphys, they are hahd coah! They get it, they're us!"
And as one anonymous reader put it, "This song begs for us to sing along, reminds us of everything good that unifies us … St. Patrick's Day after a snowy winter, skipping work to watch the marathon, or a Sox game on a perfect summer night … and it has that sound … the unmistakable Boston grit. "
1. 'Dirty Water' by the Standells
Maybe you can thank the Red Sox for blasting it after every home victory (since 1997, at least), but Boston.com readers are clearly enamored of the Standells' 1966 garage rock classic, which they heralded (no pun intended) for its sheer Boston-ness. (Fun fact: The Standells were from Los Angeles and had never been to Boston when they recorded it.) A full 30% of respondents picked "Dirty Water" as their top Boston song, and we'll let its fans speak for themselves:
"This song brings back summertime memories from my '70s-'80s childhood. I remember being in my uncle's convertible, driving home from the Cape, and just as the Boston skyline came into view, 'Dirty Water' came on the radio. It was the first time I remember hearing it. The adults were belting out the lyrics, and when they got to 'Boston, you're my home,' I was so impressed that my city was on the radio! It was kind of a tradition that as we rode back north from Falmouth that my cousins and I would sing this song once we could see the Pru and the Hancock."
"It's just a classic from my childhood when the Charles River and harbor were really polluted. It's so Boston to write a song about it. Who knows, maybe the song inspired the cleanup."
"Being both a BU alum and resident of the Back Bay, the Charles River is inextricably linked to how I see this city. The Esplanade is the best place for running, picnicking, listening to the Pops, drinking at the beer garden, and of course swan/cygnet watching — all while enjoying the peaceful sights, sounds, and breeze from the river. I love that dirty water!" — Tina S., Boston
"This song has been THE only song (that matters) about Boston since my teenage years: My favorite radio station (94 1/2 WCOZ: 'Kickass Rock 'n' Roll') played it all the time." — "Maria from Medfuhd"
"Some good options, but 'Dirty Water' still best captures the ethos of our identity and speaks to our inflated parochial pride." — Alex, Boston
"Because it conveys the love for the gritty underside of the city." — Lee Anne, Lawrence
"Because BOSTON is my home!"
See below for how the other songs on our list finished in the poll, some contrasting opinions — and, maybe even more interestingly, some of the lesser-known Boston-related tracks that were introduced under "Other." (With a Spotify playlist, of course.)
The Top 12 Songs Referencing Greater Boston
1. "Dirty Water" by the Standells (1965): 30%
2. "I'm Shipping Up To Boston" by Dropkick Murphys (2005): 16%
3. "Roadrunner" by The Modern Lovers (1976): 13%
4. "Rock & Roll Band" by Boston (1976): 9%
5. "M.T.A." by The Kingston Trio (1959): 9%
6. "Sweet Baby James" by James Taylor (1970): 6%
7. "Please Come to Boston" by Dave Loggins (1974): 4%
8. "Boston" by Augustana (2005): 3%
9. "Massachusetts" by the Bee Gees (1967): 2%
10. "They Came to Boston" by The Mighty Mighty Bosstones (1991): 2%
11. "My Sister" by The Juliana Hatfield Three (1993): 1%
12. "Let's Do It (Let's Fall In Love)" (1928), written by Cole Porter: 1%
OTHER: 3%
Comments on Nos. 6-12:
"'Dirty Water' was my choice but the tingles I felt from Augustana's 'Boston' won me over." — Tom, Melrose
"'Let's Do It (Let's Fall in Love),' because this song seems to be inappropriate for constantly saying, 'Let's do it.'''
"My favorite song is 'Sweet Baby James,' because it is a masterpiece, and we sang it many times on the Pike before and after dropping off my sister at UMass. I later sang it to my own children to get them to sleep." — John, Dorchester
"'My Sister' because I was also at that [Violent Femmes and The Del Fuegos] show at Storyville." — Tari, Boston
"'Please Come To Boston' — this song captures an image and mood of a piece of Boston that is more specific than the other songs."
Contrary opinions:
"Does anyone from Boston actually enjoy the Dropkick Murphys? Aside from the very beginning of the song (until they start singing), 'Shipping Up to Boston' is absolutely terrible."
"I like Dirty Water the best but do we really want that to be our hometown song?" — Suzanne, Sharon
The best of 'Other':
"Alewife" by Clairo ("Need some women on this list and songs newer than 2005!")
"Boston My Home Town" by Freddy Cannon
"Boston Town" by Della Mae ("They're Southerners but they met at Berkeley School of Music.")
"For Boston" by The Hold Steady ("It's the most specifically, factually about-Boston of any song I've heard." — Jonathan, Somerville)
"Boston & St. John's" by Great Big Sea
"Hey Nineteen" by Steely Dan
"Home" by Akrobatik ("Home includes an all-star line-up of Boston hip-hop — Guru, Big Suge, Akrobatik, Edo G — and includes references to all neighborhoods of the city." — Omar, Dorchester)
"Homecoming King" by Guster ("The sooner you leave the sooner you'll be back in Massachusetts.")
"In Defense of Dorchester" by the Street Dogs
"Lost in Boston" by The Walkmen ("Nobody goes to Boston without getting lost." — Steve, Norwood)
"Massachusetts Avenue" by Amanda Palmer
"Melancholy MA" by The Sheila Divine ("Very real and timely." — Tari, Boston)
"Sweet Little Sixteen" by Chuck Berry. ("How can you forget receiving top billing in this Chuck Berry classic?")
"The Ice of Boston" by The Dismemberment Plan ("Who couldn't identify with this song?" — Kevin, Somerville)
"Your Wild Years" by The Menzingers ("Incredible song by one of the best bands to come out of the punk scene in the last ~15 years. A song about a Philly boy dating a Boston girl. Even my fiancé who hates punk loves this song. Take a listen and tell me it's not great." — Keith, Somerville)
Listen to all the songs mentioned in this article at the Spotify playlist below! (Warning: Some adult language.)
Boston.com occasionally interacts with readers by conducting informal polls and surveys. These results should be read as an unscientific gauge of readers' opinion.
Newsletter Signup
Stay up to date on all the latest news from Boston.com