Readers Say
The best ice cream shops in Cambridge and Somerville
Order a scoop or two at these celebrated ice cream destinations.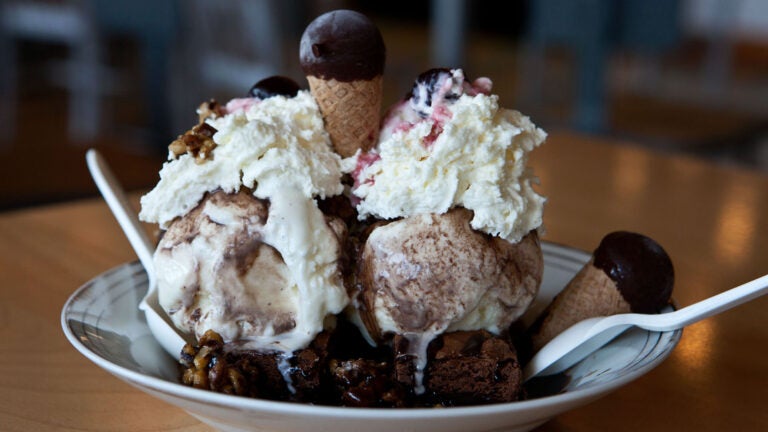 So you've visited all of the best ice cream shops in Boston (impressive!). Your next stop for quality scoops? Just take a quick trip across the river.
To find the best ice cream shops in Cambridge and Somerville, we took a look at past reader recommendations and added to the list with some of our own favorite scoop destinations. Some of the region's most celebrated shops are based in this area — we're looking at you, Toscanini's (keep an eye out for the return of Toscanini's original digs in Central Square this summer, when it opens at 907 Main). Others have recently realized their own expansions, like the opening of a second Gracie's Ice Cream in Kendall Square in 2020 and Tipping Cow's upcoming debut at the Charles River Speedway. In early July, Cambridge darling New City Microcreamery launched pints of its ice cream at Whole Foods Markets around Massachusetts. In short: Wherever you land on this list, there are excellent flavors to be licked.
If you've perused our guide and still find your favorite Cambridge or Somerville ice cream shop missing, let us know in the survey below or e-mail us at [email protected].
Amorino (50 John F. Kennedy St., Cambridge)
BerryLine (3 Arrow St., Cambridge; 1668 Massachusetts Ave., Cambridge)
Christina's Homemade Ice Cream (1255 Cambridge St., Cambridge)
Forge Ice Cream Bar (626 Somerville Ave., Somerville)
Gracie's Ice Cream (22 Union Square, Somerville; 399 Binney St., Cambridge)
Honeycomb Creamery (1702 Massachusetts Ave., Cambridge)
J.P. Licks (611 Assembly Row, Somerville; 4 College Ave. A, Somerville; 1312 Massachusetts Ave., Cambridge)
Lizzy's Ice Cream (29 Church St., Cambridge)
New City Microcreamery (403 Massachusetts Ave., Cambridge)
Tipping Cow (415 Medford St., Somerville)
Toscanini's (159 First St., Cambridge)
Newsletter Signup
Stay up to date on all the latest news from Boston.com