Readers Say
More than 1,000 readers voted, and they're fine with a 25-year-old drinking age
"Kids are annoying and drink until they vomit. Get us some Boomer bars that are 35 and over."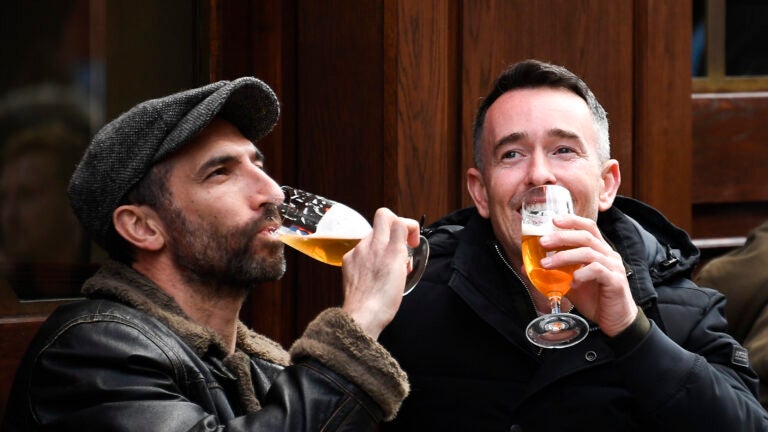 The Gazebo, the popular open-air bar in Nantucket, says it will no longer serve alcoholic beverages to people under 25-years-old, and many Boston.com readers are saying good riddance to the young drinkers.
After being hit with an influx of underage drinkers, owner Luke Tedeschi has decided to address the issue by raising its minimum drinking age to 25. Tedeschi said he was turning over as many as 20 suspected fake IDs to the Nantucket State Police barracks every day.
"If I'm losing business I'm losing it to illegal drinkers, which is jeopardizing everything I have," he said. "When drastic measures need to be taken I am not afraid to take them, regardless of the situation and this happens to be the protection of the establishment, the license, and curbing underage drinking."
We asked readers if they felt the owner's decision was fair and out of 1,648 respondents, 74% were on board with the new drinking age policy, and just 26% felt it wasn't okay.
"Underage drinking and inappropriate behavior which impacts the rest of a bar or restaurant's customers is becoming a huge problem," said TJ from Boston. "Therefore using the age of entry to allow for a pleasant and civil experience is appropriate."
The move to increase the drinking age requirement at a bar isn't an unprecedented one. Restaurants in New York and Washington, D.C. have done the same in the past. Eva, a reader from Austin, said they would welcome similar changes to bars in their city. Tedeschi maintains that his ultimate goal is to weed out underage drinking, so patrons below the age 25 requirement who don't appear to be sneaking in underage drinkers are still welcome.
Massachusetts liquor laws only mention age in the context of the legal drinking age, and public accommodation laws only prohibit discrimination based on "race, color, religious creed, national origin, sex, handicap (disability), gender identity, or sexual orientation at places of public accommodation," including restaurants.
Still, some readers feel strongly that increasing the age requirement at the Nantucket bar is an unfair response and should be considered age discrimination.
"We have laws for a reason, and if you can legally do something, no individual or business owner has the right to tell you differently," said Jimmy from Quincy. "Age discrimination isn't right whether it's the old or the young who are the targets. I know one bar this over 50 guy won't be patronizing ever."
We heard from several readers like Jimmy who said they said they won't be giving The Gazebo their business in the future, while others said they would welcome the new "mature" environment turning away young drinkers would bring.
"It is a privilege to come into my establishment, not a right," Tedeschi said. "This is a policy, and I have never claimed it is a law, it is my policy to operate my establishment the way I see fit."
More than 250 readers let us know in detail how they felt about the recent policy change at The Gazebo. Ahead, you'll find a sampling of their responses.
Responses have been edited for length and clarity.
Do you think it's okay for bars to increase the drinking age minimum to 25?
Yes, raise the age requirement
"If the bar is in a location where they see rampant underage folks trying to fake their way in and feel it's a public safety/health issue, it is their right as a private business owner to increase the age. They just need to make sure all of their employees enforce the rule for all customers or there's no point to it." — Megan, Ipswich
"In this case is entirely appropriate. There are far too many underage kids getting into The Gazebo and quite frankly their juvenile behavior, they can take to the beach. I am sorry it's coming at the expense of legitimate 21- to 24-year-olds, unfortunately." — Bobby, Nantucket
"The owner is trying to protect himself and his business from unnecessary liability. They have absolutely every right to do so. As someone who is in their early 30s, a bar packed with a bunch of 21-year-olds and kids with fake IDs is a major deterrent." — Sean, Boston
"Kids are annoying and drink until they vomit. Get us some Boomer bars that are 35 and over." — Jay, Westford
"Bar owners are legally responsible for the actions of underage drinkers (even those that present fake IDs). Any steps they make are within their discretion. Not saying I agree with his thinking, but it is his right to do so." — Will, West Roxbury
"Although I do not necessarily agree with the age limit change, I do believe that restaurant owners have the right to make these decisions. They are the ones putting their business at risk if it is met with backlash." — Mark, Quincy
No, it's an unfair change
"I'm 57 and don't really go to bars, so this doesn't affect me, but this sounds like age discrimination, plain and simple. Age is apparently not a protected class, but perhaps it should be." — Nick, Somerville
"Never. If anything, the drinking age should be lowered to 18. If you can fight and die in a war for your country, you should at least be able to buy a beer." — Steve, Framingham
"Moral policing is never appropriate."
"It's plain and simple age discrimination. If he can't stand the heat get [out] of the business."
"The law is 21. I understand underage drinking is bad, however, being 21 you should be able to go out and enjoy yourself. I lived in England being legal at 18 and we were able to have a good time without being 'rambunctious.' Who is to say that a 22-year-old is any better than a 25-year-old when it comes to the maturity of drinking? As a bartender, I have had much worse encounters with men in their 50s than young people. It's ageism. They lost my business and respect."
"This unfairly groups all people of a certain age together and I don't think it is acceptable in any circumstances. You can deny service if you suspect someone is underage or if they are causing trouble but not simply because of their age. This is ageism the same way you can't deny people over a certain age." — Cathy, Hudson
Boston.com occasionally interacts with readers by conducting informal polls and surveys. These results should be read as an unscientific gauge of readers' opinion.
Newsletter Signup
Stay up to date on all the latest news from Boston.com