Readers Say
Should the COVID-19 vaccine be required for students, faculty, and staff at schools this fall?
Is a vaccine mandate going too far? Let us know.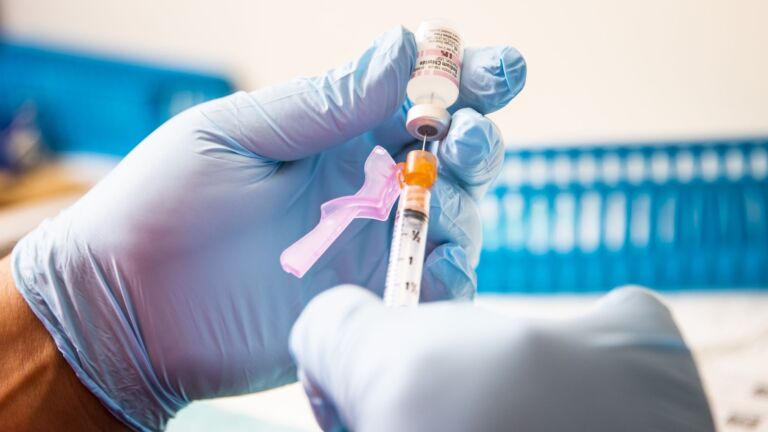 Vaccine requirements for COVID-19 have begun to spark intense debates as schools lay out their fall plans ahead of a new school year. Medical groups endorse stronger vaccine requirements while some object to vaccine mandates because of religious reasons or health concerns
State law requires students entering school to be immunized against diseases like tetanus and measles but allows exemptions in cases where a physician certifies the child's health would be endangered by a vaccine or in cases where the parent or guardian states in writing that vaccination or immunization conflicts with their sincere religious beliefs. But medical experts worry that the emergence of the highly contagious Delta variant of COVID-19 could potentially thrive among an unvaccinated population.
This spring, we polled Boston.com readers about colleges mandating the COVID-19 vaccine for students in the fall, and found a majority (66 percent) of the 893 respondents agreed it was a fair requirement. As we approach the fall where most schools will open for in-person attendance, vaccine requirements from schools still widely vary across the state.
Governor Charlie Baker said in May the state has no plans to create a vaccine mandate, but some school districts are making their own decisions after the COVID-19 vaccine was authorized for children ages 12 and older. Needham's superintendent told The Boston Globe that he would "absolutely require" the vaccine for his students and staff members to keep schools fully open.
Colleges and universities are deciding on requirements for their own communities as well.
With a plan for full-time, in-person learning, Northeastern University will require students, faculty, and staff to be fully vaccinated before arriving to campus but medical and religious exemptions will be allowed. Northeastern will conduct weekly testing regardless of vaccination status.
Boston College will require all students, faculty, and staff to receive a COVID-19 vaccine prior to the start of the fall semester. Although the Jesuit school will accept religious or medical exemptions, some parents have been refused an exemption.
The presidents of nine Massachusetts state universities unanimously agreed to require undergraduate and graduate students to be fully vaccinated before the start of the school year. The state college system is recommending, not requiring, vaccinations for faculty and staff.
On Monday, Boston University announced it will require students, faculty, and staff to show proof of vaccination for the upcoming fall semester. Faculty and staff who fail to get vaccinated or provide an exemption before the deadline will either have to maintain further public health requirements or may be placed on a leave of absence until the person is vaccinated or the risk of COVID-19 infection is over.
Last week, state Representative Andy Vargas filed a bill that would maintain the medical exemption for student vaccination requirements, but remove the current religious exemption. (The Globe's Editorial Board supported the proposal.)
Roughly 1 percent of the student population has an exemption. The Department of Public Health said that most exemptions to the vaccine mandates claimed in Mass. are religious. Medical exemptions for the COVID-19 vaccine may claim allergies to vaccine components or other health ailments that make the vaccine risky.
We want to know what our readers think about the recent COVID-19 vaccine mandates for students, faculty, and staff as schools open in-person again next month. Do you agree or disagree with the vaccine requirement? Should medical or religious exemptions be allowed? Let us know below or e-mail us at [email protected].
Newsletter Signup
Stay up to date on all the latest news from Boston.com