Readers Say
Why author Deesha Philyaw wants literature to reflect the 'fullness of who we are'
"It's so important for Black women to be at the center of our own stories," the award-winning author said.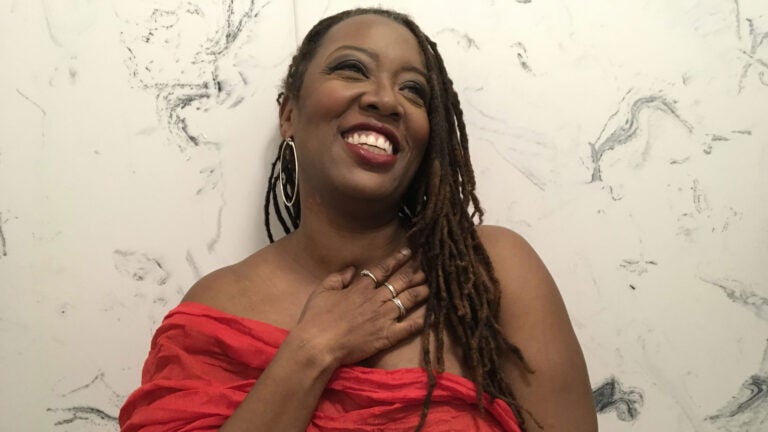 About 20 years ago when she was a stay-at-home mom, Deesha Philyaw would sneak 30 minutes to herself each day to write.
"It was a break and an escape into my imagination," said Philyaw. "I cherished that time, and over time, began to extend it. I liked creating these characters from my memory and from nostalgia, and giving them my dissatisfaction and discontent."
Her fiction debut "The Secret Lives of Church Ladies" — a short story collection and winner of the PEN/Faulkner Award among other accolades — published in the fall of 2020.
Philyaw will be moderating Boston.com Book Club's "Summer on the Bluffs" discussion with featured guest author and "The View" co-host Sunny Hostin on July 28. The writer will also be featured at the Martha's Vineyard Book Festival Summer Series in early August. Ahead of the discussion, we spoke with her about the truth and intimacy of fiction, her writing process, and celebrating Black women through literature.
Why fiction reveals 'intimacy and truth'
Philyaw has a repertoire of nonfiction bylines in publications such as The New York Times, McSweeny's, and The Washington Post, and also penned a book on raising children post-divorce, but fiction is her first love. The author feels it offers more opportunity for imagination and discovery—the possibility of "what if."
"With fiction, we can be more expansive," said the author. "We can navigate those places where we (as writers) and others are most tender about the truth. Approaching fiction this way, we get that intimacy and truth, but also a healthy distance that makes exploration possible when we're treading on terrain that is personally treacherous."
Given her use of fiction as a medium for truth and intimacy, Philyaw turned to her real life for inspiration, painting a literary portrait of the Black women who loomed large in her memory, the women she recalls looking up to during her youth. The likenesses of these women wove their way into a smattering of "church lady stories" that Philyaw was working on concurrently with a novel since 2007. And when her agent suggested she assemble them into a larger short story collection, the author became even more intentional about penning stories focused on Black women, sex, and the Black church. Thus, "The Secret Lives of Church Ladies" was born—delving deep into the harmful teachings, restrictive binaries, and unexpected grief that Black women face both at church and at home, but also the tenderness, strength, and raw love and passion that simmer beneath the surface of these women that oft goes overlooked.
How she writes a first draft
For Philyaw the writing process is not always linear: "Sometimes, an idea for a character emerges, and I work to figure out her story. What does she want? How can I complicate things for her? Other times, the story idea emerges, and I have to figure out the world it takes place in and who the people are that are involved, and what they want," she said. "I write and write and write until I can't think of anything else at that moment. And then I start moving the chunks of texts around like puzzle pieces, adding what I need to add to make them connect. And then when I'm satisfied with that, I have a first draft."
But once a story is revised and out in the world, despite the many ways of it getting there, Philyaw hopes her readers come away with the same feeling: "I hope they have been moved, entertained, challenged, or comforted, depending on the piece. If the reader is always a writer, I hope they come away feeling inspired to write honestly and to write the stories that matter most to them."
Why "Summer on the Bluffs" resonated so deeply
Once Philyaw cracked open the cover of "Summer on the Bluffs," she was immediately enraptured by the images and inhabitants of Oak Bluffs, a historically significant location for the Black community. "I had a number of books on my To Be Read stack that I needed to read ahead of Sunny's book, but when it arrived, I thought, 'I'll just take a peek at the first page,' and I ended up curling up with it that night," said Philyaw. "Between the complex characters, the suspenseful storyline, and the lush descriptions of Oak Bluffs, I was enthralled."
Part of why Philyaw felt so connected to the novel is the deep connection to place Hostin depicted, which is something that greatly informs Philyaw's work. "My stories are very much Southern stories," she said. Though she imagines her stories unfolding near her hometown of Jacksonville, Fla., the culture, food, speech, and church-going habits resonate with Southerners from elsewhere.
What she's looking forward to next
Both "Summer on the Bluffs" and "The Secret Lives of Church Ladies" will both be adapted for the screen.
"I'm thrilled for this," said Philyaw. "First, it's an opportunity for me to revisit some of my characters and learn more about them. Who were they when they were younger, older? What happened next? What happened before? What if characters from different stories in the collection show up in the same world? I'm excited to spend time with them again. One challenge will be keeping in mind that some folks in the TV audience will have read the stories, but others won't have. I want the viewing experience to be awesome for both groups."
The author is also looking forward to connecting with readers (and wearing something other than yoga pants and a nice top) at her very first in-person book festival — her book tour was held over Zoom — as well as enjoying walks, seafood, and sunsets on Martha's Vineyard for the first time.
Most of all, though, Philyaw is excited to see and celebrate more literature, like Hostin's novel, that centralizes the experiences of Black women—giving them the space and freedom to express themselves on every page. "It's so important for Black women to be at the center of our own stories," said the author. "Too often, stories about us actually marginalize us. Stories that center us as we are thriving, pursuing freedom, pursuing pleasure, imagining, exploring, being fully human, being quirky, being messy…we need all of these stories. The fullness of who we are, the striving and the struggling, should be reflected in literature that centers us and our experiences."
---
Join our virtual Book Club discussion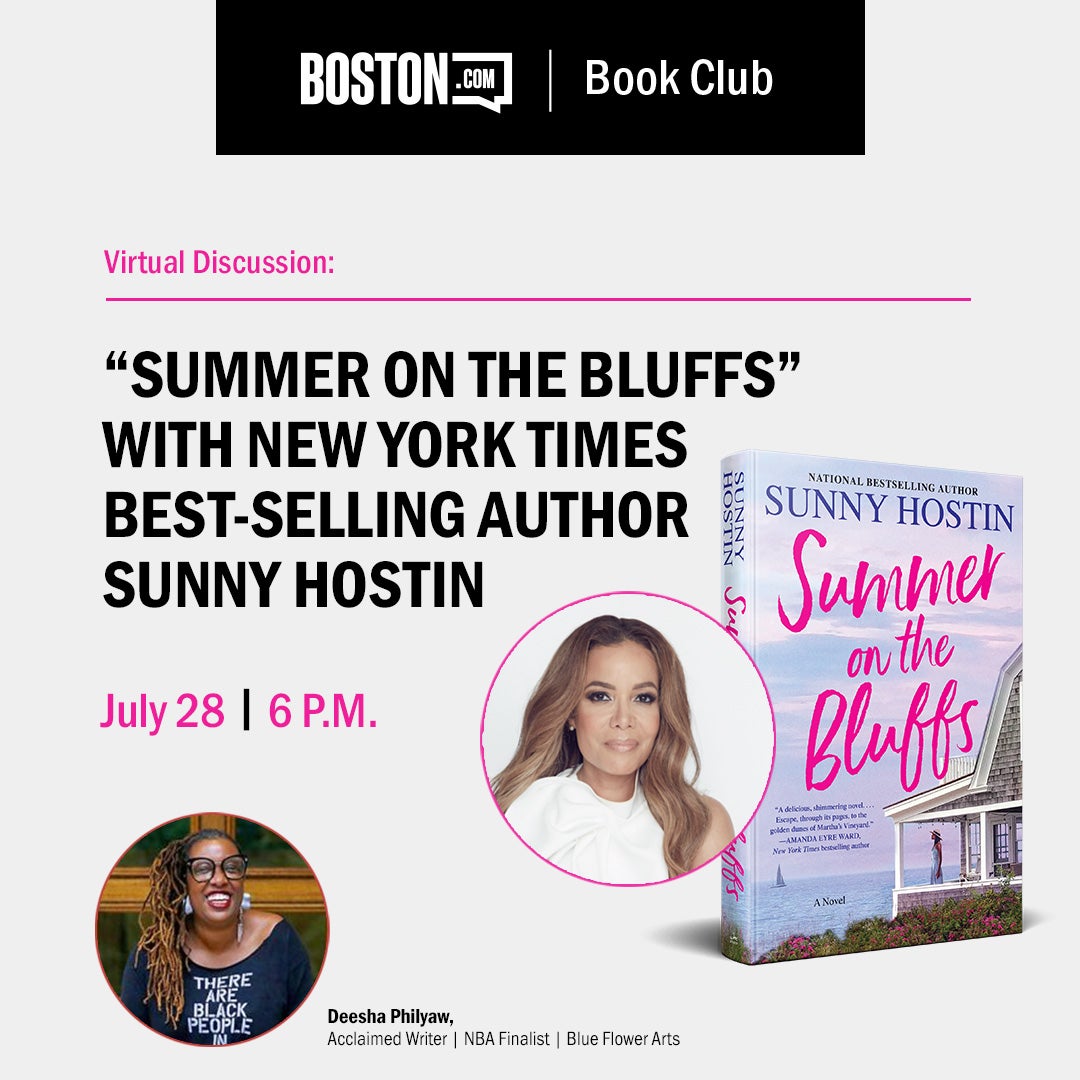 Join the Boston.com Book Club Wednesday, July 28 at 6 p.m. for a virtual discussion with Martha's Vineyard Book Festival featured author Deesha Philyaw and featured guest Sunny Hostin on her novel, "Summer on the Bluffs."
Register to join Hostin and Philyaw on Wednesday, July 28 at 6 p.m.
Buy "Summer on the Bluffs" from: Bookshop | Bunch of Grapes
Learn more about the Martha's Vineyard Book Festival here.
Boston.com Book Club picks:
Newsletter Signup
Stay up to date on all the latest news from Boston.com