Readers Say
Looking for a frozen treat? Try this strawberry daiquiri recipe.
You don't need to be on a beach or a cruise ship to enjoy a frozen cocktail.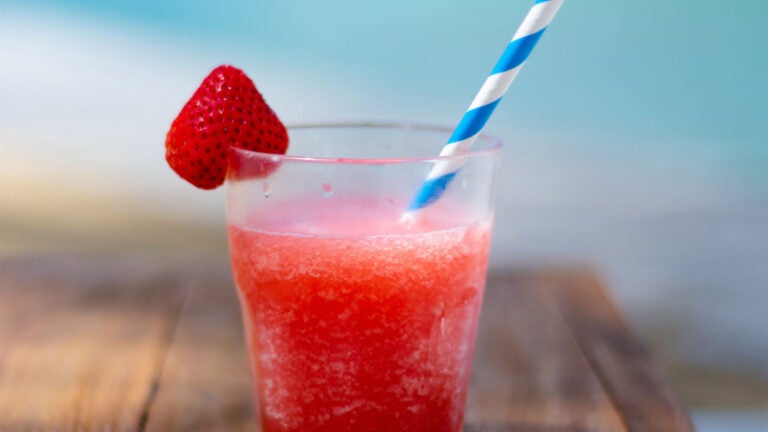 Just a couple days ago we got what seemed like the first day of July without a drop of rain in the forecast. I instantly entered "vacation mode" and sat out on my deck with a frozen cocktail in hand. What better way to transport yourself to relaxation central on a hot, summer day, than a cold, frozen drink?
I find there is something magical about that combination, which probably explains why it's sometimes difficult to only have one! Though we now don't think twice about the prevalence of frozen drink machines on cruise ships and blenders humming loudly on beachfront bars, the frozen cocktail is a relatively recent invention in the grand scheme of drinking history, with the first blenders turning up in the early 1930s. As legend has it, the first margarita hit a blender in 1947 at La Plaza Restaurant in La Jolla, California, and we've been off to the races ever since.
To be clear, you don't need to be on a beach or a cruise ship to enjoy a frozen cocktail. They are remarkably easy to make in the comfort of your own home. No fancy shaking or stirring, no esoteric bar tools, nor crystal-clear ice cubes required. All you need is a decent blender and something to measure with, and you'll be well on your way.
Frozen drinks differ in their construction from their more liquid counterparts. You may notice that sweeteners, specifically sugar, can play a much greater role in frozen drinks without compromising the overall balance of the cocktail. Why is that? Frozen drinks are, by definition, quite a bit colder than your typical cocktail, and that extreme cold numbs your taste buds. Sugar acts as that flavor enhancer while also adding viscosity for a pleasant, rich sip. Additionally, you'll find that many frozen cocktail recipes call for less booze (or more water) than you might initially expect. Alcohol freezes at a much lower temperature than water, so ensuring that there is enough dilution to assure your strawberry daiquiri will freeze properly is essential.
We love the natural sweetness and rich flavors that fresh fruit can offer to a great frozen cocktail. One of my favorite early summer ingredients for drinks are the insanely beautiful local strawberries that crop up here in Massachusetts. Small in size but potently sweet, they make a great addition to a cocktail. (I have a bad habit of buying too much when these gems come in season, so instead of going overboard with the drinks I purée the rest and make popsicles!) A strawberry daiquiri or strawberry margarita is a great starting point for a frozen cocktail, but the sky's the limit when it comes to using different ingredients for your own creations using this recipe as a template.
Our former bar, The Hawthorne, certainly did not look like the beachfront, frozen drink-slinging establishment you might expect to pick up a slushy treat, but we weren't afraid of the blender! One of our favorite and popular serves with our regulars was a Miami Vice, a decadent combination of strawberry daiquiri and piña colada, made in two blenders and simultaneously poured into a single glass for a layered, mixable treat. If I was trapped on a desert island and could only have one drink, well, that would be it. Wouldn't you?
What you'll need
Strawberry Daiquiri
Ingredients
2 oz. light rum (or blanco tequila for a margarita)
1 oz. fresh lime juice
1 oz. simple syrup (1:1 sugar to water by volume)
5 medium strawberries
Instructions
Hull and quarter 4 strawberries
Add rum or tequila, lime juice, simple syrup, and quartered strawberries to a blender
Add two cups of ice, and blend on medium speed until just smooth (do not over-blend!)
Pour into a large glass
Garnish with a strawberry
---
Watch our virtual cocktail class
Jared Sadoian is the curriculum manager at OFFSITE, focused on bartender education and professional development.
Newsletter Signup
Stay up to date on all the latest news from Boston.com