Readers Say
'This is a basic need for all': Boston.com readers support free school lunch for all
"These children are our future. Please pass this bill."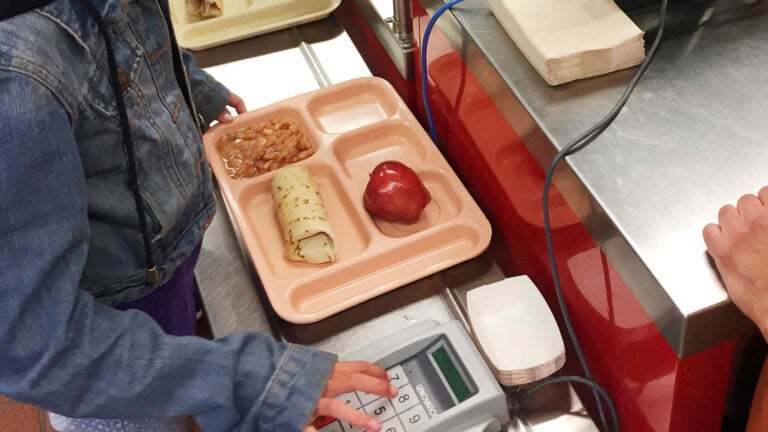 When schools across the state closed during the COVID-19 lockdown, many students not only lost access to the classroom but also the resources that came with it, including access to nutritious meals.
In an attempt to address the growing problem of child hunger, the state Legislature is currently considering a bill to make school meals free for all students. The current model provides free meals only to students who demonstrate a need. If passed, Massachusetts would be the third state to pass a free meals for all students bill. California and Maine recently adopted similar programs.
We asked readers if they supported the proposal for all Massachusetts public schools to have universal free lunch and 77% of the 317 people polled said they thought it was a good idea. Twenty-three percent of readers said the state's public schools shouldn't serve free meals to all students.
"There are so many children who come from families that cannot afford healthy food. These children are our future," said one reader. "Please pass this bill."
Roughly 1 in 5 households that have children in Massachusetts suffers from food insecurity, according to Feed Kids Campaign. Supporters of the proposal note that providing those children with regular, healthy meals could help prevent dietary-related diseases later in life, like type 2 diabetes and cardiovascular disease.
"As a teacher in a low socio-economic district, I see the effects of poor nutrition in children. Although we provide free lunches to all children in my school, not all eat the food that is offered, which does not help the problem," said Kate from Athol. "I would like to see at least two menu choices built into this bill to encourage more children to eat at school."
Readers who don't support the proposal said they felt the responsibility to feed hungry children should fall to their families instead of taxpayers. If passed, the state would continue to receive reimbursement from the federal government for school meals. The state would then pick up the tab for any associated costs not paid, according to the Feed Kids campaign website.
"Lunch programs should be free for those who need it. For the people that do not, they should continue to fund lunch for their kids," said John from Natick. "Otherwise [it] will raise taxes and I do not believe the government can run this program in a cost effective manner."
More than 60 readers elaborated on their support for or opposition to the state's universal lunch proposal. Below is a sampling of their responses on both sides of the issue.
Some responses have been edited lightly for clarity and grammar.
Should Massachusetts public schools provide free lunch to all students?
Yes, free lunch for all
"All kids deserve access to healthy meals, and often the kids who aren't getting them aren't the kids that you would expect to not be getting them. Let's level the playing field and give all these kids a chance." — TJ, Marblehead
"What better way to increase attendance than providing two meals a day? Parents who struggle financially should see getting their kids to school as a great way to feed them and help parents stretch their budget. Hungry kids will want to go to school if they know they will get two meals a day. If everyone eats for free, there is no stigma. And no time and money get wasted trying to collect when a kid's parents can't pay for meals."
"Starting kids off right with a good nutritious breakfast is an effective way of making sure that they are ready for learning, and teaches them healthy eating habits. Many of the poorer kids may only get toast or cereal if there is even that much in the house. I know, I was one of them. Food insecurity is one of the ways that poorer children stay poor all of their lives." — Leslie, Jamaica Plain
"There should never be a child in the US hungry or malnourished. This is a basic need for all." — Marilyn, Hanover
"Children are required to be at school all day. They should be provided with a lunch. They cannot control or influence their parents' circumstances or attitudes. When I was a kid I had friends whose parents were abusive and who would not provide them with food. School was their best chance to eat a normal diet." — Kay, Brookline
"It's a no-brainer…remove the obstacles that can be identified. Then maybe teaching and learning can occur. Also, eliminate the shame of not having enough [money] on your lunch card for that cheese sandwich they will take away!" — Sue, Jamaica Plain
No, it's not necessary
"Keep it need-based. If the kids NEED it they can already get it. If a family can afford to pay for their kid's lunches, I don't see why the taxpayers of Massachusetts should be forced to pay for it instead." — Conor, Boston
"Continue to give free lunches to students that cannot afford a healthy lunch but why supplement every family despite need? Just because parents allow their kids to eat junk at home it doesn't mean the schools should pay for everyone's meals.
"If parents choose to supply a lunch (or lunch money to buy a lunch in the school cafeteria) to their children, why not let them? If someone needs a lunch, offer it at no cost, but why drive the cost of the program up by offering free lunch to those who do not need it?" — Robert, Norwell
"Parents are responsible for feeding their own children, not the government/taxpayer. If people in certain communities are unable to get nutritional food, then that is where the problem lies and that's the problem that should be fixed. If the problem is that people don't know how to eat nutritionally, then teach that in the schools so they grow up knowing how to eat healthily. If people are not being paid enough to purchase nutritional food, then fix that problem. The answer shouldn't be a government handout because that doesn't address the underlying causes." — Christine, Quincy
"While I'm not necessarily opposed to school lunches for low-income children, I do worry that extending it to all children will make it more difficult for schools to identify neglect happening at home. Teachers are mandatory reporters and an underweight or malnourished child is a serious red flag for other forms of abuse. I worry that this could lead to other less obvious forms of abuse (emotional abuse for instance) continuing within the home unnoticed." — Kris, Worcester
Boston.com occasionally interacts with readers by conducting informal polls and surveys. These results should be read as an unscientific gauge of readers' opinion.
Newsletter Signup
Stay up to date on all the latest news from Boston.com