Readers Say
We want to know: Are you attending live productions in person this year?
Seats are filling back up as theaters slowly re-open after a year of virtual and outdoor programming.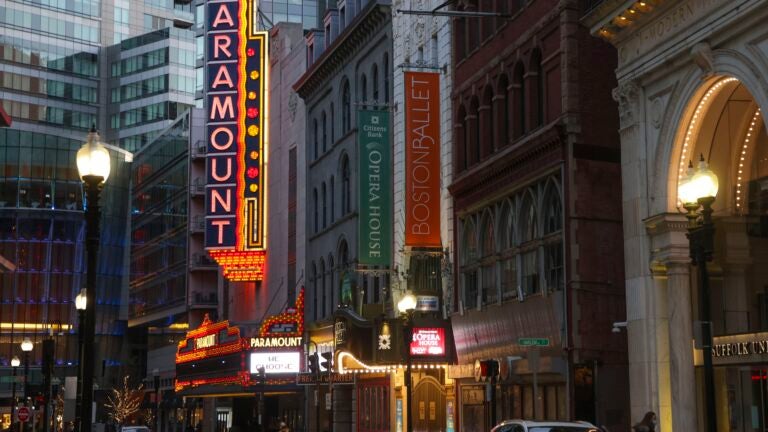 Theaters are celebrating the return of guests for live, in-person productions this summer, but the stage might look a little different this year.
Last season, the performing arts scene pivoted to virtual and outdoor performances in the wake of the COVID-19 pandemic. The American Repertory Theatre and ArtsEmerson brought live performances and stage readings to fans at home for a free or reduced price, while groups like the Brown Box Theatre Project delivered plays in state parks and public gardens.
This summer, some performing arts groups will continue to take their audiences outdoors. Shakespeare on the Common has returned with "The Tempest" through August 8, and the Apollinaire Theatre Company will stage a fresh take on "Romeo and Juliet" with an immersive, outdoor bilingual performance in Chelsea beginning August 12.
Other theaters are opening their doors again and welcoming back audiences for indoor performances. The Huntington Theatre Company will open in person on August 27 with "Hurricane Diane," but will continue to provide virtual offerings for those who aren't comfortable to venture out just yet. Stand-up comic Ali Wong will perform live at the Wang Theatre starting August 6, and the Boston Opera House will roll out the romantic, adventure-filled musical "Anastasia" in person starting August 17.
The arts and culture industry endured one of the biggest economic hits during the pandemic. Nonprofit and cultural organizations in the state have lost more than $588 million in revenue since March of 2020, according to the Massachusetts Cultural Council. About 30,000 jobs for artists and others working in this sector were impacted across the state by the COVID-19 pandemic.
Theaters, among other Massachusetts venues, received just under $200 million in federal aid as part of the newly created Shuttered Venue Operators Grant program. The program supports theaters, promoters, and museums whose ticket sales plummeted last year amid COVID-19 restrictions.
A recent survey from the Eastern Massachusetts Association of Community Theatres (EMACT) showed that more than half of its 45 members have already planned live productions for this summer and fall, according to The Boston Globe.
"People struggled on a personal level and they didn't have that outlet of theater," EMACT President Ken Fisher told the Globe. "The connection between these groups and their audiences is as much about community as it is about theater."
We want to know if our readers plan to attend live productions again this year. Which productions are you hoping to get tickets to see? How has the absence of the performing arts scene impacted your life? Let us know below or e-mail us at [email protected].
Newsletter Signup
Stay up to date on all the latest news from Boston.com