Readers Say
Should Mass. bring back happy hour? Here's what more than 1,100 readers said.
"Allow adults to be adults!"
Last week, State Rep. Mike Connolly announced that he had filed new legislation to revisit Massachusetts's ban on happy hour, which was first instituted 37 years ago. While Gov. Charlie Baker was skeptical, the public seems to be in favor of a happy hour return: a recent survey by the MassINC Polling Group revealed that 70 percent of Mass. residents support bars and restaurants offering discounted after-work drinks.
Apparently, nearly 70 percent of our readers think so, too. When we asked Boston.com readers to share whether they want happy hour to return to Mass., more than 1,100 responded: 67 percent were in favor, compared to 24 percent who were against and 9 percent who said they were a maybe.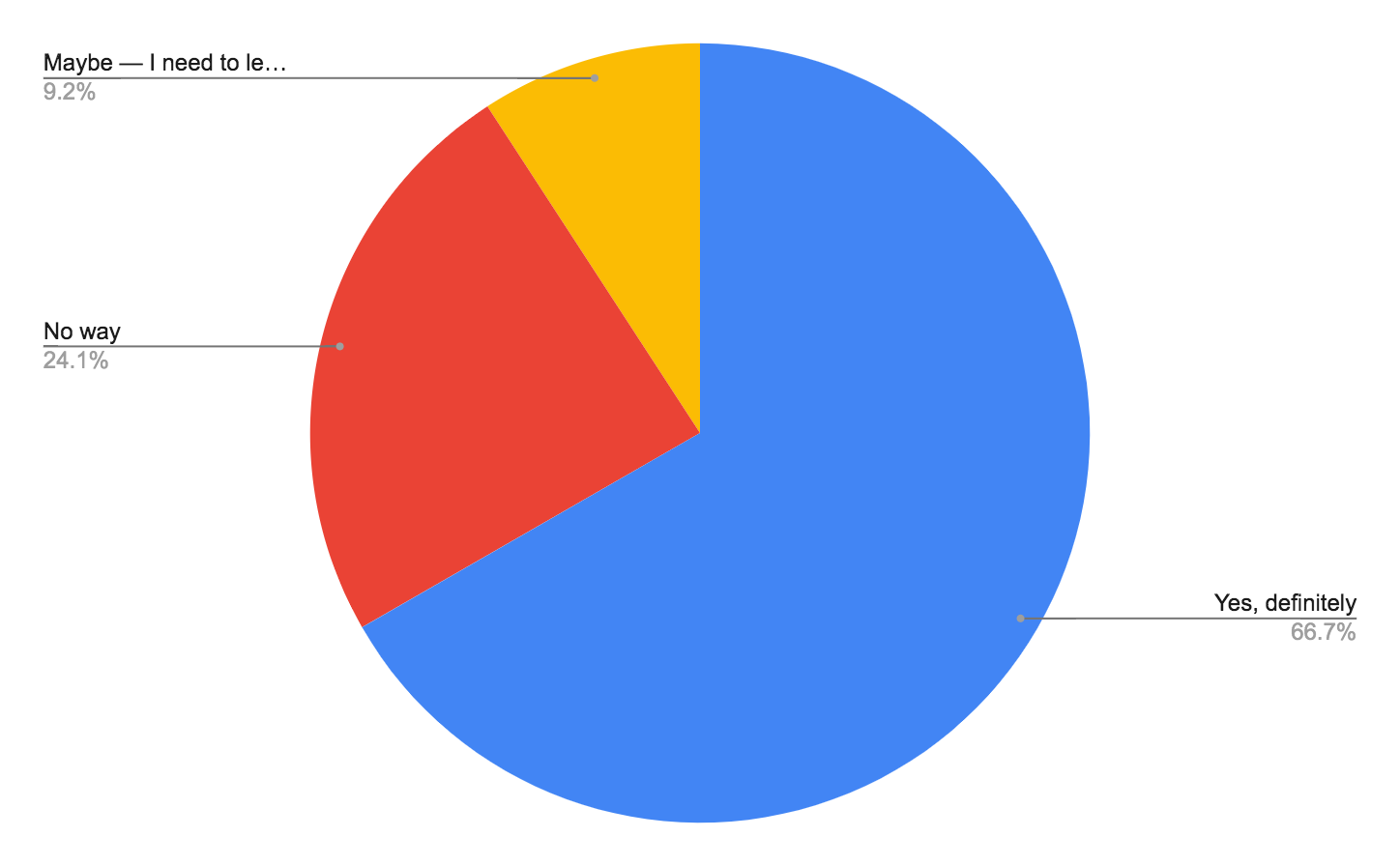 Of those in favor, the majority cited a different landscape than the one in 1984, when Mass. initially banned happy hour. Many readers felt that the proliferation of ride shares like Uber and Lyft decreased the chances of drinking and driving. Others noted neighboring states that offer happy hour don't seem to be affected negatively, and that allowing discounted drinks would help drive additional business to restaurants and bars that have suffered during COVID-19.
For almost a quarter of readers, bringing back happy hour was a no-go, and would inevitably increase instances of drunk driving. A small sliver of respondents were on the fence, noting that they needed more information about Connolly's bill.
Below, check out what readers had to say about the idea of happy hour returning to the Bay State.
Responses have been lightly edited and condensed for space and clarity.
For 67 percent of readers, reintroducing happy hour in Massachusetts is a no-brainer.
"I think it could be a boost for hard hit bars and restaurants. These establishments would just need to pay close attention to their customers and not over serve them." — Bob, Somerville
"There's been no presentation of evidence of increased drunk driving accidents/injuries/fatalities in states that do offer happy hour. Citing nearly 40-year-old anecdotes is incredibly uncompelling." — Mike, Westborough
"Bring it back! Connecticut has happy hour and it's going well. Moreover, Mass.'s public transportation is vastly better than Connecticut's, yet there are no issues in Conn. with happy hour patrons. If it comes back to Mass., we encourage the patrons who drink to use public transportation."
"I think it is time to stop acting out of fear from the past as times have changed. Bring this back and let businesses earn more from people. Especially post-pandemic. This is not the 80s."
"This should have been brought back years ago. … Having regular alcohol check points on roads that are known for drunk driving could be a start. This way of current thinking is so backwards." — Paul, Dorchester
"When those laws were made there was no such thing as Uber and Lyft. This state just LOVES to tell us what we can and can't do. Allow adults to be adults!"
"While I understand the ramifications of drunk driving, I believe the increase in public transport and ride shares make it a viable change. If other major states can have a happy hour and not get burned, why can't Massachusetts? It puts us at a disadvantage in some aspects for tourism and travel."
"If people are going to drink and drive they'd to it anyway regardless of a happy hour special. A more proactive solution is to educate the public and those in school about the dangers and show them there are options other than driving themselves. To me, saving more money at the bar makes taking an Uber more cost effective and enticing. I'm more likely to spend more money at the establishment and way less likely to drive myself." — Johnny, Haverhill
"It is a great way to revitalize the restaurant business after the pandemic, knowing that 'after work drinks' may not exist in the same way with increased teleworking. Bring it back!"
"It's time. A lot of things have changed since the 80s. Massachusetts always says they're 'Leading the way,' well, they've been far behind on this issue." — Shawn Bridgewater
"I think times have changed and those who want to enjoy happy hour responsibly should be allowed to. The negative impact of the 1984 ban on restaurants and bars has persisted ever since, and now the whole industry has been decimated by the pandemic. If people are concerned with a possible uptick in drunk driving, make customers show a T pass for the discounts." —Brendan, Brookline
"No happy hour was my biggest shock when I moved here from D.C. I thought my coworkers were joking! In all fairness though, things have changed just a bit since the 80s to improve the situation, mainly easier access to transportation (Lyft, Uber vs. fighting over a cab), but also the culture of [drinking and driving] — it's no longer funny or okay as long as you got home safe, the way it had been perceived by many back then. … Why can't this be a ballot vote, like legalizing marijuana? Let the people choose." — Anonymous, Charlestown
"It's about time! The current rules are ridiculous and puritanical. There's no reason an establishment shouldn't be able to offer discounts to try to drum up business. While I don't want to make more work for bartenders, I think they already should be making sure people aren't overserved, happy hour or not." — Kelley, Quincy
No thanks, said 24 percent of readers, citing the possibility of increased drunk driving.
"It's dangerous. I'm a bartender for over 20 years and old enough to remember when it existed in Massachusetts. It causes drunk driving, especially at the time of day it occurred — right after work during commuting." — Mike, Brighton
"Happy hour, by its very nature, encourages irresponsible drinking. Charging a lower price for a limited time encourages people to get in all their drinking before the price goes up, leading to dangerous intoxication. Most happy hours happen shortly after work hours end, which means that people stop in before heading home and possibly then facing an inebriated drive home. … The evidence is clear: happy hour kills. We're not killjoys here in Massachusetts; we're right this time, and we should be encouraging other states to follow our lead rather than backing down." — Shirley, Boston
"This is going to make driving on Cape Cod even more of a nightmare. Happy hour serves only to encourage irresponsible people to drink in excess. Nothing good will come of this." — BK, Yarmouth
"I don't see the social benefit of discounted alcohol. This will only encourage binge drinking and make it harder for bartenders in regards [to] liability. Day drinking will become more rampant and there's the potential for an uptick in drunk driving." — Rob, East Bridgewater
"Happy hour will bring more deaths on the roads. It is why it was abolished in the first place. There are enough drunk driving deaths now without asking for more if happy hours come back. Bars and restaurants are now having more customers returning, but we don't need for them to partake in happy hour and cause accidents and deaths on the road from over indulging on alcohol." — Ilona Cutler, Hingham
"I don't think we need it in MA. This is just a push to use the COVID effect on bars and restaurants to bring it back. Not necessary. We all go out after work anyway and the food promotions around happy hour are just fine as a draw. Restaurants make most of their profits on alcohol and there isn't a lack of drinking once employees return to offices. A happy hour isn't going to bring them back, only feeling safe in a public shared work space."
"My only child was killed in 1990 in Rhode Island by a drunk driver. Happy hour discounted drinks encourage patrons from consuming more than they normally would. Two drinks doubles the impairment of one drink. The issue is still not the number of drinks consumed but how the person gets home. Despite ride sharing, most people will drive home." — Joan Hatch, Sarasota, Fl.
"Lyft and Uber just became prohibitively expensive. MBTA is terrible. Probably not a good time to do it."
"This is insane. We need to keep drunks off the street, not give them more reasons to drink. Nothing good can come from allowing happy hours to return. Baker is 100% correct to balk at this proposal." — William P. Dulmaine, Fitchburg
"I don't agree. People are already mean enough and not responsible when they drink, and you want to bring in discounted alcohol for limited hours? This past year and a half and longer has been horrible, and people in general have gotten worse, not better. It's just a bad idea all around. If it ain't broke, don't fix it. — Ann K., Lynn
A handful of readers said 'maybe,' and offered alternatives to a full happy hour
"Maybe happy hour with a two drink maximum!"
"Let's take things slow. It's not like the pandemic is over, plus we have yet to see the impact of the return to commuting." — Todd, Kittery, Maine
"The easiest thing to do is to dismiss it with a one liner that 'happy hour didn't work in 1984'… maybe at least evaluate the proposal under the context of present day and decide if it can be legislated to avoid binge drinking and drunk driving, and get the potential upside. If it can't, then move on." — Mike, Medford
"Bring it back for Fridays and Saturdays only. This will be good for our economy!"
"I think it's too soon. Unvaccinated people are not going to wear masks while drinking and social distancing won't be possible. When the numbers go down, bring it back, but the risk is too high right now."
"It should be allowed but with limits, such as only one discounted drink per customer per visit."
"I think bring it back for a full year and see what impacts happy hour has from a culture and economic standpoint. The drunk driving factor is a scary and real issue."
Boston.com occasionally interacts with readers by conducting informal polls and surveys. These results should be read as an unscientific gauge of readers' opinion.