Readers Say
Here's what the mayoral candidates think of Boston's polarizing City Hall
"It's the ugliest, coldest building in all of Boston, for sure."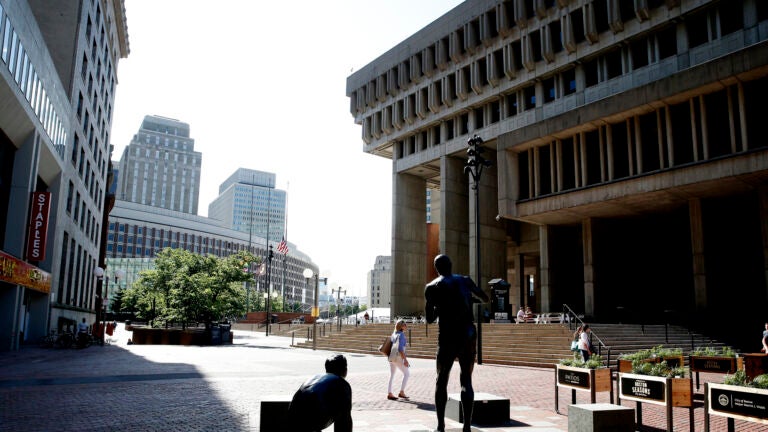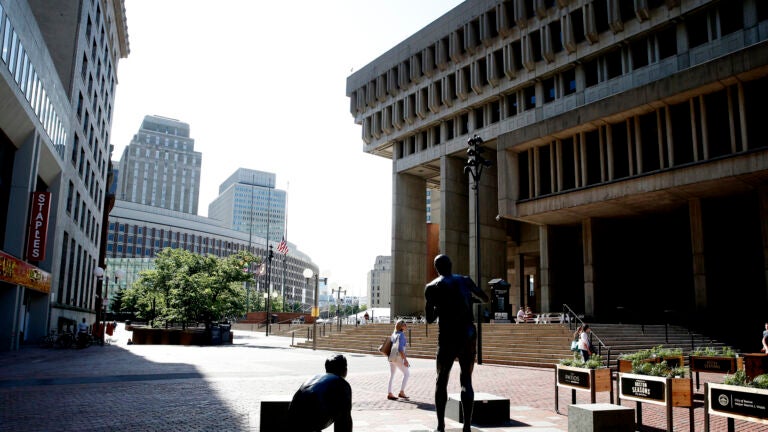 As we draw closer to the preliminary election for Boston's next mayor, we know many Bostonians still have questions about what differentiates each candidate from one another in this race. To help answer those questions, Boston.com spoke with each candidate and got into the details of their policies and visions for the future of the city.
City Councilors Michelle Wu, Andrea Campbell, and Annissa Essaibi George, former city economic development chief John Barros, and Acting Mayor Kim Janey are vying for the city's top office. There will be a preliminary election Tuesday, Sept. 14, with the top two finishers facing off on Tuesday, Nov. 2.
Ahead of those elections, Boston.com sat down with each candidate over Zoom to speak about some of the city's most pressing issues like education, housing, and public safety. The candidates were also put through a "speed round" where we learned their go-to Dunkin' order, whether they prefer a game at Fenway or TD Garden, and their favorite Boston musical act.
The interviews also featured questions submitted by readers who wanted to know where the candidates stood on gentrification, climate change, and more. Boston.com will publish those interviews in full, one per day, from Aug. 2 to 6.
One question we raised with each of the mayoral hopefuls was about City Hall — the building they're all currently campaigning to run. Designed by the late renowned architects Michael McKinnell and Gerhard Kallman, the brutalist style of Boston City Hall has earned it many critics, especially among city employees who work in it. The late Boston Mayor Tom Menino once proposed demolishing the "cold, unfriendly" building and moving city government closer to the waterfront.
Polarizing as it is, the building remains the center of city government. As long as it does, the next mayor of Boston will spend much of their time inside the building. We asked the candidates to share their thoughts on the City Hall building they hope to hold the seat of their future administration. Here's what they said.
These responses have been edited for length and clarity.
What are your thoughts on Boston City Hall — the building itself?
Andrea Campbell: Oh, it's a hot mess….Some offices don't have windows (out). It doesn't do it for me. I like some of the renovations that are taking place now to make it more accessible and to beautify particularly the outside and make it more welcoming. But for our city employees, it can be tough.
Annissa Essaibi George: It's a building that great things happen inside of. I think we could maybe open it up a little bit more, but I'm OK with the building. I'm not a City Hall hater.
John Barros: It's the ugliest, coldest building in all of Boston, for sure. I know it's got historic value and I know there are people that argue the architectural value, and there's no fight. There's no push back. It's a historic building. But let me tell you, if you have any kind of event at City Hall, ever try to go to an event at the mezzanine and listen to the speaker — it's the worst. It's a bad design, bad building, and yet, I was proud to be in there and work on behalf of the people of Boston because of the historic significance.
Kim Janey: Well, you know, the brutalist architecture I guess isn't my [favorite]. It is cold and seems hard, that concrete everywhere. What is exciting about City Hall though is the energy inside the building, and how we bring it to life, and what we have tried to do around activating space and art. We've got a pop-up happening with the eighth floor that used to be a little cafeteria, kind of diner spot. Zazz, which is a wonderful restaurant in Hyde Park, is there now. Every two weeks we're having new restaurants, so the design and architecture of the building is a bit much but we've tried to fill it up with art and opportunity, and the work that is happening is exciting for me.
Michelle Wu: I love City Hall. I will fight anyone who says it's not a beautiful building. I'm ready and prepared to take anyone on a tour who disagrees with the architectural beauty of this building; and just the humanity, you can feel in the structure, it's down to earth, it's accessible. The way that the windows are cut at angles for the light to come in is really gorgeous. Anyway, I know I'm in the minority here, but it's OK.
---
In the coming weeks, Boston.com will publish interviews with the candidates for Boston's next mayor. To keep track of the big news of the race as it happens, follow along with our election live blog and make sure to visit this page regularly for candidate Q&As, along with additional coverage of the race as we approach the primary election.
Newsletter Signup
Stay up to date on all the latest news from Boston.com