Readers Say
Here's what restaurateurs and readers think about a proof of vaccination mandate at restaurants
"This will cripple the industry again."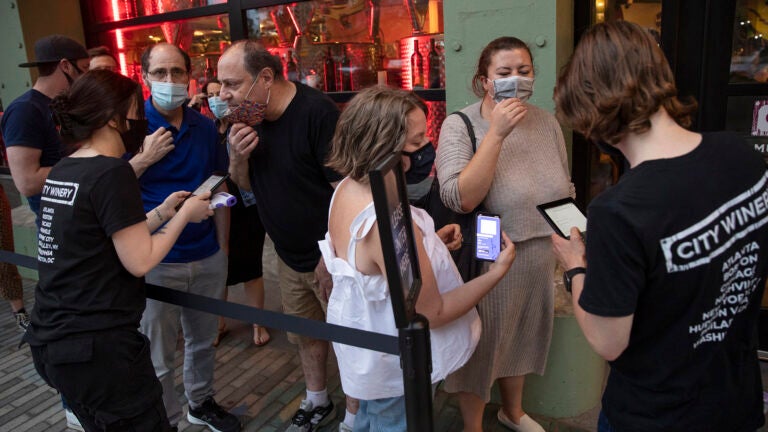 In the wake of New York City's recent announcement that it would start requiring proof of vaccination at restaurants for indoor diners, other major cities around the country are weighing the same issue. While Acting Mayor Kim Janey said that Boston will not be requiring proof of vaccination, a state mandate may still be on the horizon depending on the rate of new COVID-19 cases.
To get a sense of how a proof of vaccination mandate would affect the dining out experience, we asked restaurateurs and Boston.com readers what they thought about the issue. Here's what they had to say.
Restaurateurs are split on the topic.
A growing number of Boston-area chefs and restaurant owners have made the decision to institute their own proof of vaccination mandate, with venues like City Winery, Grendel's Den, PAGU, Rebel Rebel, and The Quiet Few asking for digital or physical vaccination cards upon entry.
But not everyone in the industry is on board with the idea.
"Absolutely and unequivocally no," said Andrew Li, owner of Flora's Wine Bar. "This will cripple the industry again. The comfort level of the average diner will plummet, and people will simply not dine in restaurants as much."
Li, who opened Flora's Wine Bar in Newton in February 2020, said he believes that a mandate will cause more restaurants to permanently close.
Cheryl Straughter, chef and owner at Roxbury's Soleil, agreed, suggesting that Massachusetts should instead require masks inside.
"There is too much inconsistency around masks," she said. "They should be mandatory inside so that all businesses can operate under the same policy."
Some restaurant owners are concerned about how requiring proof of vaccination might impact their staff.
Mandating proof of vaccination would "require an extra staff member on at the door at all times," explained Arpit Patel, owner of Baramor in Newton. "We cannot check vaccine cards without a dedicated person at the door. It increases costs and labor needs. We already cannot find enough labor to keep up with the demand. … If rules like this are implemented, how are we supposed to find someone dedicated to enforcing this at all times in an already tough labor market?"
David Doyle, owner of Tres Gatos, Little Dipper, and Casa Verde in Jamaica Plain, said he was concerned that introducing this mandate would add additional stress to his staff, and "would have a negative impact on staff morale." But he also believes that taking a universal approach would result in a better success rate, rather than leaving it up to individual businesses.
"Policing the mandate would definitely be an added strain to businesses, many of which are already stretched thin due to staffing and other challenges, but if the end result is a higher vaccination percentage, that would be a win for the entire community," he said.
Other restaurant owners surveyed are on board with a universal mandate. Ana Sortun, chef and owner at Oleana in Cambridge, said that she loves the idea and that it would "make people feel more at ease about indoor dining." Mahaniyom owner and bar director Chompon Boonnak is a fan, noting that his Brookline restaurant might lose business but that safety comes first. He does have concerns, though.
"What about kids who [are] not vaccinated?" he asked. "And I feel [like] people can fake [their] proof of vaccine."
And Gracie's Ice Cream and Earnest Drinks owner Aaron Cohen thinks Massachusetts should follow New York City's lead, as long as the state makes it easy for people to prove their status.
"Vaccine passports do seem to make a lot of sense," he said.
60% of surveyed readers say Mass. should require proof of vaccination at restaurants
More than 2,000 Boston.com readers responded to our survey, with roughly 60 percent saying that proof of vaccination should be required for indoor dining. In addition, around 62 percent of all survey respondents said they would continue to frequent restaurants if a mandate was enacted.
"Right now I don't go out to eat at restaurants as I am cautious of the Delta variant. I would actually feel comfortable going out to restaurants if I knew everyone there would be vaccinated!" — Nina, Holyoke
"Proof of vaccination will protect food service workers as well as other diners. Unvaccinated diners could still have take-out, delivery, and outdoor dining options. Preventing transmission will prevent outbreaks and business restrictions, which will benefit everyone in the long term."
"We need to limit what the unvaccinated can do, to protect those who can't get vaccinated and the vaccinated. This may help those on the fence about being vaccinated get the vaccine." — Tina, Somerville
"Restaurant staff have endured a grueling 18 months. Requiring proof of vaccination can ease some of their fears about going to work each day. And restaurants can deny service for any reason, like not having proper attire. Of course they should be able to deny service for something that poses a demonstrable health risk to other patrons and staff. … If you don't get vaccinated, you shouldn't expect to enjoy the same benefits from society, because you aren't holding up your end of the social contract." — Rob, Boston
"The honor system of vaccinating does not work. The infection rate cannot be controlled unless people get vaccinated and those that aren't are required to wear masks. Mandating masks at restaurants is a small price to pay to fight the battle against COVID."
"I think any public space requiring vaccination proof should have happened months ago in order to prevent further outbreaks and mutations of the virus. I have carried my vaccine card in my wallet this whole time and would be more than happy to present it to ensure the safety of myself and others. To me, this is nothing different than other vaccines we receive as children to prevent mass disease in schools and public spaces."
"Yes, please. Would love to patronize businesses that are prioritizing health and safety." — Leah, Arlington
34% say they'll stop going out to eat if the state mandates proof of vaccination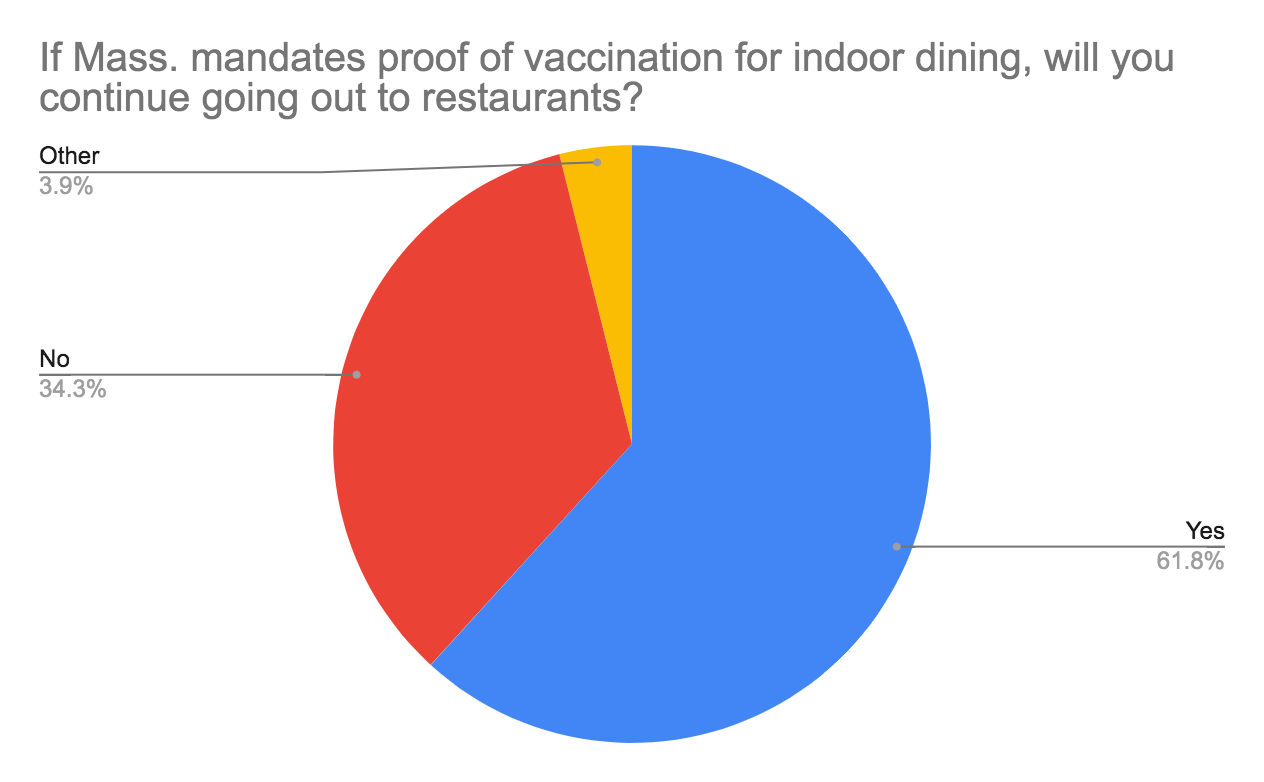 More than a third of survey respondents were against a Massachusetts mandate requiring proof of vaccination at restaurants. And when we asked readers whether they would still go out to eat if a mandate was in place, 34 percent of all respondents said they would not.
"People may not be vaccinated because they have natural immunity or medical conditions that prohibit it. They shouldn't be forced out of society for that. Mandates are discriminatory and only look to divide people more than we already are." — Ali, Watertown
"Let each establishment, each diner, and each worker choose their own preference."
"As a restaurant employee who worked throughout the ups and downs of the COVID regulations, I will absolutely not be asking people to see proof of vaccination. It was a battle to enforce masks and social distancing. How will we enforce this? What is to stop someone from making a fake? Or boycotting restaurants?" — Christine, Wilmington
"I will not go to an establishment that requires me (on their own) to show proof. I support their right to set the rules for their establishment, but I don't agree with the stance. But that is what makes this country so great. The freedom to choose."
"This mandate would put restaurant owners and employees servers in horrible position. They are not code or law enforcement officers."
"I'm vaccinated but the idea that people would have to 'show their papers' to dine out disgusts me. I will not be dining in any restaurant that enforced this draconian overreach." — Andy Haydu, Dover
"It's a virus, it's here to stay. My patronage isn't, though, if you don't respect my right to privacy. It is the business of no restaurateur nor shopkeeper to demand my medical records. We'll happily visit establishments that recognize privacy boundaries…otherwise we'll head out of state. And if it continues to infringe, we'll move out of state permanently and take our tax dollars with us. — Kat, Woburn
Some readers are still weighing both sides.
A handful of surveyed readers voted "other" for both questions, citing exceptions that might change their mind.
"Only if they develop a better card," wrote one reader. "There's too many people who think this whole thing is a hoax. They will do as they please."
Some readers stated that though they were vaccinated, they still weren't going out to restaurants and were instead relying on takeout. Another shared that they are in favor of the mandate, but only if they could bring their unvaccinated one-year-old.
"It depends on the current rate of infection," wrote one reader, while another said they would be in favor of a mandate "once the current surge has started to abate."
Boston.com occasionally interacts with readers by conducting informal polls and surveys. These results should be read as an unscientific gauge of readers' opinion.
Sign up for The Dish
Stay up to date on the latest food news from Boston.com.