Readers Say
Here are the best Boston movies, according to the mayoral candidates
Do you agree with their top picks for best Boston-based movie?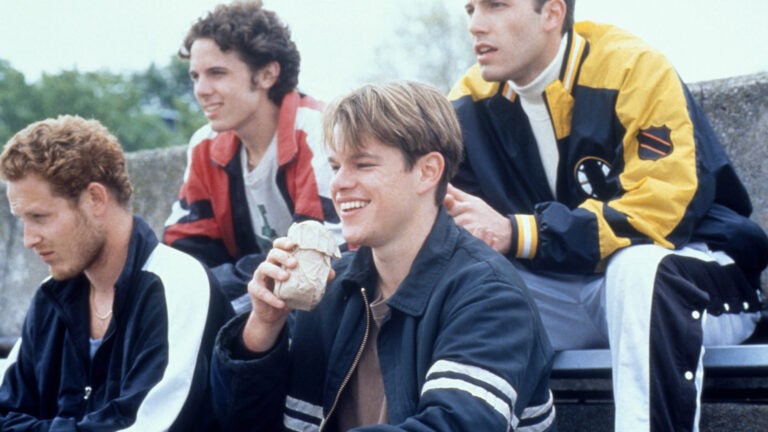 Boston has made its mark on popular culture in many ways, but one of the most visible ones is in the movies. When asked to name the best movie set in the city, there are a couple that come immediately to mind like "The Departed" and "Mystic River," but there are actually dozens of movies set in Boston neighborhoods, and more to come.
If you like neo-noir mystery crime dramas, there are plenty of those set in Boston to go around. But the city also provides the backdrop for political documentaries, romantic comedies, thrillers, and more.
Anyone who calls themselves a Bostonian likely has a film they consider to be the best Boston-based movie, and that's especially true of the people who want to run the city. In the lead-up to the election for Boston's next mayor, we've asked the candidates a number of questions — including what they think is the best movie set in Boston. Here's what they chose as their top picks.
What's your favorite Boston movie?
Michelle Wu: Someone else was asking this very recently, too. I picked "The Departed" over "The Town," but I just, you know, we need some more options and show a different side of Boston.
Let me think. There was a — I haven't seen [it], is it called "City Hall"? That four-and-a-half-hour-long [documentary]? But I haven't watched it, otherwise that might be an option.
And there are documentaries here and there. You know, there was one that a local farm had put together … I can't remember the name, but I suppose for now, begrudgingly, put me down for "The Departed," but [I'll] try to come up with something that is more reflective of what I actually like.
Andrea Campbell: This came up the other day. I did say I like "Good Will Hunting." My husband and I were just talking about this. But I often remind folks that Boston is not just "Good Will Hunting," that there are other stories that need to be told, other constituencies, other cultures that exist in the City of Boston. So clearly we have more work to do there.
Annissa Essaibi George: Oh, there's some really good ones. The first one that comes to mind maybe is like "Fever Pitch" — lots of great Boston scenes.
Although, I will say the one where Kevin James does the slam dunk thing; he's the teacher. What's that movie? Just because they filmed part of that movie at East Boston High School, where I taught, in the gymnasium. Someone Google it. [Editor's note: We Googled it; the movie is "Here Comes the Boom."]
We'll go with "Fever Pitch."
John Barros: The one about Blue Hill. I should know the name. … I think it's just "Blue Hill Avenue," right? I just know it as Blue Hill.
Kim Janey: Well, I have to put "Good Will Hunting" up in there, even though a lot of it's in Cambridge. I'd have to put that up there because I do love that movie. I'm going to name a couple, I'd say "The Departed," I'd say, "Mystic River," I'd say "Good Will Hunting," I would say, "Blue Hill [Avenue]," and I would say "Squeeze" — and "Squeeze" I'm going to say is my favorite. It's an indie movie … and the filmmaker is my cousin.
What was really I think powerful about that movie [is it] came out during an era of a lot of those kind of urban stories of, you know, like "Boyz n the Hood," "Menace II Society," but it really explored the trauma and mental health aspects of what happens when you experience trauma in your neighborhoods through community violence in ways that other movies weren't really tackling at that time. So it is a really powerful movie. If you've never heard of it, please check it out.
---
Let us know: What's your favorite Boston movie?
Do you agree with the candidates' favorite Boston movie suggestions? Are the fan-favorites beloved for good reason or are there other films you think should get more attention?
We want to know what comes to mind when you think of the best Boston movie. Let us know what you'd pick as your favorite and we may feature your response in a future article.
Newsletter Signup
Stay up to date on all the latest news from Boston.com