Readers Say
We asked the mayoral candidates about exam school admissions. Here's what they said.
"We need equity reflected in every part of our school system."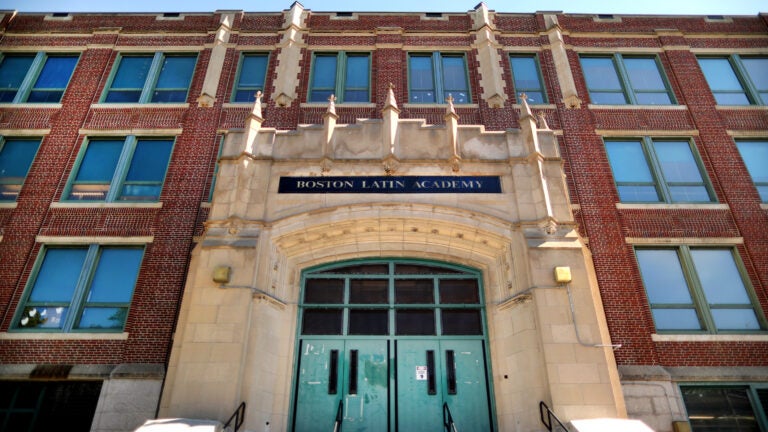 Education has been at the forefront of our minds over the last year and a half as the pandemic forced many to reexamine how our schools function. In Boston, as with the rest of the country, schools have been the center of many public conversations about access and equity.
Long before the pandemic, a main source of contention about education inequity in the city were its three exam schools — Boston Latin Academy, Boston Latin School, and the John D. O'Bryant School of Mathematics and Science.
Advocates for changing the admissions process have said that it unfairly excludes Black and brown students from admission. At Boston Latin School, for example, white students make up 44.5% of students, but 15.3% of the district. Asian American students were 29.3% of enrollment, despite making up nine percent of students in the district.
In July, the Boston School Committee unanimously voted to overhaul its admission criteria for these schools.
The vote came in the middle of the ongoing race for Boston's next mayor. So when we asked readers to submit questions for the candidates ahead of this fall's election, education was a common topic among readers.
Our reporters sat down with the five candidates — City Councilors Michelle Wu, Andrea Campbell, and Annissa Essaibi George, former city economic development chief John Barros, and Acting Mayor Kim Janey — and asked them each a reader-submitted question about how they would approach creating a more equitable public school system in Boston.
Here's how each candidate is thinking about exam schools and all our K-12 schools in the city.
---
These responses have been edited for length and clarity.
"Rather than changing the admissions for the high-quality Boston exam schools, why not improve the quality of the schools in the sections of the city that are underrepresented at the exam schools?" — Ward McCarthy
Michelle Wu: We need to do both. It's not an either or. We need equity reflected in every part of our school system, and we need quality and resources and opportunity in every part of our school system as well.
I've been involved as a legal guardian and now parent for a decade in the Boston Public Schools, raising my sister and now with my two boys who will be in K-1 and first grade at (the Charles) Sumner School in September in Roslindale. And as a city councilor, I have visited every single Boston public high school and most of our elementary and middle schools to see firsthand and hear from educators and students what the conditions are and what the challenges are.
What stands out most of all is the huge disparities across the district — such concentration of opportunity and resources in some of our schools and such disinvestment in other schools. And so we need to make sure that every single seat in our Boston Public Schools is nurturing, high quality access to a whole child's education and opportunities — rigorous academics, arts, sports, extracurriculars — and that we are also ensuring that we are equitable in how we think about admissions to the exam schools as well.
Andrea Campbell: I think we can do both. And I've been stressing, I'm a product of Boston Latin School. My twin brother who died and (is the reason) why I do this work, he didn't go to Boston Latin School. He went to the Burke High School, and for a period of time he was at Madison Park, and those schools are still struggling for the resources, the partnerships, the human capital they would need to adequately serve their students, and their teachers end up working really hard. There is an inequity in terms of resources, access to resources, human capital.
There's also [a] lack of diversity at Latin School. So this conversation is just that: how do we create more equity, not only at the exam schools but namely Latin School? And I'll continue to follow that conversation because I've been saying (before we make) any permanent changes, we need to take this on the road to engage every family so they can weigh in on this issue, but also saying yes there is a way to improve all of our high schools. There is a way to make Madison Park the hub of a vo-tech program in the City of Boston that includes Madison Park and expands upon what that could be. There is a way … to make sure all of our young people and students have access to pathways to their dreams. [It's] something I've always been pushing and yes, that's a conversation that's much bigger than exam schools, but doesn't get the attention it often deserves. So keep fighting that fight, and I appreciate the framing of the question from Ward.
Annissa Essaibi George: Not surprised at all that one would be around education. I'm sure there were many of those submitted.
When we think about education in this city, when we think about the debate that's happened this year in our city, when we think about the work of the task force that was formed last year, I was very vocal then and remain vocal today saying we charged, as a city and as a school district, a very smart group of people … with looking at the exam schools admissions process, certainly through COVID and beyond.
And where I think we missed a true opportunity is because we focused all of their efforts and all of this time and all of this energy on three schools.
We have 125 schools in our portfolio.
And for less than 10 percent of our student population, we focused all this time and effort. We have 10 percent of our student population experiencing homelessness — almost the same number of kids that attend the three exam schools are also experiencing homelessness.
Our missed opportunity to focus on early literacy, the missed opportunity to get grade reconfigurations right. We have started some of that work. I've been an advocate and a proponent and someone who has pushed the school district since I joined the council in 2016 to make sure that grade configurations make sense so [for] kids across the city, and in particular are communities that don't have a high-quality school, that coming into the Boston Public Schools and navigating through the Boston Public Schools is one that is logical, sensical, and helps nurture a student and their learning, and support a kid throughout their time in the Boston Public Schools.
We've missed opportunities to focus on those pieces. We've missed aligning our curriculum across all of our schools. But in particular our elementary schools, we've missed any sort of serious focus on fourth-grade MCAS scores, because when we look at fourth-grade MCAS scores, we can determine — almost in a very specific way — the likely trajectory of a student's academic success.
And yet we're focused on something that happens in the sixth grade, when we know what's happening in the fourth grade. I think we've missed so many opportunities to truly support and help our kids academically succeed, close the achievement gap, support them socially and emotionally, and do the pieces that we need to do to make sure that not just all kids have access to high-quality schools, but that every seat a kid sits — every classroom, every school building, every school community — is high quality.
Those are the things that we should have been focused on. Instead we took mind power and man power and political power, and just time and energy, to debate what's happening during a moment in time for entrance to three exam schools. That, to me, is a missed opportunity for sure and a failure of the system.
John Barros: Well, I don't think we disagree.
We have to do both. We need to make sure that there is access to our exam schools. My wife went to Boston Latin, my brother went to Boston Latin, and I can begin to quote other people that went to different exam schools in my family and friends and circles. We all know them. But my wife went at a time when there was a quota. And my brother went at a time when there was a quota. There is no quota now, and we've seen the number of Black and brown folks who are at Latin and other exam schools really take a hit. So we need to address that. There's no question.
At the same time, we need to address the other schools. We need to address the quality of the other schools. It can't be that we are OK with having some good schools. We need to make sure that we have quality schools in all of our neighborhoods. And quality, that means Tier 1 seats in my mind, in my definition. Tier 1 seats in all of our neighborhoods, and we need to do it with some urgency; I'll drop a plan … in maybe two weeks. I'm not saying anything about the plan right now. But I will drop a plan that will at least call for urgency in both scale and speed for how we improve schools in all of our neighborhoods.
Kim Janey: The issue isn't an either/or. It's an and/both. We need to make sure that there is equity and inclusion, access and opportunity at the three exam schools — and having equity and inclusion and diversity, whether that be, you know, through different neighborhoods or class, etc., does not mean, as many people express, that the standards go down or that there is less rigor at the three exam schools. So I just want to be clear on that.
But I think the reader has a very good point in the sense that we need to be focused on all of our schools. There was a lot of energy put into looking at the three exam schools and I certainly applaud the working group that was charged with that work. I was working on those issues prior to be becoming an elected official, and so I applaud the working group, I applaud the Boston School Committee and the superintendent for leading us in a new direction as it relates to our three exam schools.
But we also have to focus on all of our schools. Every single child in BPS deserves the opportunity for academic rigor. They deserve the opportunity to be in schools that are well-resourced. They deserve the opportunity that the students in our three exam schools experience every single day. And so, as mayor of Boston, you know, my belief, my desire, my focus will be on improving all of our schools, not just a handful of schools. We need to make sure that every single school is a school that parents want to send their children to and that they have full confidence in the education that their children will benefit and receive a great education.
You know, this is very important to me as someone who grew up in a family of educators, someone who has experienced very varied educational experiences whether a community school, whether my elementary school experience in BPS which was very positive, going to elementary schools and Roxbury in the 1970s, and then being bused and then seeing what it was like to have well-resourced schools through the METCO program going to a suburban school.
Our kids deserve the best. And I know that's what parents want for their kids, and it is my desire for all of us to continue that work together — and not just people who have kids; it should be everyone's business that our school system works for all of our kids. That is the work that I've dedicated the majority of my career to, and it is something that I am certainly very much committed to as mayor of Boston.
---
Editor's note: Candidates for mayor of Boston will compete in a preliminary election Tuesday, Sept. 14, with the top two finishers facing off in the general election on Tuesday, Nov. 2.
To keep track of the news of the race as it happens, follow along with Boston.com's election live blog and make sure to visit our candidate information page regularly for candidate Q&As, along with additional coverage of the race as the preliminary election approaches.
Newsletter Signup
Stay up to date on all the latest news from Boston.com